I've been waffling for weeks about what to post for blog #200, and I finally decided that since it nearly coincides with the 5 year anniversary, I felt like indulging my sentimentality. I started this blog when I was at a job that was... let's say, not exciting, and I asked myself what my dream in life would be if I was independently wealthy. The answer then, and now, is travel without restriction. The only way to turn that into a job is to tell people about your travels, but I'm neither a writer nor photographer. Still, I really believe that people should go out of their way to see awesome things, and all I really wanted to do was pique your curiosity enough to encourage you to visit for yourself. Along the way, my friends contributed photographs, I started talking to my future husband thanks to our trip to
Bonne Terre Mine
, we got married
at the top of the Gateway Arch
, and five years later traffic has increased tenfold. It's a hobby that is all the work of a second job with none of the pay, but it allows me to continue daydreaming about traveling full time.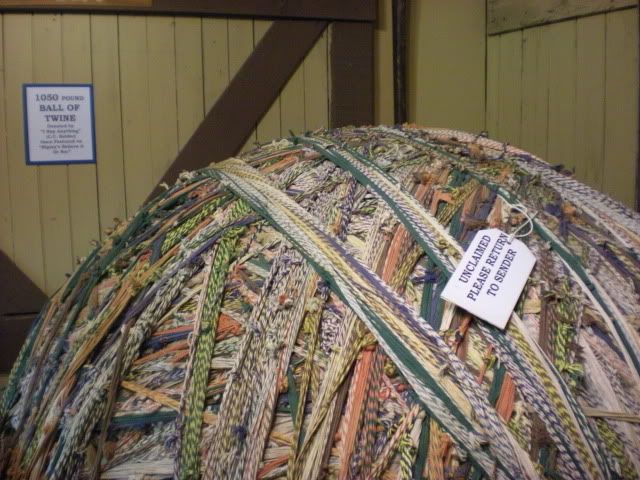 So today I'm sharing some of the things that convinced me that my interest in wacky tourist attractions could make me wildly famous one day. I also at one time entertained the notion of making a calendar of my favorite pictures, so those pictures will be standing in as paragraph breaks. If you enjoy what we do here and want to keep the dream alive, there are various spots on this page where you could click on things and put some pennies in the coffers. *wink wink nudge nudge knowwhatimean*
A couple weeks ago, my friend Jill asked where she would have seen performing animals, like the ones at
Riverview Park Mini Zoo
, when she was a kid. A few years ago, I was obsessed with answering the same question. When you bring this up to people who never saw such a thing, they think you are insane. Animals in a box who perform a trick when you put a quarter in a slot? REAL ANIMALS? You must have mixed up some things in your memory. But it was real! You can see video on that Riverview Park link. Many amusement parks still had these in the early 1980s, so there's this weird gap where some people close to my age think I'm lying, but an older sibling will back me up. Amy and I finally decided that it was Silver Dollar City, and that would make sense if Jill remembers them too, because we all love SDC. Searching out the answers to these questions seemed like a good reason to start a website, although there has only been
one question and answer post
that I can think of. I'm still open to suggestions!
In my family, there are two things we love: spreadsheets and planning future business ventures. Years and years ago, I heard about Caveman BBQ and its old, neglected fishing resort cabins, and that it was for sale for nearly a million dollars. It became a favorite game with some of my friends to plan what we would do with the place if we could get a group together to buy it. I eventually shared it with my family, too, and they got in on the "planning". Mind you, this was all sight-unseen. Starting a website gave me a reason to drive three hours to eat lunch in a cave and scout the place out.
Check out our first caravan across the state!
One place we are still waiting on is
Clarksville Sky Ride
. My parents took my sister and I many moons ago, probably 25 years or so. I remember I was scared my shoes would fall off, and that there was a sort of Mystery Spot/Funhouse and Alpine Slide at the top, and maybe some shops. Someone in Clarksville has been trying to get that Sky Ride going again for the entire time I've been writing this blog. I know that there is a lot of "blog-worthy" stuff in Clarksville, but I keep putting it off because I am waiting for that Sky Ride to reopen. Having a website related to these offbeat attractions gives me an excuse to keep up with the news, and I check on the Sky Ride every 6 months according to Google. I promise, I will drop everything on my schedule as soon as I get word that the Grand Reopening is really going to happen.
Way before the blog started, there was Beth's Birthday Trip to
Meramec Caverns
. Before I had a website, I used my birthday as leverage to get people to do things they wouldn't normally do. The Greatest Show Under the Earth is everything I love about tourism. Making money off natural wonders has been a thing probably since money was invented, and here we have a cave that not only charges $18 for a tour, but "mines" you with panning for gold, a fossil dig, zipline, pontoon boat ride on the Meramec River, fudge, rocks, ice cream, fried food, and countless souvenirs, right down to literally converting your money into squashed money. ALL HAIL THE TOURIST TRAP! Over the years, I bet 40 different people came with us on the annual birthday trip, and even before that, it was a regular road trip for Jill and me. PLUS Stanton has so many other classic roadside businesses, like the
Jesse James Wax Museum
,
Riverside Wildlife Center
, the
Toy Museum
(since closed), and the chainsaw art store. If this blog had a "Sister City", it would be Stanton, Missouri.