A couple weekends ago, we drove out to Mansfield, MO to see Laura & Almanzo Wilder's Rocky Ridge Farm, where the Little House on the Prairie books were written. First, let me just say that I am a huge fan of the Little House on the Prairie books. I think they were some of the first chapter books I ever read, and they have inspired me my whole life. All my interest in any kind of crafting, sewing, period costume, gardening, preserving, cooking, baking, travel, EVERYTHING can be traced back to the Little House books. I don't even DO all of those things, but I still tell myself that some day I will make a hat out of straw like Ma did, because Laura's descriptions of everything they did are so detailed that I know I could do it if I just had straw and time. I even own
The Little House Cookbook: Frontier Foods from Laura Ingalls Wilder's Classic Stories
and have never made a single recipe, but it's there for when I get around to it. If you are like me, you NEED to visit.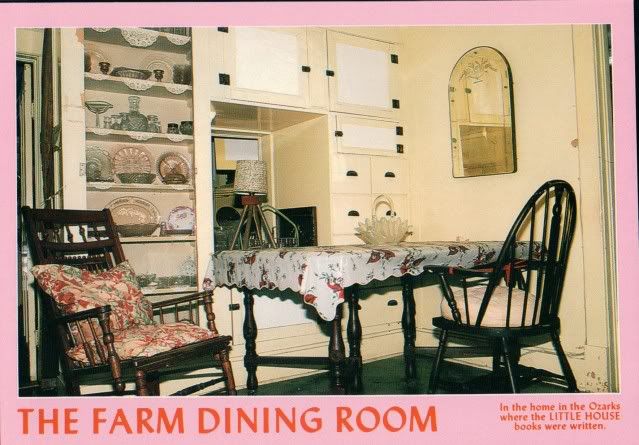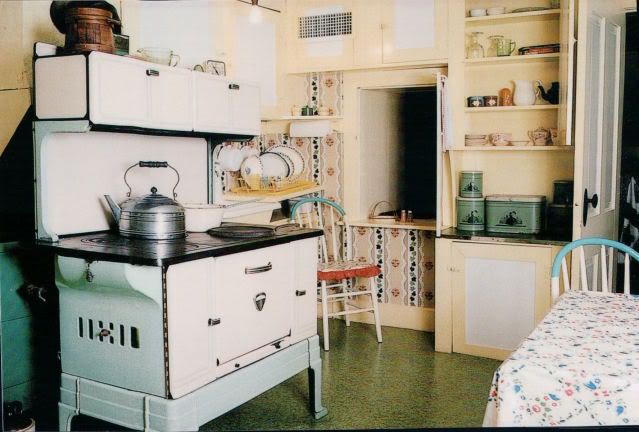 Laura & Almanzo moved there with their daughter, Rose, in 1894, and lived in three different houses on the property. The first was a log cabin and is no longer standing. The second started out as a two room house - just a kitchen and living area - and grew to be a 10 room farmhouse with three porches. The third house, the Rock House, is a house that Rose had built for her parents in the 1920s. They lived there for about 8 years while Rose lived in the farmhouse, but when Rose moved to Connecticut, Laura and Almanzo moved back.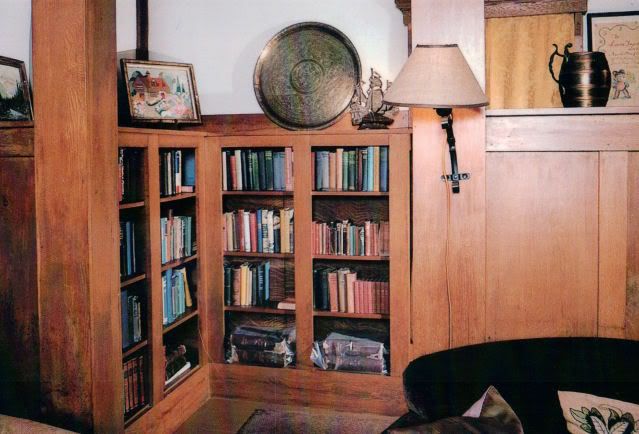 Unfortunately, no interior photography is allowed inside the homes or museum, and it was pouring rain when we were there, so that's why we scanned in some postcards of the farmhouse for this one. This is the first time I can recall not using photographs taken on site by my or one of my friends! That's how bad I need to talk to my fellow Little House fans about how great this was (and I publicly acknowledge that Francis racked up husband points that will last him a good long time). These are just the farmhouse, though, and all the reasons you need to visit in person are in the museum.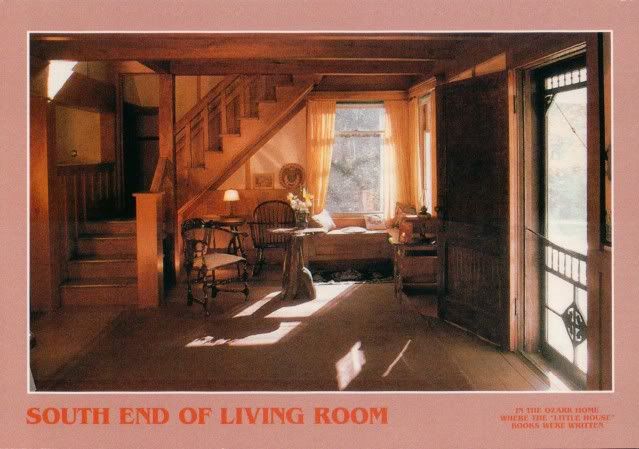 I read the series just about every other year, always starting with Little House in the Big Woods on Christmas Eve. When you're a kid, you learn all kinds of things about pioneer families lived, and you identify with the books because Laura is a very normal little girl who struggles with being "good", especially compared to her perfect sister, Mary. Reading them as an adult, you notice that while Pa is a very loving father, his constant need to move on to a new place is incredibly frustrating. You know he'd never hold a job in modern times. You feel sorry for Ma, because she loves him and is a good wife but DAMN. Can we just have some neighbors for a minute and let the kids go to school? You also notice how poor they were, especially compared to the Wilder family.
It's interesting that Laura and Almanzo moved to Mansfield, MO when Laura was 26, and she died on that same farm at the age of 90. No more moving for this gal. I knew she ended up on an apple farm in Missouri, but somehow it never occurred to me that being as this was the last place they lived, all their STUFF would be here. I feel like I will spoil the wonder for you if I say too much, I also have to tell you six or eight more times that it's totally worth it. You can see tintypes of the whole family, and Pa's beard is even crazier than Garth Williams's illustrations. You can see Laura's name cards, as well as those she saved from her friends (even Nellie Owens). You can see all kinds of samples of Laura's needlework throughout her life, and imagine that crick in the neck she complains about while crocheting lace. She even inherited Pa's fiddle when he died, and it's in the museum in a glass case and played once a year. There are things from Almanzo's family as well, which was always hard to imagine since 90% of Farmer Boy is about food, and many things from Rose Wilder Lane's adult life as a journalist.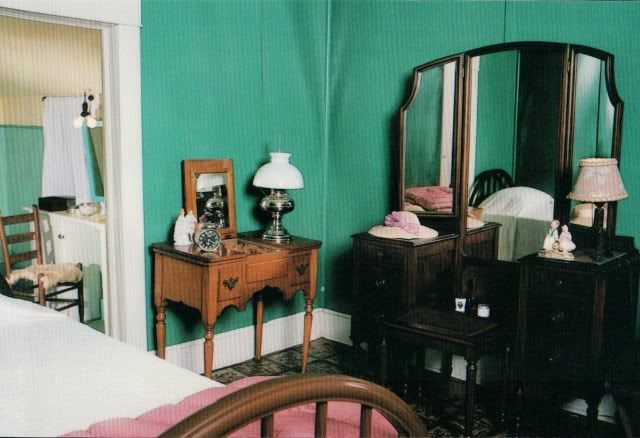 I'll be honest with you, it's a pretty dull drive from St Louis since a full hour of it is on Route 5, but it's worth it if you pick a nice, sunny day like we did not. If you are coming from Kansas City or Springfield you will have a much easier time. I just started rereading the series again (a little early this year) because I found out about
On the Way Home: The Diary of a Trip from South Dakota to Mansfield, Missouri, in 1894
and picked it up at the on-site book store! I know that there are also several biographies, so if anyone could recommend a good one that fills in the gaps I would appreciate it! In closing, please enjoy this video that Francis made using an old pizza stone, an old-timey filter, and Civil War Font, detailing the weekend in comical fashion, in response to our friends who quit Facebook.
OOPS, I left out the important details.
Check out their website
for details on hours and admissions. You can also buy these postcards in their online store for only 25 cents each, as well as all the books and other souvenirs!