If you are from St Louis (or even if you're not - it was mentioned on American Public Media's
Marketplace Morning Report
on Thursday morning), you probably heard this week that the owner of our beloved "flying saucer" wants to tear it down and replace it with more "pedestrian friendly" retail shops. As if we don't have enough vacant storefronts in this city already.
The building started life as a gas station and is part of the Council Plaza development, which is on the National Register of Historic Places. Sadly, being on the NRHP doesn't prevent a building from being demolished.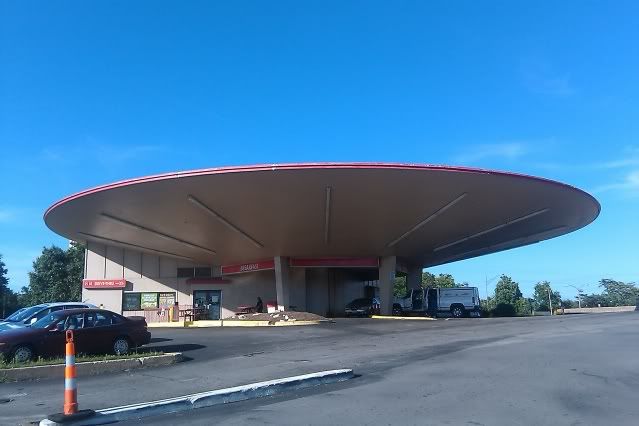 Just to be clear, this is about saving the BUILDING, not Del Taco. Even though I'm sure the St Louis University students would rather have a 3am burrito than another strip of retail stores, the local Del Taco franchise has declared bankruptcy and the business is for sale. The preservation effort is about saving this mid-century modern masterpiece from the wrecking ball. We don't want to lose this like we lost
The Parkmoor
to Walgreens or the
Coral Court
to a subdivision. Bleah.
For more information on how you can get involved, check the
Save St Louis Del Taco
Facebook page. Click "like" if you are a Facebook user! Over 10,000 people have "liked" this Facebook page in just a couple of days, and people are constantly adding updates and ideas (there's also a lot of crap, but that's Facebook for you). You can also sign a petition to be presented to the Board of Aldermen at
change.org
.