I am so sad that I went to see this in the last 3 hours it was in town, because that was not nearly enough time to encourage others to check it out. Even worse, I think St Louis was the last stop on the world tour. Now I wish I had taken pictures of everything!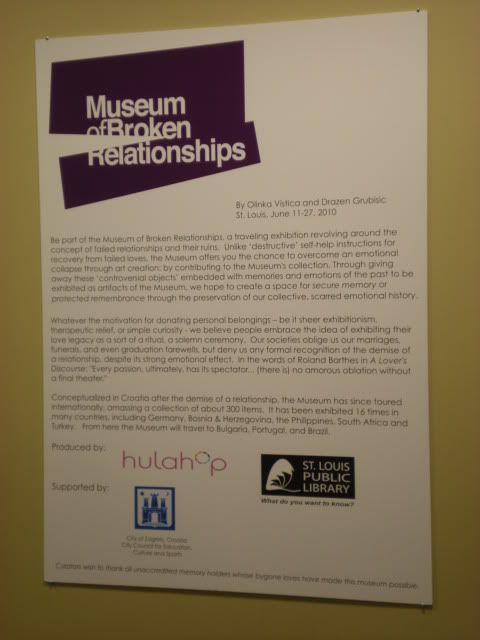 We all agreed that when we walked in, we were kind of disappointed that it was so small, and thought we would be in and out of there in ten minutes. We ended up spending nearly an hour reading all the stories that went with the donations.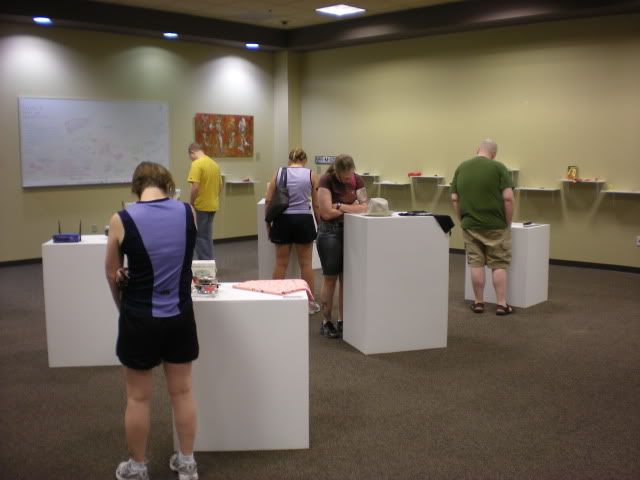 The idea here is that people can donate stuff that was left behind when relationships ended, along with a little story or description of the item and it's significance. There is even a table near the entrance where you can leave your stuff. Had I known, I might have dug through some boxes in the basement before I visited. More about the deeper meaning of the Museum's mission on
their website
.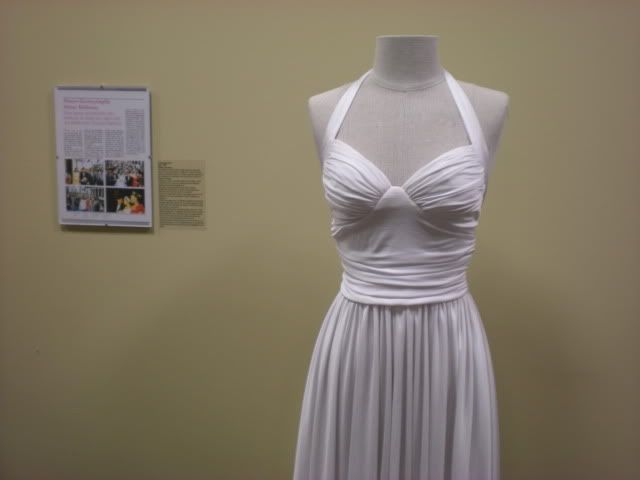 Some of my favorites, for better or worse: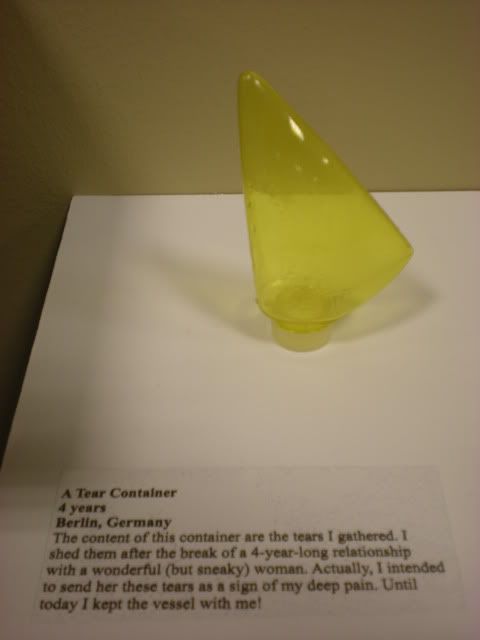 Container of tears. If this kind of guilt trip has ever gotten the kind of results you fantasized about, I'd love to hear about it. I suspect this has never, ever worked. I congratulate this person on giving up the vial.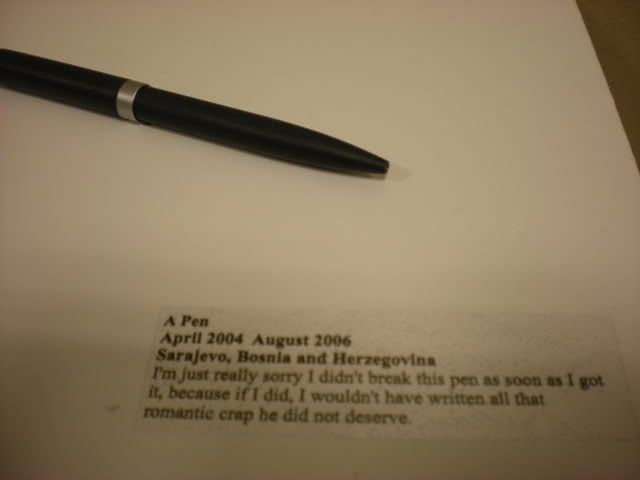 One that made me laugh. "I'm just really sorry I didn't break this pen as soon as I got it, because if I did, I wouldn't have written all that romantic crap he did not deserve."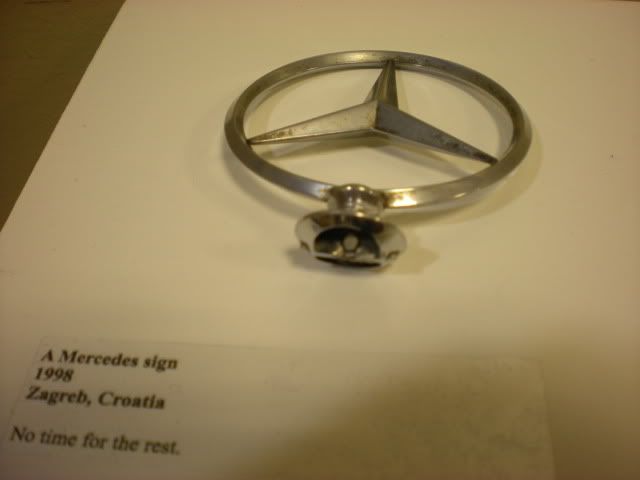 "No time for the rest," says the tag. WHAT? I'm assuming this was a donation dropped off at the exhibit, and if that is the case, why did the person have this with them? Why no time for the story? I'm dying!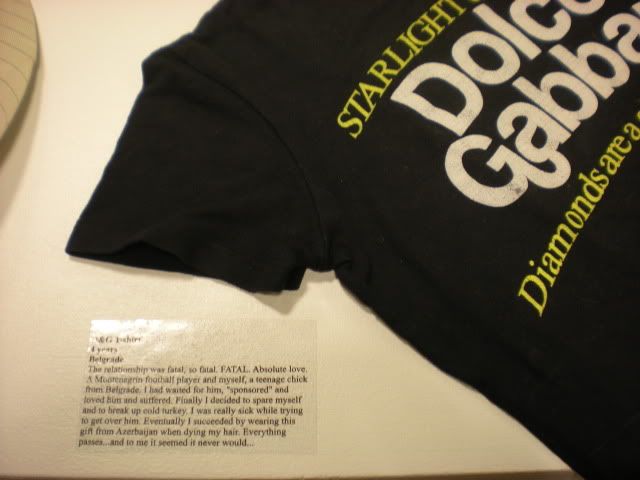 One of my favorites. She got over the relationship wearing this t-shirt while dying her hair. Kind of like that scene in Singles where Kyra Sedgewick is cleaning the toilet with Campbell Scott's shirt. Been there, sister.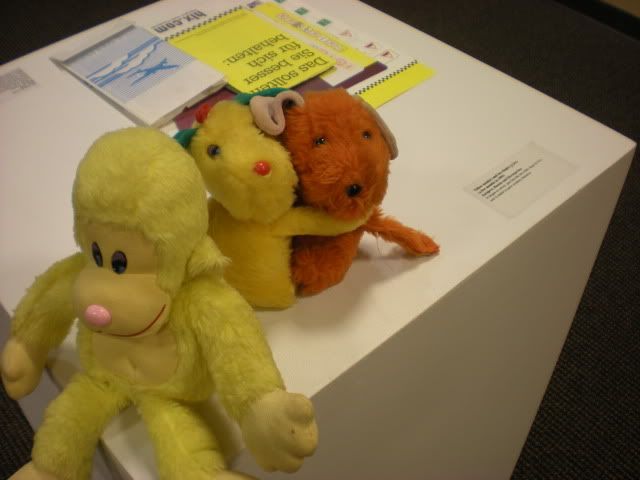 One of the best things about this exhibit was listening to people quietly react to what they were reading, with a giggle or a groan. This one was cute. "It began so sweet, just like the two little dogs in love, and it ended in pure monkey business."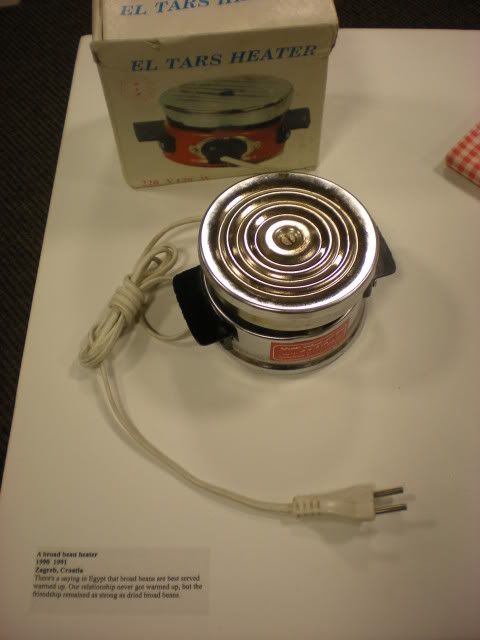 A broad bean (aka fava bean) heater from Egypt with the note, "our relationship never got warmed up, but the friendship remained as strong as dried broad beans." Aww.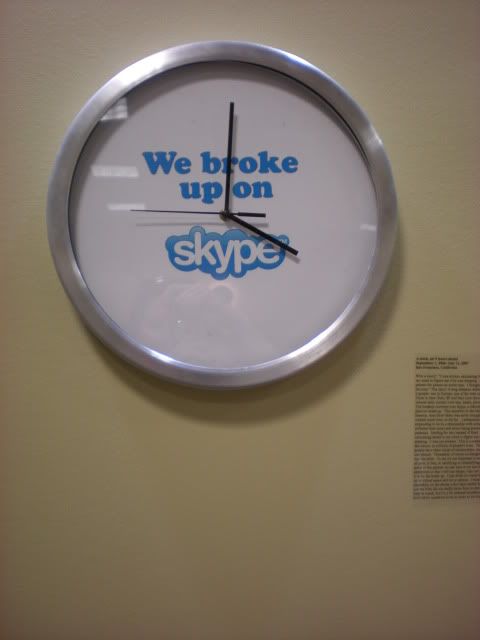 Because long distance relationships make you watch the clock all the time, always doing that time-zone math. Truth.
Finally, a couple favorites from the white board where people can leave their comments about the exhibit, or relationships in general.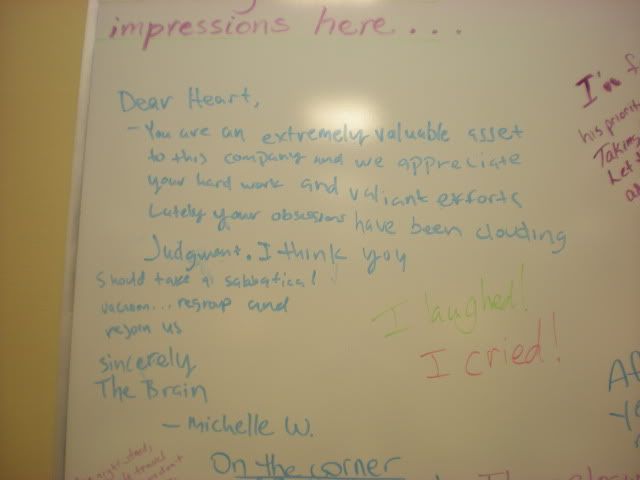 Dear Heart, You are an extremely valuable asset to this company and we appreciate your hard work and valiant efforts. Lately you obsessions have been clouding judgment. I think you should take a sabbatical vacation... regroup and rejoin us. Sincerely, The Brain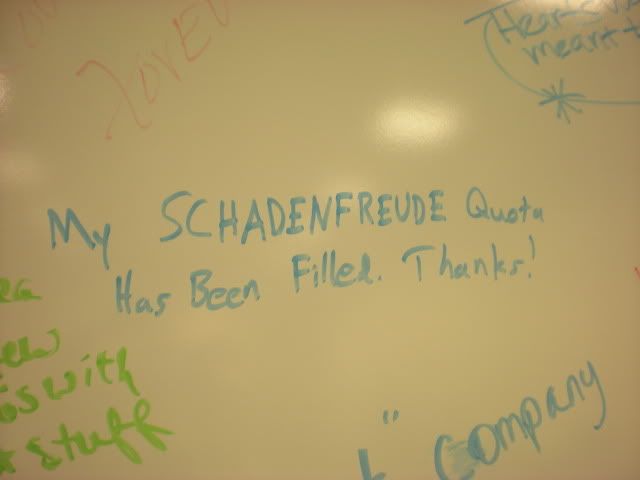 "My schadenfreude quota has been filled. Thanks!" Indeed, Anonymous. Indeed.