As you may remember from
this post
, I am a huge Vincent Price fan, so I'm very excited to tell you about all the goings-on for his 100th birthday this year!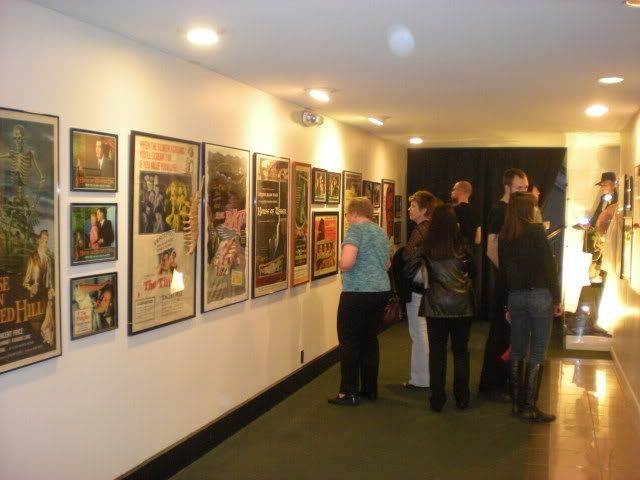 First, we have the
Vincentennial: The Legacy of Vincent Price
exhibit at the Sheldon Art Galleries, which opened last Friday and runs through August 6. It features Vincent Price memorabilia from collectors all over the country. I recommend reading that We Are Movie Geeks article for more information, since, as the curator, Tom Stockman, covers all the detail better than I could. The pictures in this post are from the exhibit opening, which was a great time despite the tornado warnings. Good thing the exhibit is in the basement!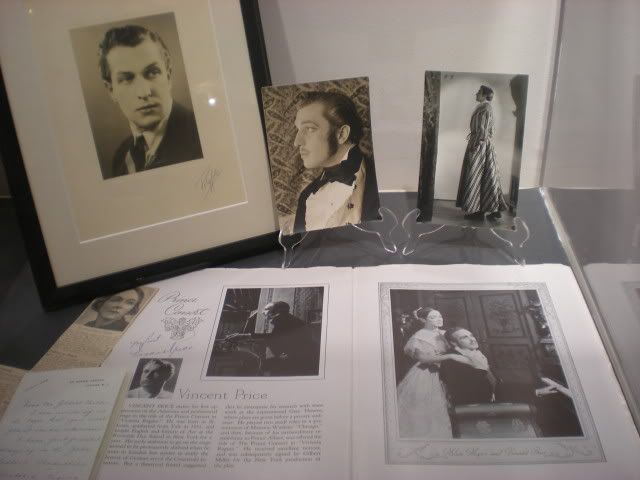 Next, VINCENT PRICE PRESENTS opens at
Star Clipper
Comics in the Delmar Loop on Friday, April 29 and runs through June 29. There doesn't seem to be any information on their website (*ahem*) but I can tell you that the exhibit consist of paintings and illustrations of Vincent Price by many St Louis based artists. The featured artist is one of my favorites,
Joel Robinson
, who did the covers of the VINCENT PRICE PRESENTS comic books and the Vincentennial logo. I have one of his Vincent Price prints hanging in my living room. The opening reception is this Friday night from 7-9pm, and most of the art and some prints will be for sale. Also, free beer.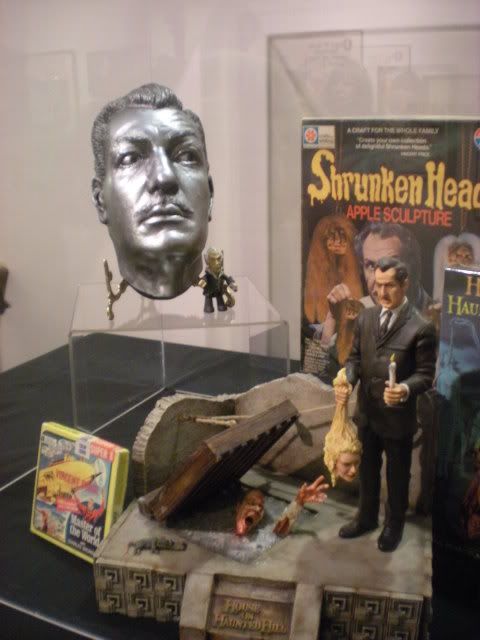 In honor of Vincentennial, this year's
Magic Smoking Monkey Theater
production will be DR PHIBES IN 3D! I never miss MSMT and already have tickets for opening night. You should buy tickets now. I promise your face will hurt from laughing when you leave. Bonus event with the 10:30 performance on May 13: Tom Stockman will be screening The Super-8 Vincent Price Movie Film Fest in 3D!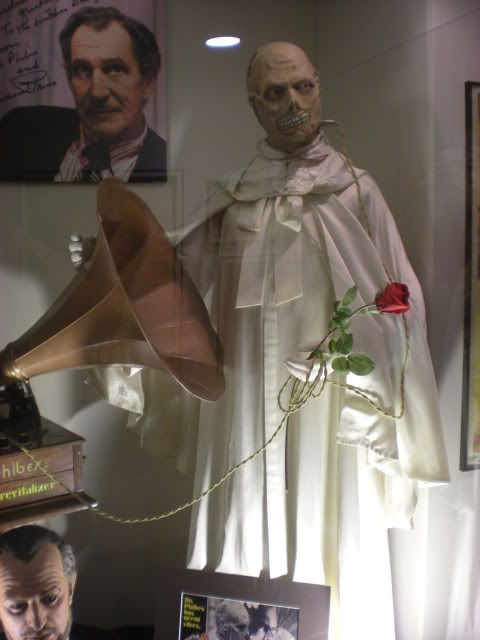 And finally, the main event: The
Vincentennial Film Festival
, which will screen 20 of Vincent Price's movies from May 19-28 at various theaters around St Louis. You can find the full schedule of events and locations at the website.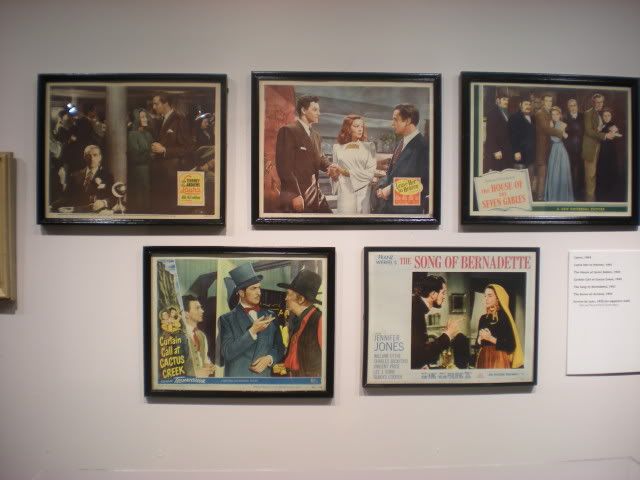 Let's talk about the parts I'm most excited about. First and foremost,
The Tingler
, showing on Friday May 20 (9:30pm) and Saturday May 21 (midnight) at the Hi Pointe Theater. I am also a huge fan of William Castle, and this screening will feature a version of Castle's Percepto gimmick! This could be your only chance in life to experience this!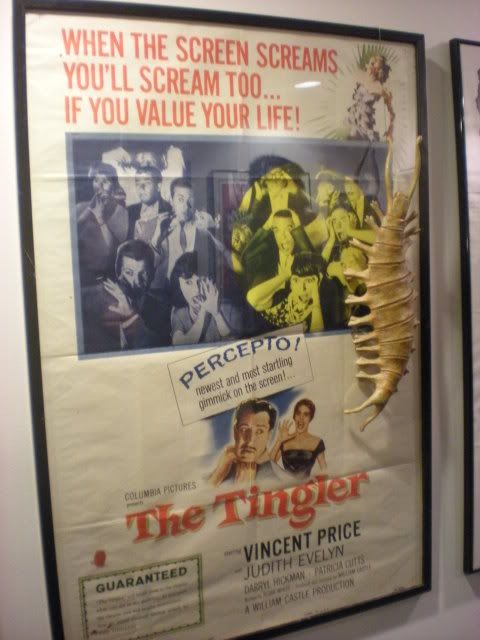 There will also be several of director Roger Corman's films screened at the Hi Pointe (unless otherwise noted), including
The Pit and the Pendulum
(May 21, 5pm),
The Tomb of Ligeia
(May 21, 8pm),
The Raven
(May 22, 12:30 pm, at Missouri History Museum),
House of Usher
(May 22, 5pm), and
Masque of the Red Death
(May 22, 8pm). For
Tomb of Ligeia
and
Masque of the Red Death
, Roger Corman himself will introduce the movie and do a post-film interview.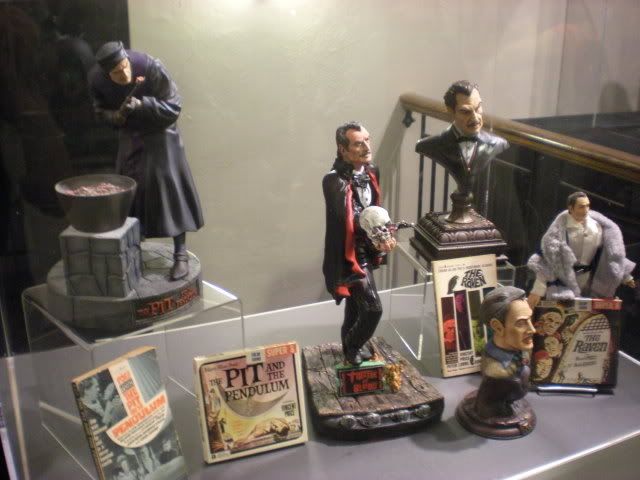 I wish I could see all 20 movies in 11 days, but unfortunately that's not possible. Several people have asked what I would pick if I had to pick three, and I think my answer is
The Tingler
,
Masque of the Red Death
, and
The Last Man on Earth
. HOWEVER! Those people were asking based on ticket budgets, and there are many free events! So if I can pick three more free ones, I would say that you should also make time for the double features of
The Raven
and
The Abominable Dr Phibes
at Missouri History Museum's Lee Auditorium on May 22,
The Whales of August
and the documentary
Vincent Price: The Sinister Image
at Washington University's Brown Hall Auditorium on May 25, and the outdoor screening of
Edward Scissorhands
with Tim Burton's animated feature
Vincent
at the Muny's Bank of America Pavilion on May 28. And if you are really interested in Vincent Price, I recommend the lecture by his daughter, Victoria, author of Vincent Price: A Daughter's Biography. She will be speaking at Lee Auditorium on May 27 at 7pm.
I think that's my final answer.