I'm baaaaaaaaack! Sorry for missing last week, I know you all missed me. I hope to make it up to you with this EPIC post. This past weekend we went to
Bonne Terre Mine
, which is just about the coolest place on the planet. Or at least, the most amazing place within one hour of St Louis. We had three photographers on on this trip, so I hardly know where to start with the pictures!
Bonne Terre Mine is an old lead mine that closed in 1962 and was purchased by West End Diving of St Louis in the 1980s. When the mine was closed, the pumps that kept underground springs from flooding the mine were turned off. The mine is currently flooded on several levels with a billion gallons of water, and a couple levels closer to the surface are dry. The picture above shows the pump where the dry and flooded levels meet. Lead is perfectly safe in its natural state, so you should have no worries about touring the mine either above or below the water!
I just wanted to get your attention, so let's go back topside and start at the beginning. First of all, I was surprised to see that this is really a "dive resort" and not just a parking lot and gift shop. They have a Divers Lounge on site, and the nearby Bonne Terre Depot Bed and Breakfast for dive tour accommodations. The mine is the largest fresh water diving resort in the world and has 24 dive trails in the area of the mine that has been mapped.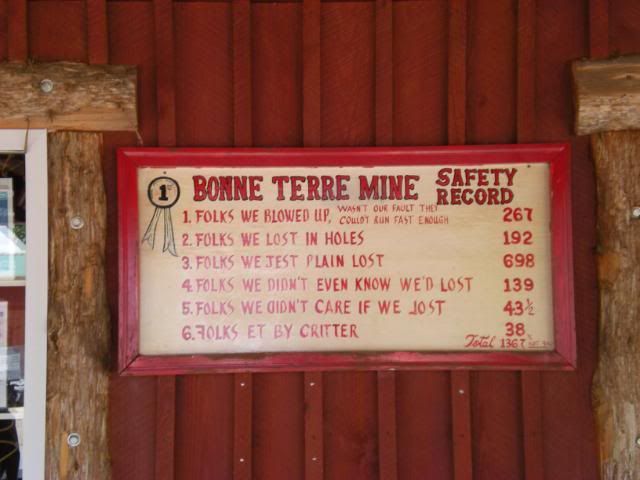 They also have a large collection of mining equipment and machinery on the parking lot, from the earliest days up to the more modern. The bucket Jesse is standing next to was the original type of bucked used to lower miners (two at a time!) below, using a pulley system similar to a well bucket. In the early days they even had to lower mules down into the mine, where they lived until they were too old to work anymore.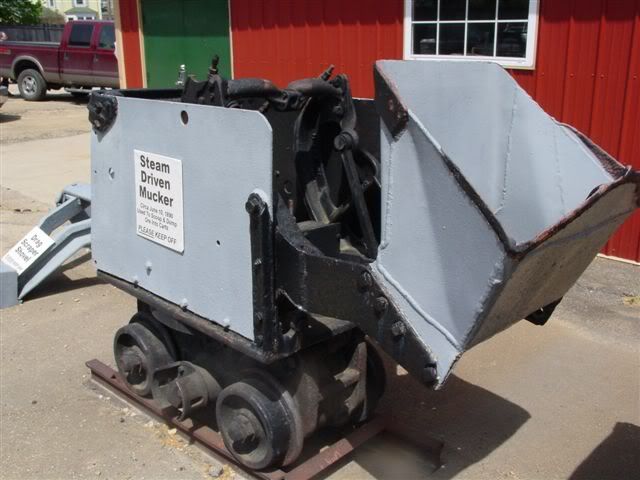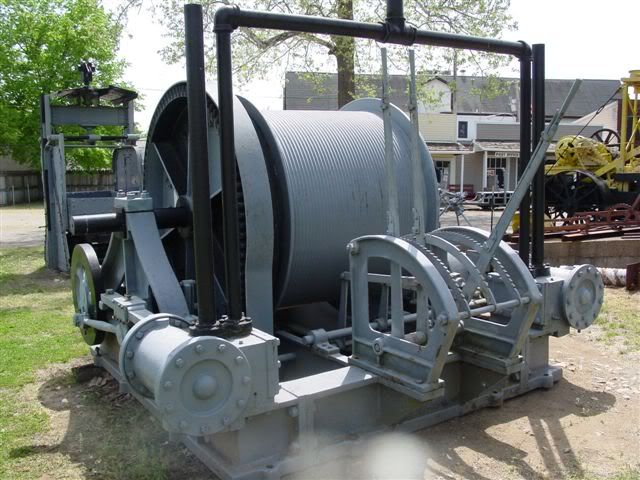 Since we are not SCUBA divers (though now we want to learn!) we opted for the walking and boat tours of the mine, which start at this building full of more old mining equipment.
This is our tour guide, Dennis, showing some of the different types of mining lamps. The rest of the gang wants me to tell you that Dennis is the best tour guide we've ever had and he deserves a raise. We were his last group of the day, and I know we spent much longer than an hour in the mine. We had a lot of questions, and he was able to answer every single one. I bet he is great with school groups!
Above is Keith with a lantern, which attaches to the belt and weighs about 8 lbs. Not much, unless you have to carry it around all day while hauling rock.
Let's go inside!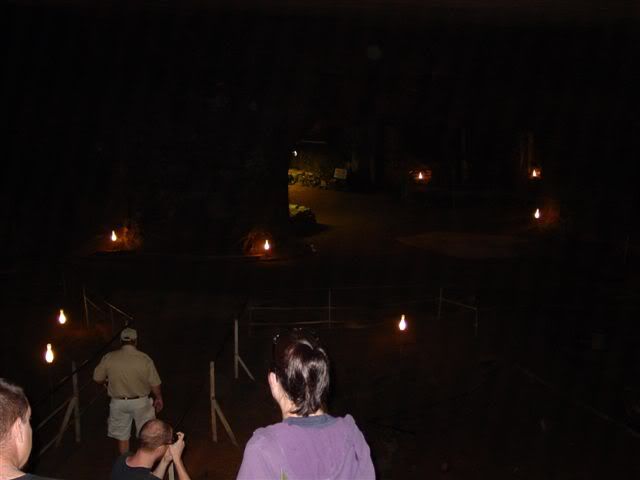 Can you tell from that picture how MASSIVE this place is? I'm afraid no pictures can do it justice. Our jaws dropped when we got to the bottom of the stairs. No one was expecting such a cavernous space. I think there is something like 88 miles of path carved out.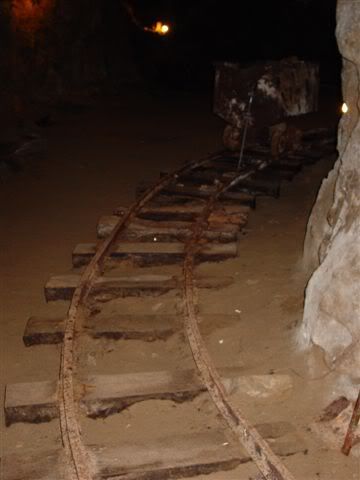 Miners had to fill these carts, which hold one ton, 20 times per shift. There are spots on the pillars where you can see hatch marks they made to keep track.
Being as this is a mine, and entirely man-made, it is not subject to the same rules as a cave. However, the constant running water is creating cave formations. This is pretty cool, so they don't want you to touch them (oils in your hands will "kill" living cave formations) except in ONE spot.
Can you identify the minerals by color? What about the formations? (Yes, I totally just got all 3rd grade teacher on you because I don't remember all of them.)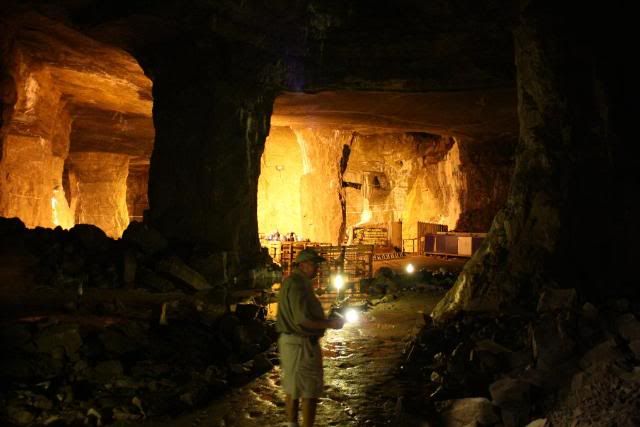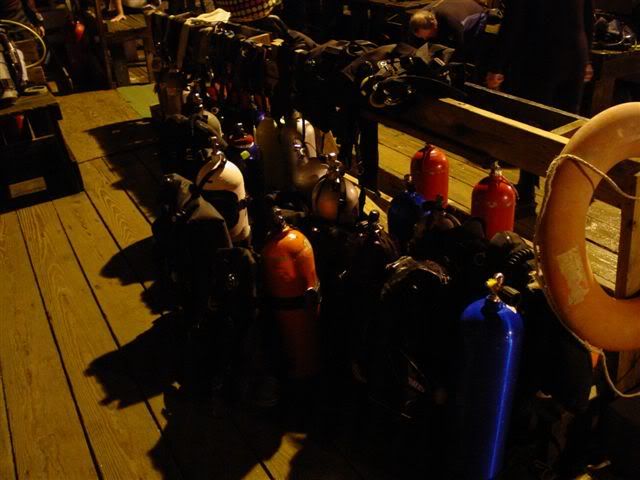 Let's head for the boat! The boat is pontoon style and very stable, but the water is also very deep, so you have to wear a life jacket.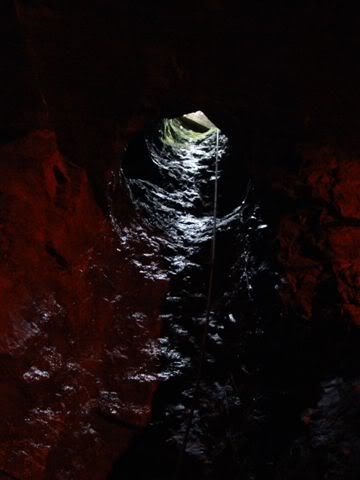 As I said, there are 24 dive trails. Dive lamps are not required/allowed, because everything is already lit up. Those are all the wires you see in the pictures. Bonne Terre Mine has been filmed by Jacques Cousteau (who apparently came for a day and stayed for a week), the History Channel's Weird US, and is one of National Geographic's top American Adventures. I could go on for days (and have about 200 pictures) but I really want you to see it for yourself! Bonne Terre Mine is only about 45 minutes from St Louis. Tour and diving prices are listed on the website.