Dang. I just did a Man Vs Food entry last month, and now you're going to think I copy everything Adam does. Well... if he has been there, I'll probably like it, and there is no question that I love corn dogs. When my friend Val alerted me to the Springfield, IL episode of Man vs Food, I knew we had to make Cozy Dog Drive In one of our stops.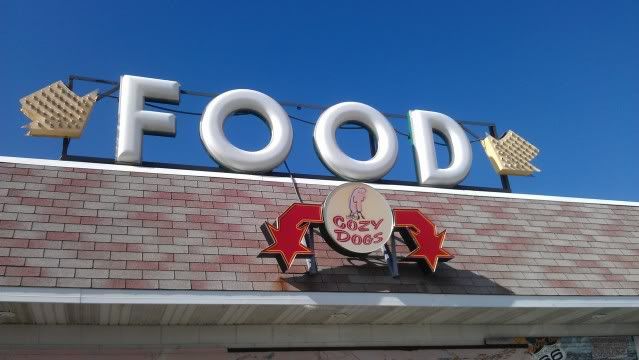 A cozy dog is a hot dog on a stick, dipped in their special batter and deep fried. I love their logo - two hot dogs hugging! They have an extensive menu beyond cozy dogs, much of it fried, plus breakfast before 11 am. I had a cozy dog and fried mushrooms (with ranch, of course) and Francis had the chili dog and fries. Val and Robbie had cozy dogs as well, and Mark had a burger, which he says is similar to a steakburger. The verdict all around is that the cozy dogs are delicious, and everything is greasy. It's like year-round State Fair food.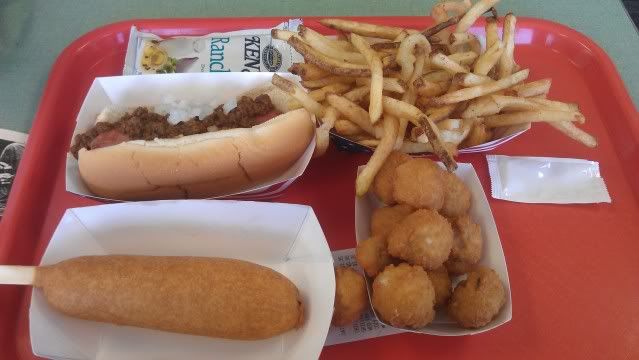 The restaurant is full of Route 66 ephemera, and in the middle is the Edwin Walmire Memorial Library. I kept thinking, Waldmire...Waldmire... why is that name so familiar? And then I saw the brochure that explains the library and recognized the artist. Ah, of course!
Fillmore from Cars!
Bob Waldmire, who inspired Fillmore from the movie Cars, and whose VW bus is at the Route 66 Museum in Pontiac, IL, was the son of Edwin Waldmire, who invented the cozy dog. The Waldmires are a huge part of Route 66 history!
You can read the story of Edwin inventing the corn dog on a stick on their website
.
Cozy Dog Drive in is located at 2935 S 6th St, Springfield, IL. You can peep the menu on the site linked above. Speaking of menus, don't forget, I am collecting links to Fish Fry menus for St Louis so I can update the list for 2013! Send them my way when you see them!