It has been awhile since I did an
Obscure Monuments and Memorials
entry. Back in November, my friend Sara asked me to find out more about this big rock in the area of Produce Row in downtown St Louis. She showed me the Google satellite map and I thought I knew exactly where it was, but I found out when I got down there that a lot of street signs in that area are missing. I got turned around and never did find it.
Fast forward to yesterday when Keith, Courtney, Robbie, and I were heading to St Charles for the Moolah Shrine Circus Parade. A section of highway 70 is closed for repairs, and we had to detour. As we are driving down North Broadway, I am telling them the story about how I tried to find this big rock on Produce Row, and Keith says, "You mean that big rock?"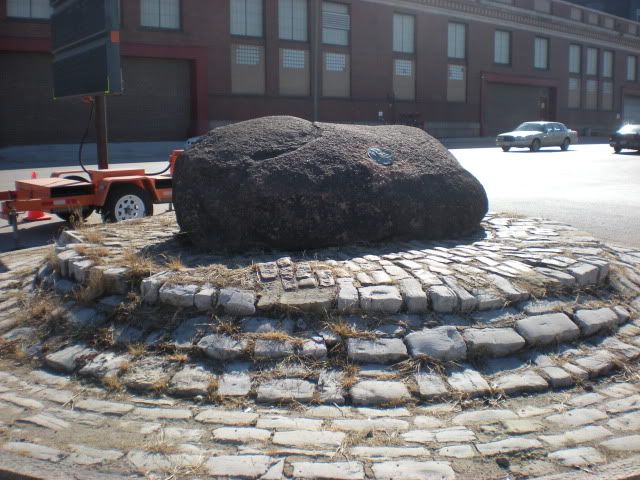 Holy cow, it was THAT big rock! So we flipped a u-ey and took some pictures. As it turns out, Sara found out more about it and I've done a little "digging" myself this afternoon. The big rock marks the site of the Big Mound, which was the largest Native American mound in the St Louis area. As the city spread north, the mounds were leveled. Big Mound was carted off by the wagonload, to be used as fill dirt in other areas, or to make bricks from the clay.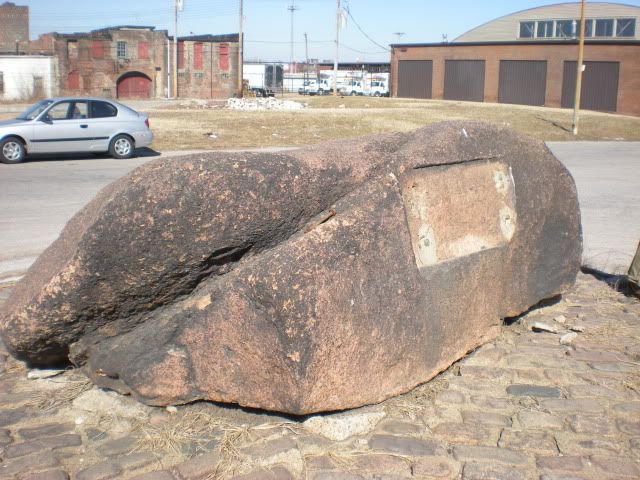 CC&G mobile in the background. Can you believe most weekends we cram 4 adults in that car?
The sad thing is, there was once a plaque on this big rock, letting people know, well, why it is there. I'm sure it was made of a valuable metal and pried off - you can see evidence that similar attempt was made on the medallion on the other side. I'm sure very few people stop to see what that big rock is, but still, the missing plaque is shameful. This was all the more apparent to us yesterday since we were surrounded by cars with out of state plates who were forced to detour through a neighborhood that looks like a bombed out wasteland. I hope the Missouri History Museum can find a way to restore this monument in some way. If there is some kind of fund, or a problem that needs solving, let me know and I will post about it here.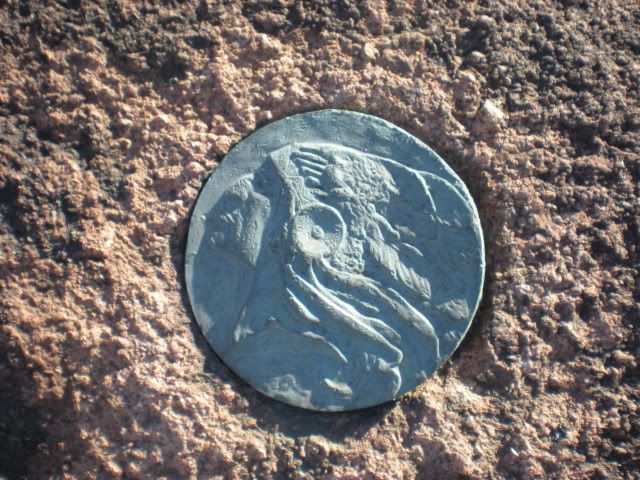 Here is the satellite view
if you want to check it out for yourself, maybe do some weeding while you are down there.
Further reading:
An interesting article from the St Louis Post-Dispatch from a couple weeks ago
about many of the things that have been found in the archeological dig going on at the sites to be used for the new Mississippi River bridge.