Whew, sorry it took me so long to post this week. Daylight Savings Time gives me jetlag and it took me awhile to find my blogging muse today.
The parade was last weekend in St Charles, and the Circus starts Thursday the 18th at the Family Arena and runs through Sunday. For my clown-phobic friends, the clowns will be at the end, and you will have a warning two pictures in advance. I don't understand you, but I respect you.
A lot of people have asked me exactly what the Shriners are and what they do. I am not affiliated in the Shriners in any way, but I think I can tell you a little bit as a layperson (if that's the right word).
First of all, to be a Shriner, you have to be a Master Mason in Freemasonry. Shriners International is divided into different regional groups, or temples. The one familiar to St Louis is the Moolah Shrine, but across the river in East St Louis we also have the Ainad Shrine. Ainad also took part in this parade. This dog is not from Aidad. He is from
C.H.A.M.P. Assistance Dogs
.
If you have been a long-time reader of this blog, you may remember my
Shriner Parade
post from a couple years ago. That was the Imperial Parade, when Shriners from all over the country were in town for their annual meeting.
Why they seem to revolve around an Arab theme, I cannot tell you. Let's just leave that alone as part of the mystique of Freemasonry. But just as an aside, BACK IN MY DAY the Ceremonial Committee carried around scimitars instead of balloons.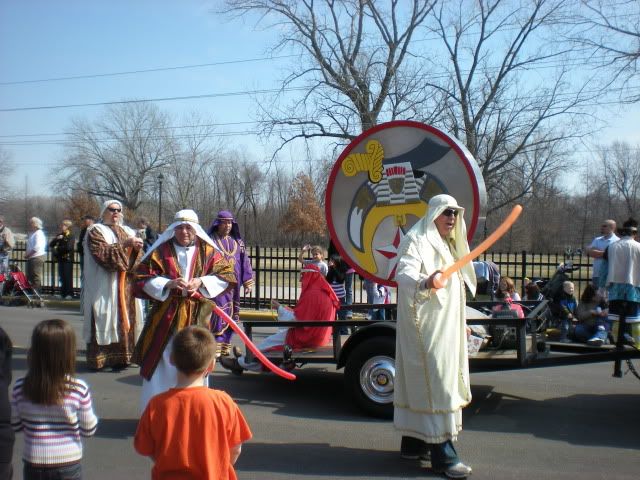 The Shriners primary mission is the
Shriners Hospitals for Children
. Much of the money they raise goes to fund these hospitals, which provide care for children with orthopedic conditions, spinal cord injuries, burns, and cleft lip or palate with no financial obligation to patient or family.
I have heard some criticism over the years about how the Shriners spend their money. I suspect some people are a little confused by the difference between a charity and a fraternal organization that does charitable work.
As I said, I am not affiliated with the Shriners, but I do know some people who had surgeries at Shriners Hospitals when they were kids, and I think they provide a valuable service to the community, whether it is spinal surgery or Yomo cars.
Surely you remember how dangerously exciting Yomo cars were when you were a kid. If Yomo cars and mini Indy's attract attention to their cause and allow them to provide medical care
with no financial obligation to the families
, how are you going to nitpick their finances?
OK, enough of my Shriner soapbox. Enjoy some more pictures.
TWO PICTURE WARNING! COULROPHOBICS, PREPARE TO EXIT!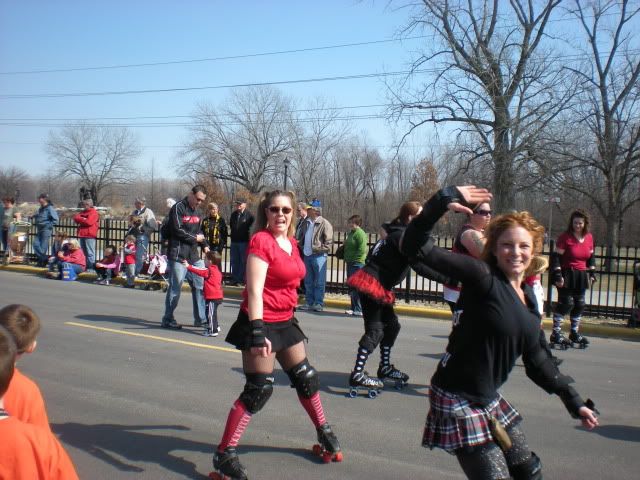 Say hi to the St Chux Derby Chix! Another year or so and they will be ready to get the pants beaten off of them by the Arch Rival Roller Girls. HA!
OK, SEND IN THE CLOWNS! I don't understand the phobia because I LOVE clowns. I couldn't leave them out just because some people are irrational.
That's all, folks! All the information on show times and tickets for the Moolah Shrine Circus can be found at
stlshrinecircus.com
.