Did you know the World's Largest Set of Teeth is right here in St Louis? I have covered some lesser known treasures in this blog, but the
Delta Dental Health Theater
is one of the REALLY hidden gems.
You probably didn't even know that it was there, right in the same building as the Old Spaghetti Factory, or if you did, you probably haven't been since you were about 5 years old. It has been a popular field trip spot for more than 25 years!
I think Mary was a little surprised to have six adults show up for the 11am show on Saturday. Since we were the only ones that day, and we made it to adulthood with most of our teeth, we got a more casual presentation.
We also got to see some old treasures that you won't see these days, like these marionettes from back in the day. Below are Tooth Fairy and Mr Tooth Decay. Maybe you remember them?
If you bring kids, you will learn about healthy eating habits, proper brushing techniques, and the evils of smoking and chewing tobacco.
There is also a big board full of all kinds of interesting trivia about the history of toothbrushes and toothpicks!
We insisted on watching the full DVD in the theater, wherein Sir Smiles A Lot sends you on various missions with the Tooth Wizard and P.A.N.D.A. (which stands for Prevent Abuse and Neglect through Dental Awareness). I have to say, the Tooth Wizard had me pretty convinced that the dentist is a fun and exciting place to visit.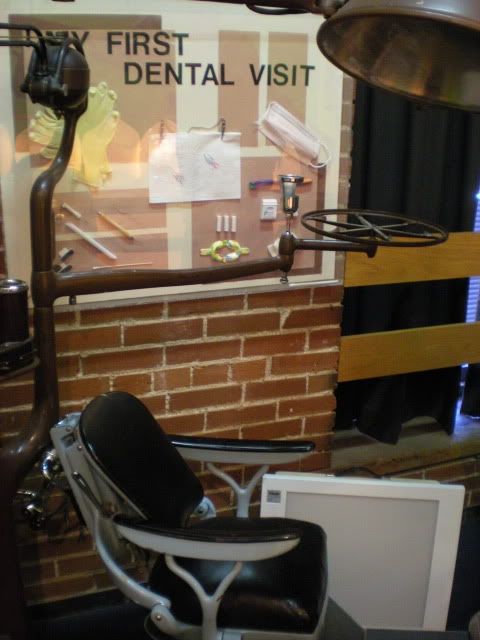 The best part is that this costs $1. ONE DOLLAR. Obviously, they are not raking in the money hand over fist here, so they depend on support from the community. Tell your dentist, tell your friends, stop by and pick up a
Schnucks eScrip Community Card
. They also do Birthday, New Tooth, and Lost Tooth parties! Their regular hours are Tuesday through Saturday, with show times at 9:30am, 11am, and 1:30pm. You will find the phone number and email address for reservations on their website (linked at the beginning of this blog).