Last Sunday, my sidekick Phoenix and I, armed with the camera, went in search of Old St Marcus Cemetery. I read about it on some websites when I was researching the history of Concordia Cemetery and was curious to see its current state. I'd also seen some kind of path off to the right when driving down Loughborough Ave on my morning route to Quik Trip and wanted to find out what it was.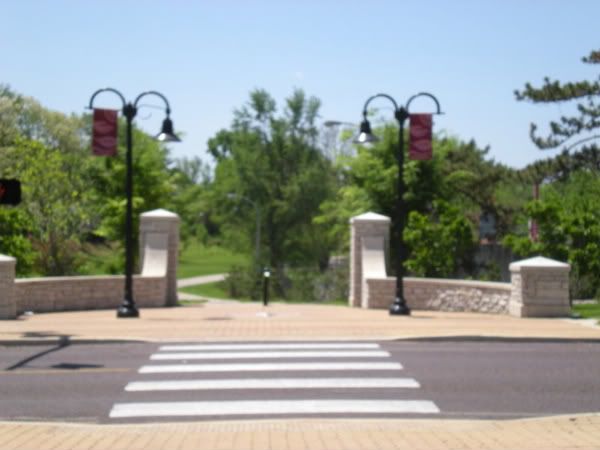 Entrance I had noticed while driving down Loughborough. Sorry for blurriness; I deleted the wrong picture off the camera later in the day.
We set off down Morgan Ford Rd to Loughborough and reached the entrance above. What I hadn't noticed from the car is that the path
crosses
Loughborough, so you can go right or left, which sent lots of quotes from
Labyrinth
running through my head.
Since turning right would have sent us
straight to that castle
back toward home, we turned left.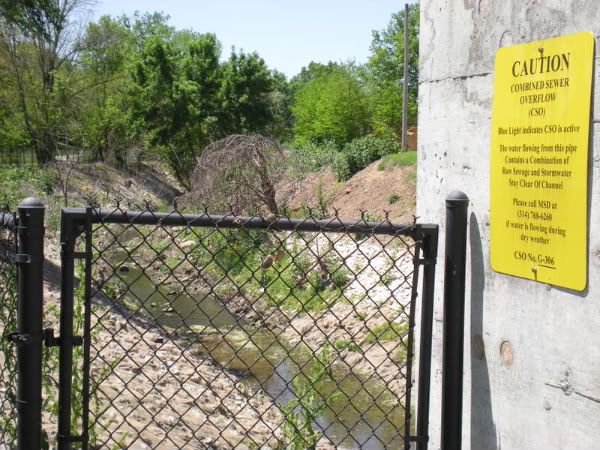 No swimming!
A lot of what we call "creeks" or "rivers" in the St Louis area, particularly in the city proper, are branches of
River Des Peres
. We seem to have found one of these branches.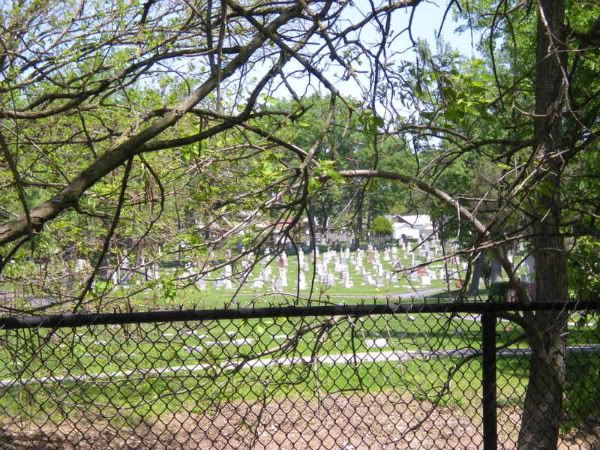 View of Saints Peter and Paul Cemetery across the crick
I wasn't sure where we were or where we were going, but I checked the time and decided to walk a mile before turning back, in the hopes that I might find a way to cross over into the cemetery. At this point I wasn't sure which cemetery it was, only that it was too large to be Old St Marcus.


Just about at the mile point, I see a familiar sight through the trees.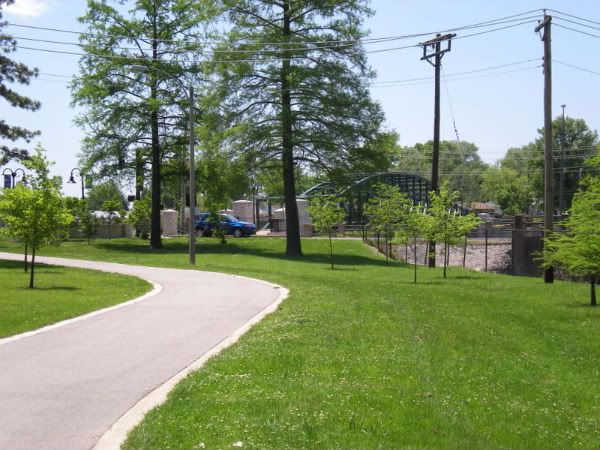 It's the bridge that crosses River Des Peres from Germania St to River Des Peres Blvd on the other side. I always wondered where that bridge went, and why. I still haven't seen any signs that tell me where I am and why this lovely, well lit path is here.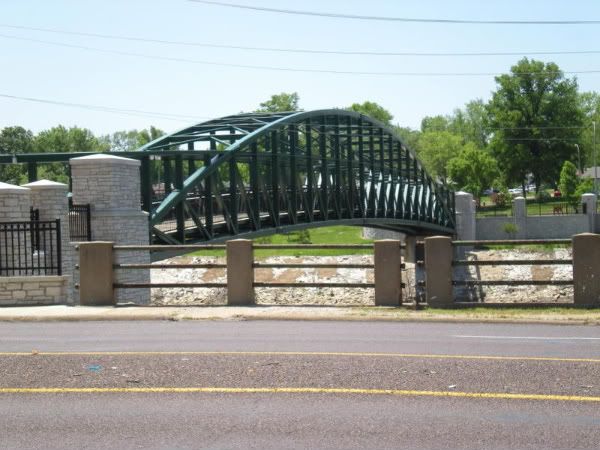 When I walked up onto the bridge, I was thinking about how I should have named this blog Craves, Caves, Graves, and Waves, because after food, show caves, and history, rivers are my next favorite thing. I know outside of St Louis people have a hard time calling an open storm sewer in a ditch a river, but humor me here.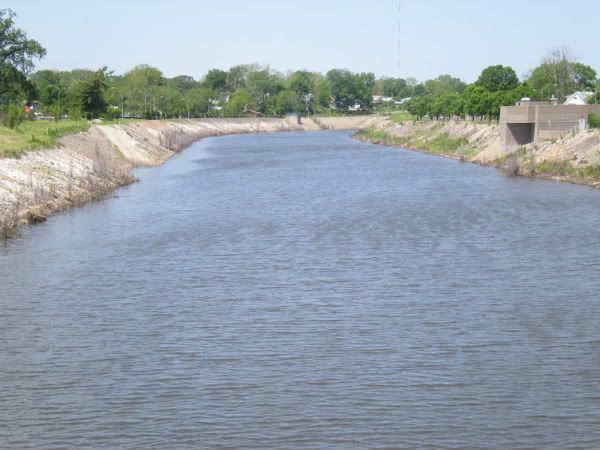 River Des Peres looking northwest

I check the river levels obsessively in the spring, as I drive River Des Peres Blvd to work every day. I'm fascinated by flooding, and with a lot of rain in the spring it's morbidly exciting to watch the river creep up. It dropped about 2' since these pictures were taken, but this weekend's torrential downpours will probably send it back up in the next day or two.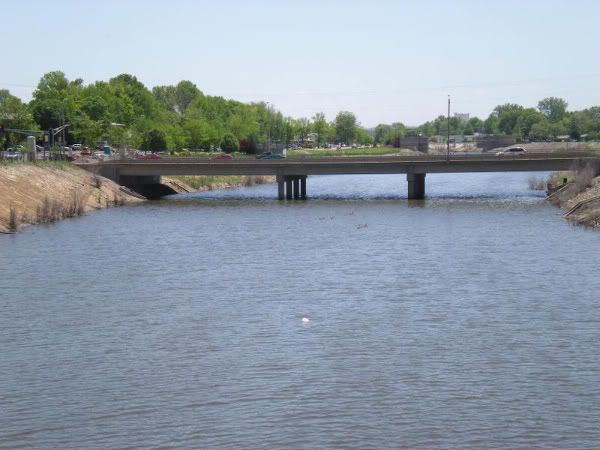 River Des Peres looking southeast

So, now we know the path connects to River Des Peres. Time to go back the other way to see if we can find some clues as to what this path is and where Old St Marcus Cemetery is hiding.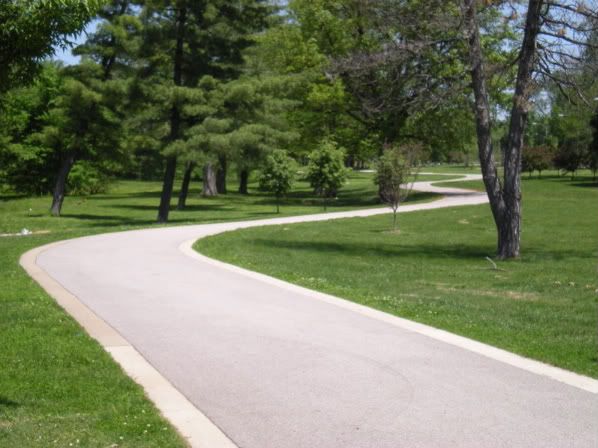 Path on the other side of Loughborough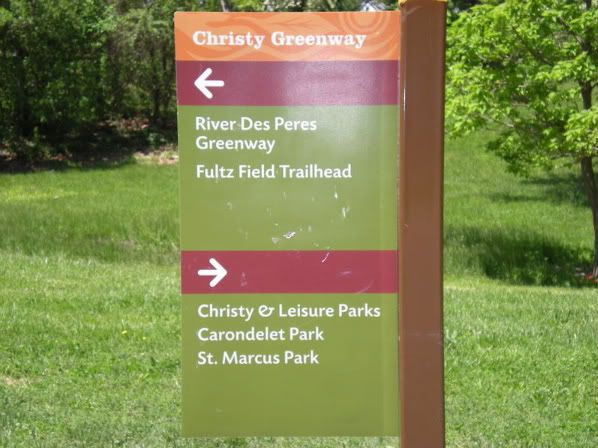 Finally, a sign!

Ah ha! This is all part of the Great Rivers Greenway Project! The River Des Peres Greenway runs along "the river" from Lansdowne Ave (right at the Metrolink station) to Morgan Ford, with extensions to the Mississippi River in various stages of planning and construction.

The Christy Greenway is an extension that runs from River Des Peres to Leisure/Christy Parks.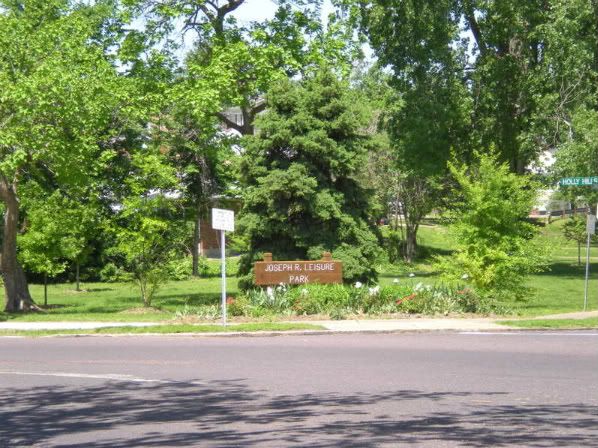 This extension is .85 miles in length from Germania St to Holly Hills Blvd. From Holly Hills it continues to Carondolet Park via the Bike St Louis dedicated lanes. The entire route from Carondolet Park to the Shrewsbury Metro station would be 4.5 miles if you're looking for a good run or bike ride. Be sure to wear sunblock and a hat because many of the trees are still young and there are long stretches without shade!

This concludes The Case of the Mysterious Path. Stay tuned next week for The Case of the Hidden Cemetery!