While researching
Concordia Cemetery
, I found mention of Old St Marcus Cemetery and the fact that
"many, but not all, of the graves from Old St. Marcus were moved to New St. Marcus Cemetery."
"Many?" What? This bears investigating.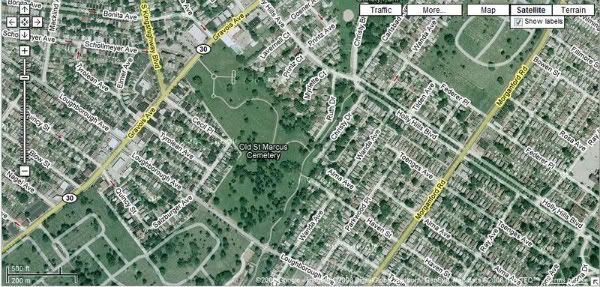 We're getting fancy this week!
The first thing I want to point out about that satellite picture is that it shows Old St Marcus Cemetery as being rather large and kind of a backwards L shape. I assume that technically that is the original boundary of the cemetery. However, today you have to walk from Loughborough all the way to that path that starts right around Christy Drive before you see any signage or monuments.
So, it's a park... with bodies. I see.
There's a small sign at the bottom of the hill, and you follow that winding path up to to top of the hill where you see this larger sign closer to Gravois. As you walk up the path, you start to see various large scattered monuments.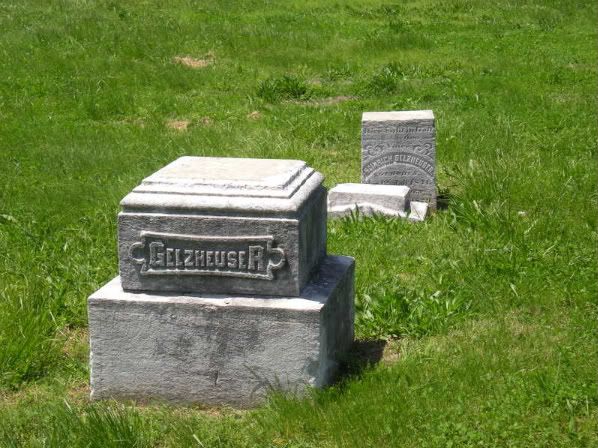 This is all at once on of the eeriest, saddest, most moving sight I've ever seen. Apparently, the previous owner let the cemetery fall into a sad state of neglect, and due to innumerable access points, there was a lot of vandalism and grave robbing and no way for the property to be effectively patrolled.


Here's an interesting letter I found on Rootsweb about the situation. I don't know who that person is or how accurate the information is, so take with a grain of salt. In any case, it's very interesting.




So, one wonders, if there were no records of the grave placement, how did they move "many" of the bodies to New St Marcus? Like that letter writer said, there wasn't one stone within 25 feet of it's grave the first time he saw the cemetery in 1964.




According to one genealogical researcher, it was the graves in perpetual care that were moved to New St Marcus. The rest remain, relatively in their original location.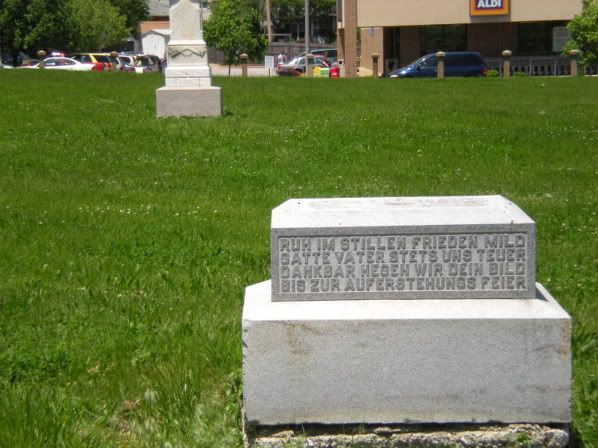 This is my favorite picture from the afternoon. It says, "RUH IM STILLEN FRIEDEN MILD GATTE VATER STETS UNS TEUER DANKBAR HEGEN WIR DEIN BILD BIS ZUR AUFERSTEHUNGS FEIER." I don't know if this is a sentence or a list of names or what. My German is spotty at best.


For you ghost hunters, I did find one online reference to "spectacular orbs" that can be seen in the cemetery from Gravois after dark. I would love to check the place out at night, but I respect that the compromise made between neighborhood residents, families, and the city was specifically to keep yahoos like me out of there at night.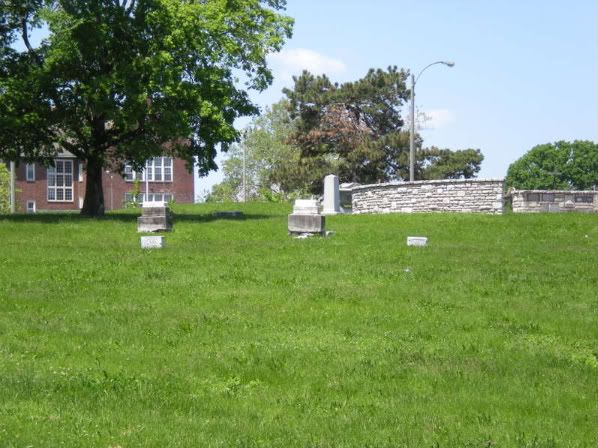 At the top of the hill is a sort of memorial garden, the walls of which contain the small headstones that were salvaged. The rest of the pictures are wide shots of each wall, and then closeups of a few of the more interesting ones.