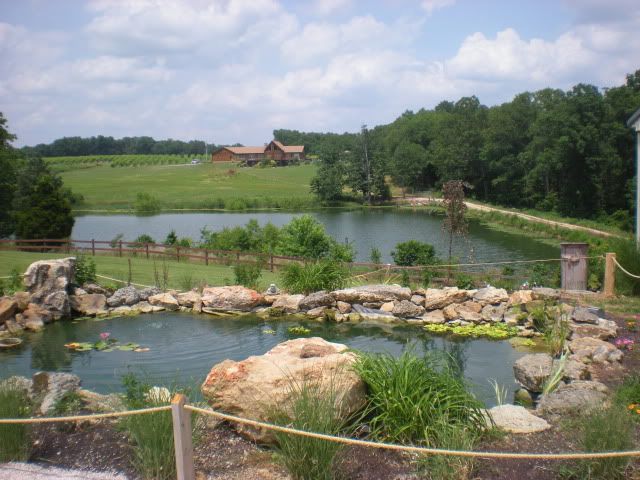 We visited
Cave Vineyard
for my birthday a couple months ago. Is that some lovely country or what? Almost seems a shame that we are going to sit in a cave, but it was hot and humid as hell the day we were there. We couldn't believe people were sitting on the patio instead of going down to the cave. For fall, though, I would probably pick the pavilion and fire pit.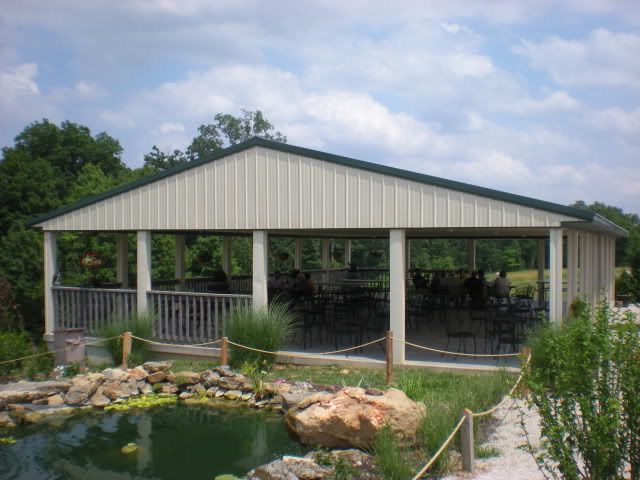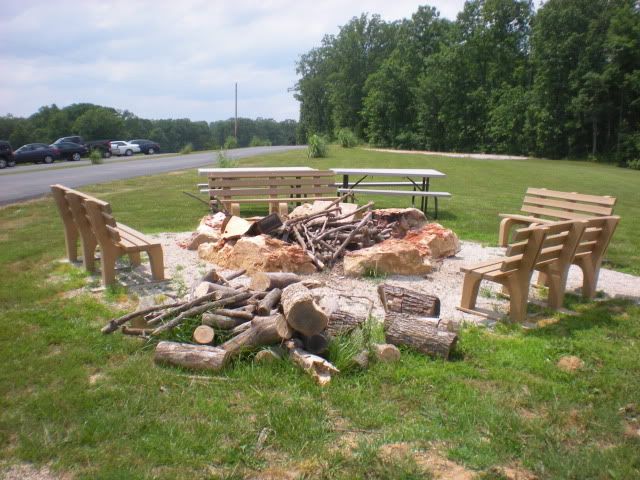 Now, here's the part where I confess that I don't like wine, but I do enjoy wineries. No one else in our party was much of a wine drinker, either, and one of the downsides to Cave Vineyard is that they don't sell any other adult beverages besides wine, and they don't allow outside alcohol. I generally pick wineries that do one or the other, but, this one has a cave, so we had to check it out. One thing we did really like was that the employees in the shop pack your snacks in a carrying basket and include plates & knives.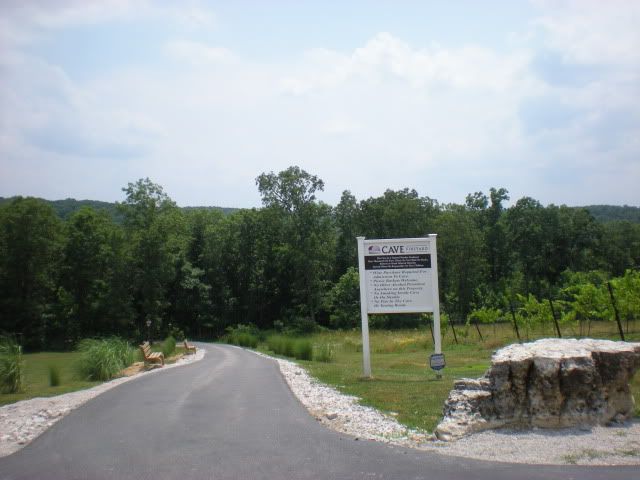 Here's the road to the cave. It's a pretty big hill, but anyone of reasonable physical fitness could walk it. It only takes about 5-10 minutes and there are benches along the way if you want to rest. They also have a golf cart that shuttles people back and forth.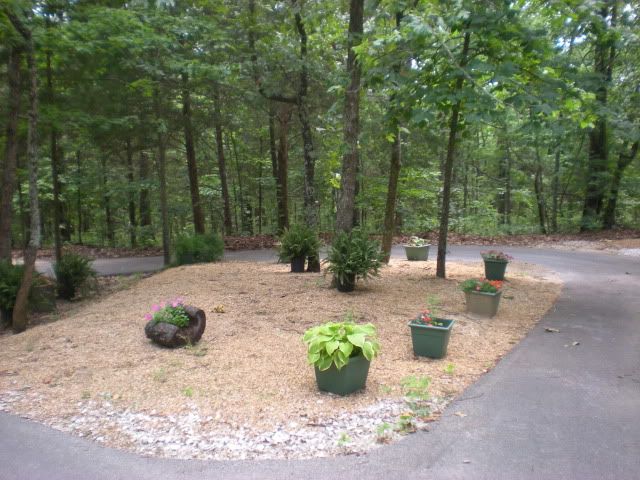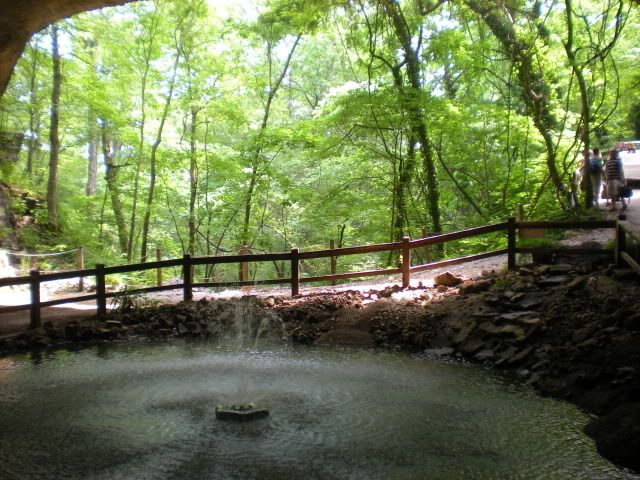 The cave has a fountain! Up here at the front is also where you can find towels for drying off tables, because live caves are drippy. The cave is much bigger than I expected, with room for lots of tables and chairs and a "stage" kind of area for musicians (acoustic, thank goodness). Note the umbrella.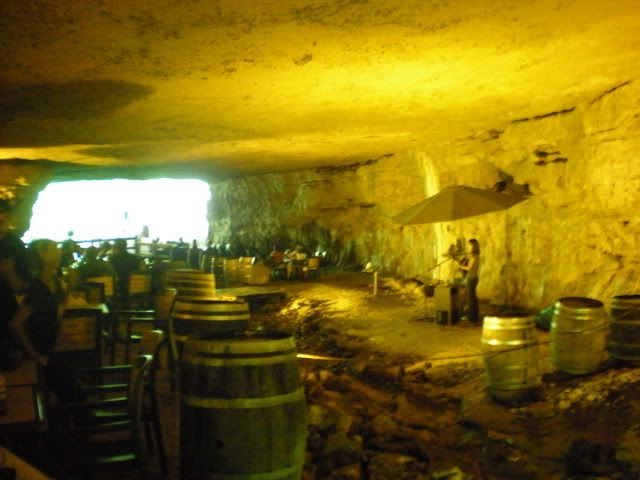 It's not easy to get pictures in a cave with both natural and artificial light. This is why the food picture is going to be washed out with flash, but we can't skip the snacks.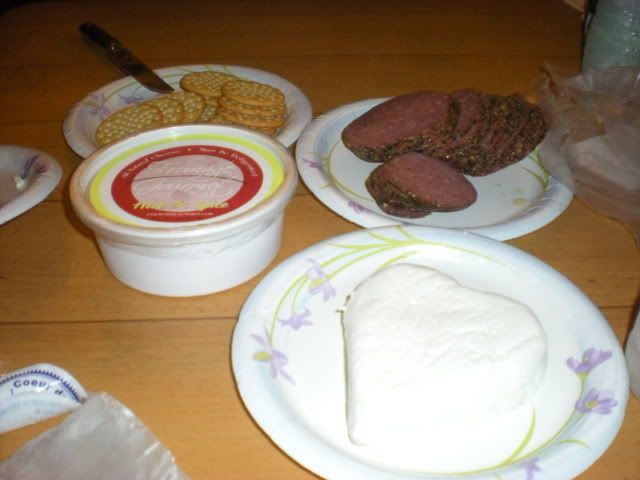 Unfortunately the heart shaped cheese looks the worst and it's the thing I want to talk about the most. This was my introduction to
Baetje Farms
, a Ste Genevieve farm that makes the best goat cheese of all time. On the cooler up top, the goat cheese has a sign by it with all the information you can find on the "Our Story" page of the Baetje Farms website, including that the goats drink herbal tea. We laughed about this at the time, but now every time I introduce someone to Baetje goat cheese, I say, "Isn't it amazing? The goats drink herbal tea." You can find it at several farmers markets, stores, and restaurants in St Louis, including Soulard Market (where I buy coeur de la creme every other week), Farmhaus, Niche, and Wine & Cheese Place.
Cave Vineyard is located at 21124 Cave Road in Ste Genevieve, MO, about an hour south of St Louis, and is open daily year round. If you know of any other wineries in the area that are great for any weather, I'd love to hear about them!