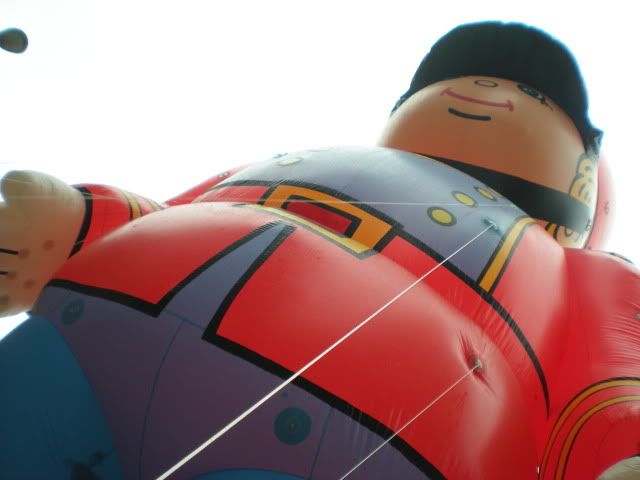 Francis and I were part of the balloon wrangling team this morning with one of my favorite charities,
Annie's Hope
. I didn't get many pictures because it was cold and raining, and we had a balloon that was really difficult to manage in the wind, but you can see more behind-the-scenes parade details in my post from 2008 by
clicking here
.
Since I feel obligated to give you some kind of educational content, did you know today is the 93rd Turkey Day football game between the Webster Groves Statesmen and the Kirkwood Pioneers? It's the oldest high school football rivalry west of the Mississippi. The trophy for the game is called the Frisco Bell, being as it is a bell from a retired locomotive that was donated by the Frisco Railroad in the 1950s. One of the reasons that the St Louis Rams do not play on Thanksgiving (according to
wikipedia
, so take that as you will) is because of the Kirkwood/Webster game. The St Louis (football, now Arizona) Cardinals tried to have Thanksgiving Games in the 1970s but gave up after 3 years and hosting reverted to Dallas.
I myself am a Webster Groves alum. GO STATESMEN! I can't bear the thought of going back out in this nasty weather, but I am with them in spirit, from my couch, in my orange and black sweats.