I think
The Magic House
is one of St Louis's most underrated attractions, probably because it's called a Children's Museum. The City Museum gets all the hype, and it is great, but I realized after a trip to The Magic House that you don't actually learn a whole lot at the City Museum, you just run wild and climb on things.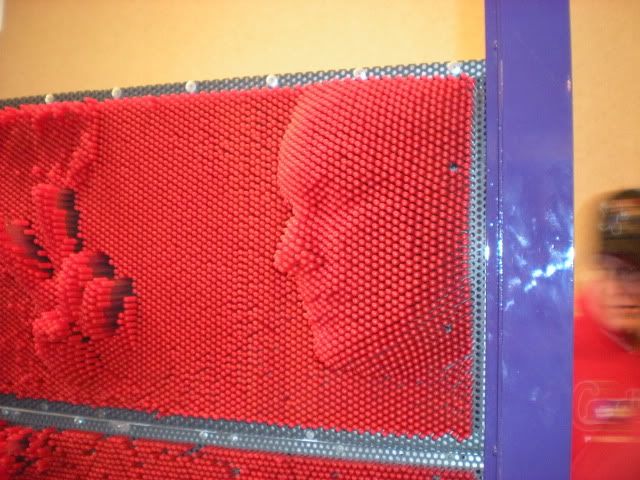 The Magic House is awesome because every single thing you play with is teaching you something, and it is all totally engaging, regardless of your age. On this visit a couple weekends ago I was joined by Francis, Amy, Kevin, and Rich, and no kids. The five of us are 25-32 and played for 3 hours straight. Then we took a snack break at the cafe (which is way cheaper than the average tourist attraction) and realized we still hadn't hit an entire wing of the building.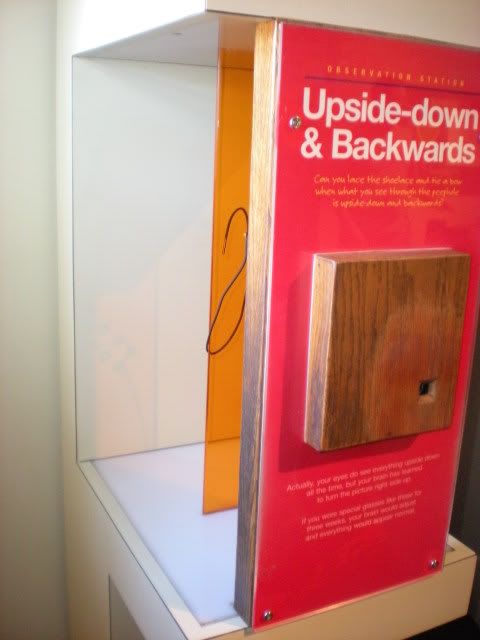 If you are our age and don't have kids, or if your kids are grown, it has probably been awhile since you visited The Magic House. You probably remember it as a house. A giant Victorian mansion, but a house all the same. Since then, they have added two major additions, and you can barely see the original house anymore!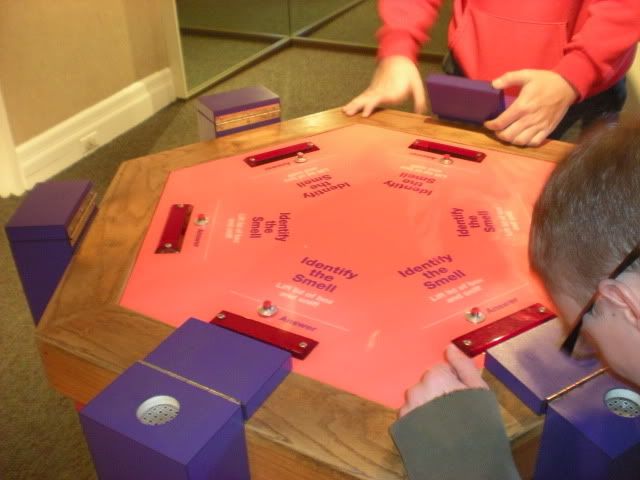 Still, a lot of the same exhibits from the original house are still around. You might recognize some of them in the first few pictures. (And yes, the electrostatic generator is still there.) The museum itself covers so much ground and so many different topics that this blog post would go on forever if I used all my pictures. Instead, I'm just going to tell you about my two favorite parts.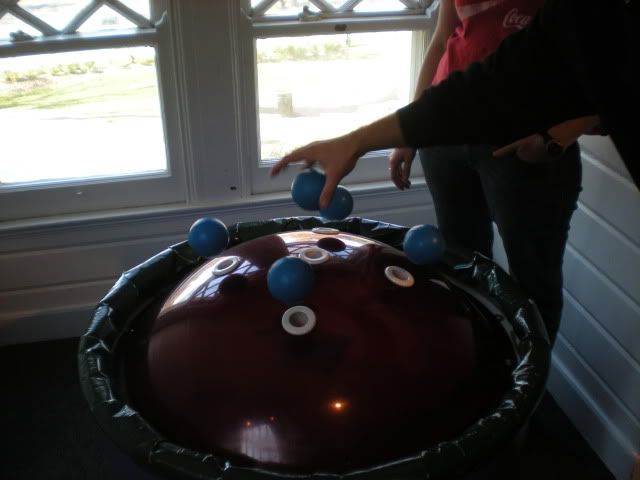 First of all, the reason I jumped on the
Groupon
(5 admissions for $20) a couple months ago is because in my day job, as a commercial flooring estimator, I bid the most recent addition. We didn't actually do the work here, but I'd seen the drawings and wanted to see how some of the concepts went from blueprint to real-world.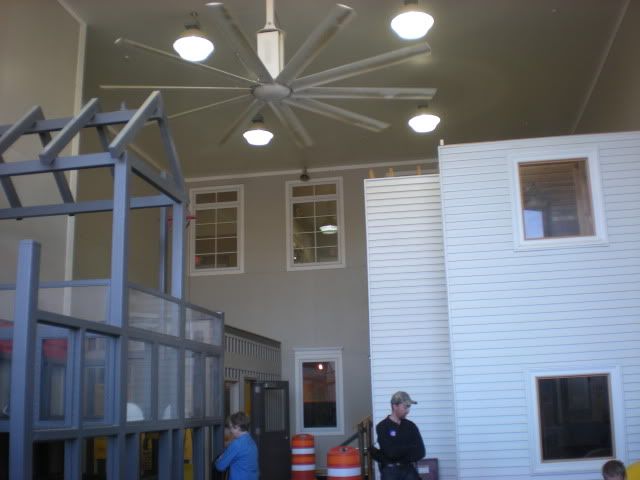 How excited was I to see that they have a whole construction site outside for kids to learn about how a house is built? This part wouldn't have been on the drawings that I saw, because it is outside.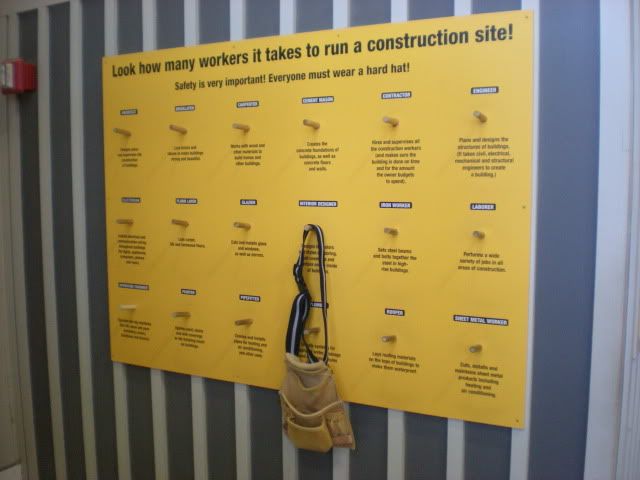 They have hard hats and tool belts, and all kinds of stations that show the different steps from concept to completion. This is my job, here in the construction trailer.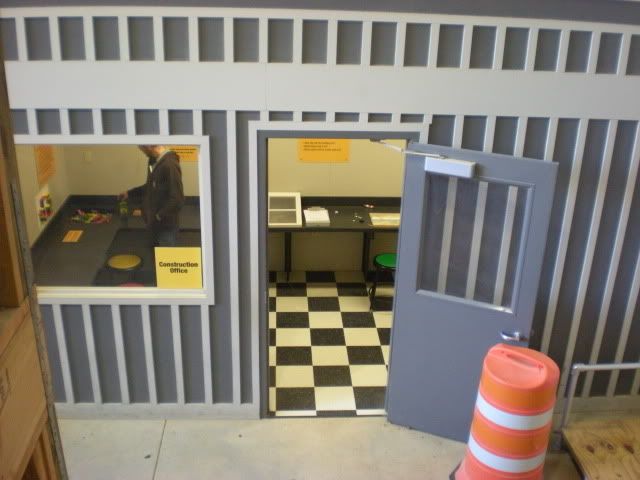 They have blueprints to show how to estimate materials, and design boards to show how architects pick out finishes.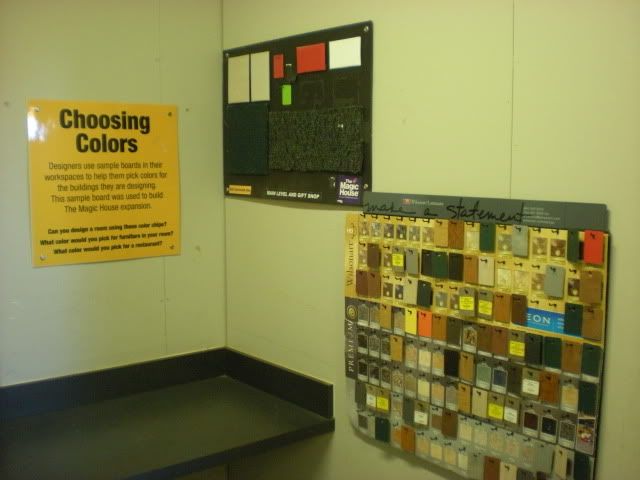 Over in the house under construction, you learn how to lay floors and install insulation.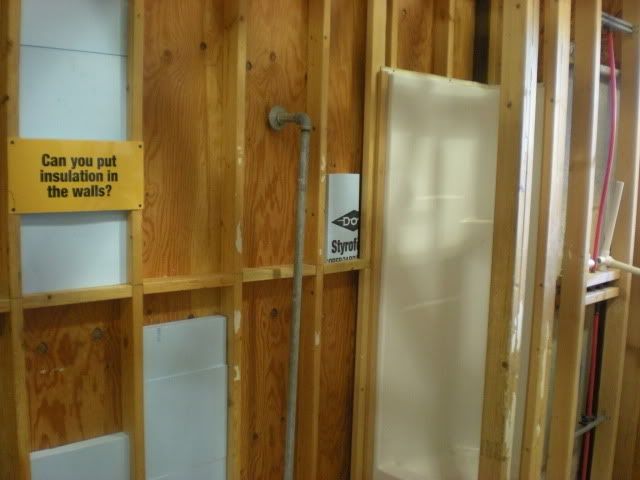 I know I said I was going to stick to my two favorite areas, but I have to cheat a little bit to show you one of the things I most wanted to see, based on the blueprints.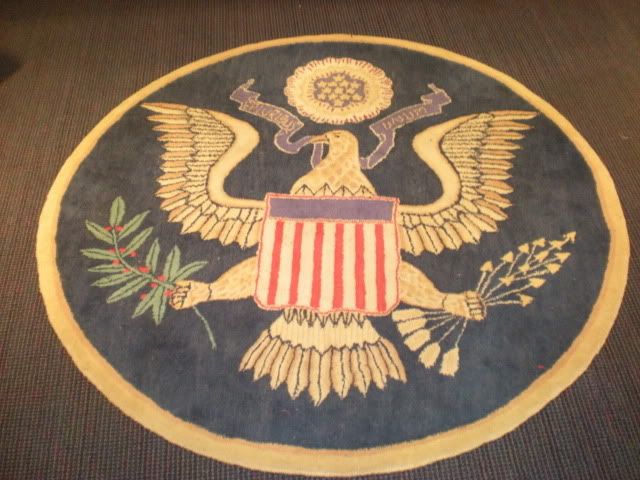 A replica of the Presidential Seal rug from the Oval Office! I also just have to sneak in this gratitous picture of the Presedential mouse hole, because it's cute, and I had to lay on the ground to get the picture: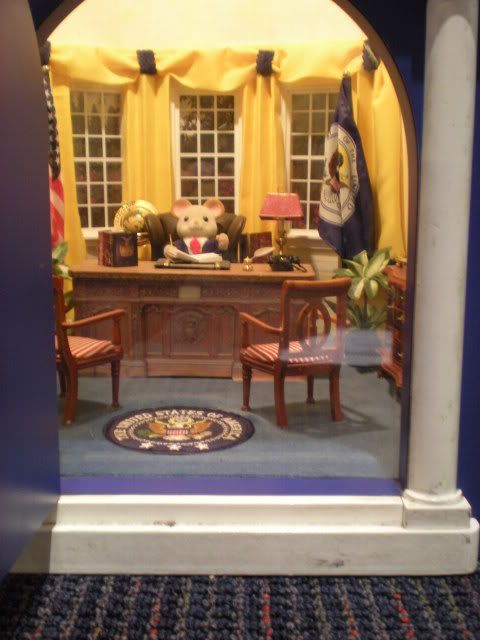 I see that and wonder which trade had to estimate/build that little cubby, and how much it must have brightened their day, even if they won't admit it. There's a reason everyone in town bids these kinds of jobs, because it's a break from the monotony of "office, school, hospital, office, school, hospital."
Onward to the VERY BEST PART! I remember my young cousins being in town a few years ago and telling me about this, and I was so mad that I'd been unable to get the day off.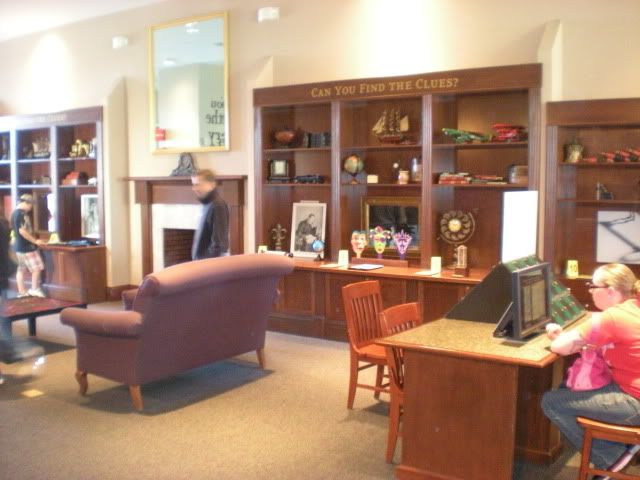 It's a Sherlock Holmes mystery to solve! Grab your detective notebook and pencil and follow the clues!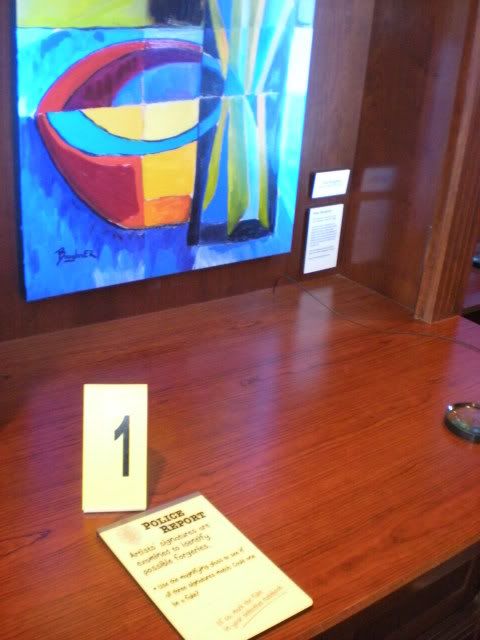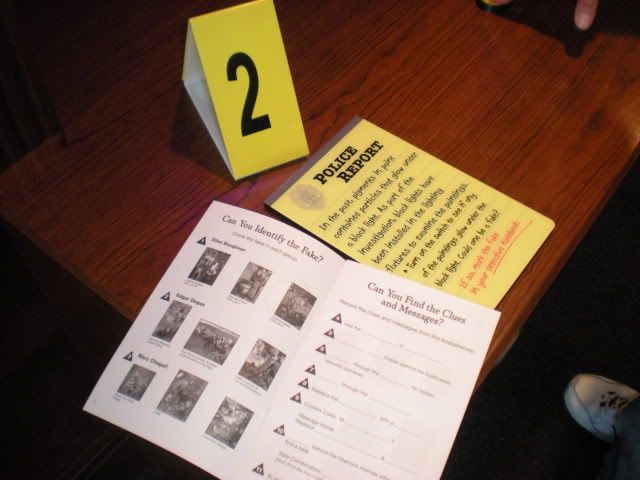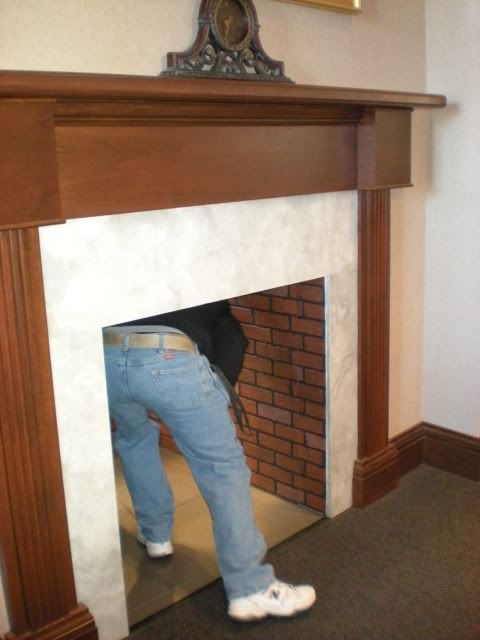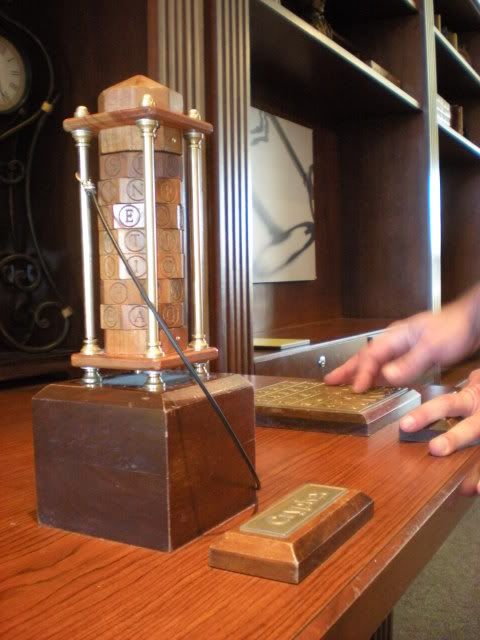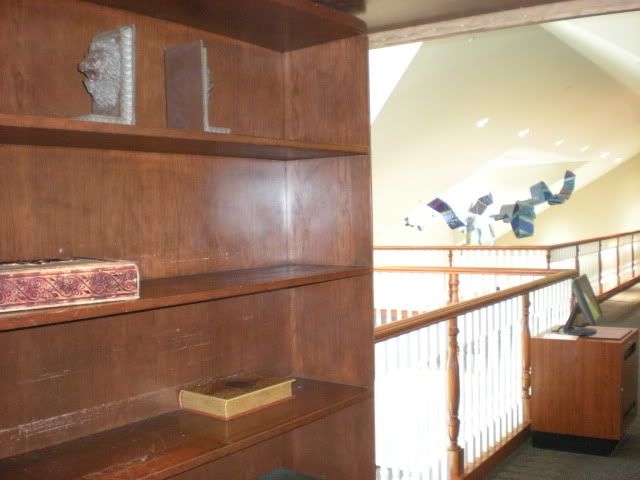 The secret passage through the bookshelf gets you into a room where you can climb into the ductwork to find another clue. This was one of the very few things in the museum we were too big for (along with all the trenchcoats, lab coats, superhero capes, judges robes, and any other costumes I may have missed). Then you move into the lab to analyze the evidence.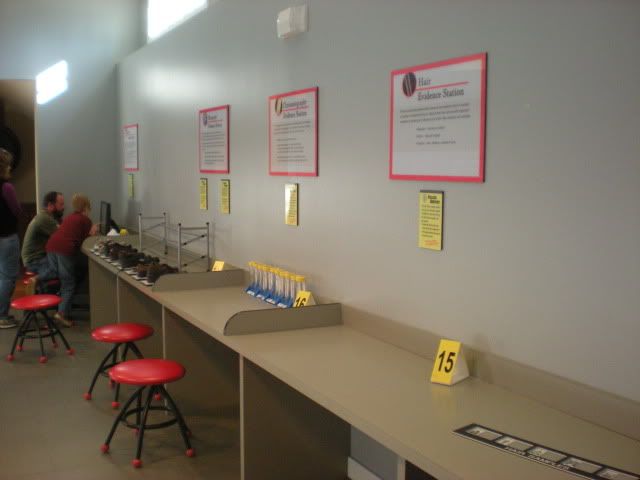 This part was my favorite not only because it was fun to solve, but also because it illustrates perfectly how well the museum is designed for parents and kids to work together. It wasn't too hard for kids to figure out, and it wasn't so easy that parents would get bored.
I hate to end it here. I left out so much good stuff, including the Math Path, the Lewis and Clark obstacle course, the whole wing on government with its scavenger hunt and karaoke, the Super Kids Save the World (limited engagement through January 17), the Water Works, the Bubble Room, and so much more! I guess you will just have to check it out for yourself. Admission is $8.75 for ages one and up. Hours vary by season, so check the website (linked at the beginning of this post).