After many weekends in a row of running from one thing to another, I needed a weekend to chill out. All that really means is that I didn't have any blog activities scheduled. Instead, Francis and I did some spontaneous geocaching in Forest Park and Carondolet Park.
For those unfamiliar,
Geocaching
is hunting for treasure (ok, caches) using a GPS device. People hide caches, usually something like a Tupperware container, and then upload the coordinates and details of the cache to the website. In the container is a log book, at the very least, and usually a few other items. The rule is that if you take something out, you must add something of equal value. I think one of my blog readers will recognize the cache below!
UPDATE: We had read up on geocaching before we did this, so I had an idea of what a
letterbox
is. I posted the picture because I knew rozebud would get a kick out of it. I was remiss in not specifying the difference between a traditional cache and a letterbox in this post. If you come across one like this you should NOT remove/trade anything.
Years ago I heard about this geocaching thing and always wanted to try it, but you needed a handheld GPS device, as well as a computer. Now that we have smartphones, you can download an app and use your phone as the GPS device. This means you can be having a beer at the Boathouse in Forest Park and say, "Hey, let's see if there are any caches around here." Which is exactly what we did.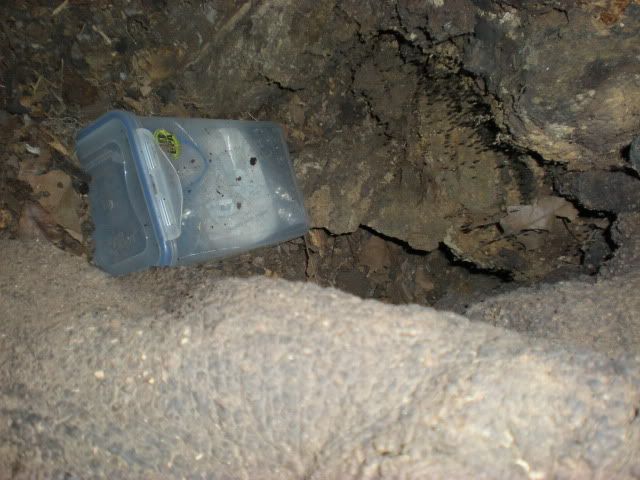 I'm trying to keep the pictures fairly general (and experienced St Louis geocachers may notice I've shuffled the pictures) because I don't want to kill any fun. This one (above) is funny, though. It's in a really tricky location, and we we sure we were in the right spot but couldn't find it. One of the comments mentioned bringing a flashlight, so I just started taking pictures of the spot we couldn't get to with my camera. Sure enough, we'd found it!
Most of the spots in St Louis parks tend to be in wooded areas, so I would not recommend bringing a dog that can't be off-leash (not that I advocate breaking leash laws), because they will get hung up on everything. But if you have a well trained and obedient dog like Phoenix here, this is a great activity for them, too. She had a great time and was totally worn out when we got home.
The best part about geocaching is that it's a worldwide activity! Anyone reading this probably has a geocache nearby right now, and all you need to find it is a GPS device and internet access. We had so much fun this weekend that we are working on a CC&G cache right now. I'm still looking into the finer points of the rules, but what I would LIKE to do is put a disposable camera into the box so that we can do a group participation blog post. Stay tuned for details!