It's going to take me awhile to go through all the pictures from our cross-state adventure yesterday. In the meantime, let's finish up that Hannibal trip! I gave up on taking pictures inside the cave within about 20 feet of the entrance and left the rest up to Keith's digital SLR.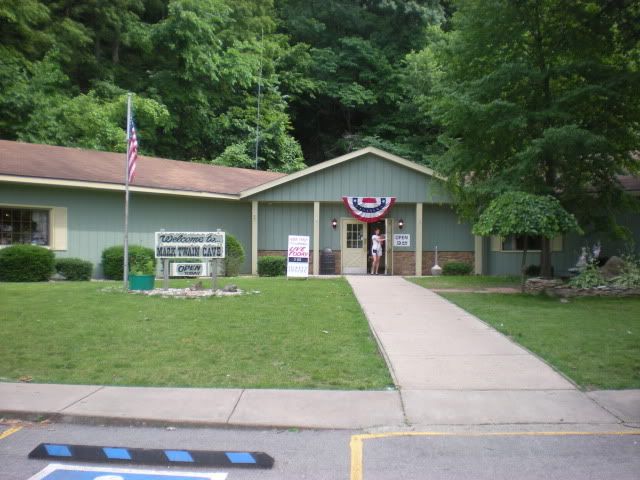 The
Mark Twain Cave
compound has a lot of the same stuff Meramec Caverns has: gift shop, fudge, campground, rock shop. They also have a candle-making store, and a theater where Jim Waddell does his one man show "The Life and Times of Mark Twain."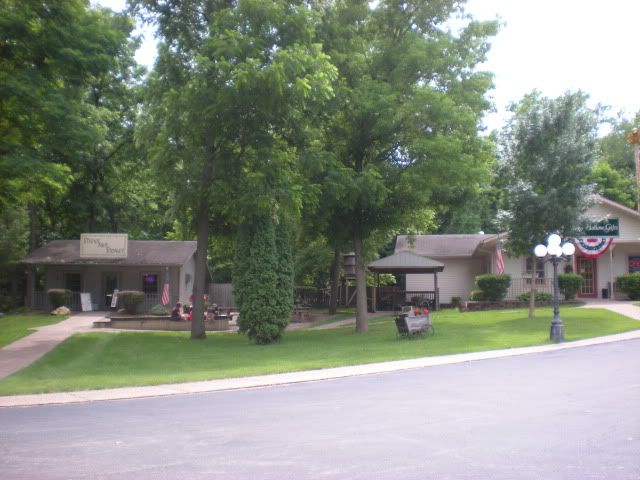 Mark Twain Cave, originally McDowell's Cave, is the FIRST show cave in Missouri, thanks to Mark Twain himself. According to
Missouri Caves in History and Legend
, people demanded to see the cave when
The Adventures of Tom Sawyer
was published, and it only made sense that enterprising locals would start charging for tours.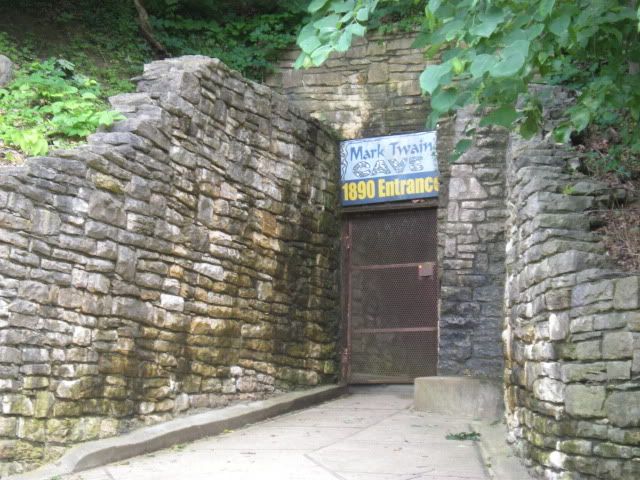 The cave itself was discovered around 1820 by Jack Sims when he was out hunting. Right about the center of this picture you can see the "Discovery Entrance."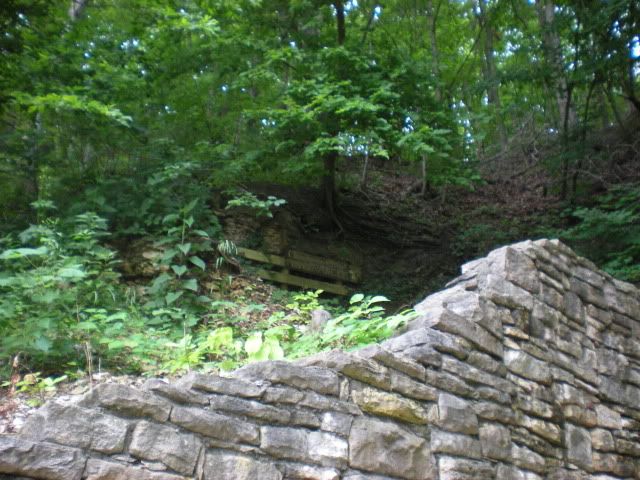 The tour itself is just over a mile long if I remember right, but as you can see from this sign many miles of cave passages have been surveyed. You can see how easy it would be to get lost in this cave!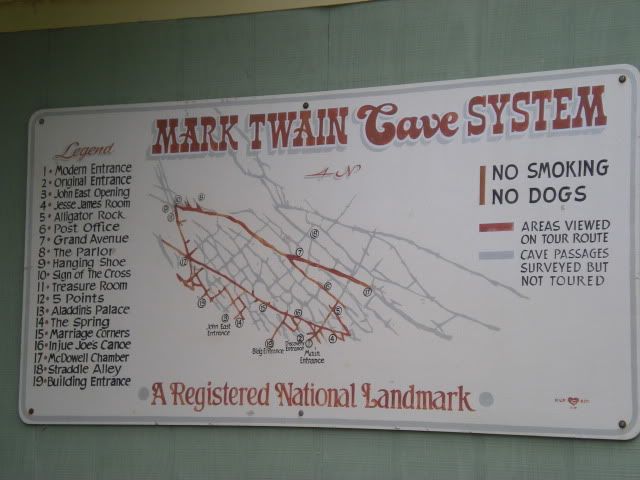 This cave is made up of limestone, carved out by running water over thousands of years. It looks completely different from any other cave I've been in (which is a small number, mind you.)
But like Meramec Caverns, they have named many of their formations, passages, and "rooms." Here is the hanging boot:
The Devil's Slide (think "Goonies"):
And like many, MANY caves in Missouri, Jesse James may have used this cave as a hideout.
You can't go back in that room on the tour, but there are pictures at the end of the tour of the place where Jesse James signed his name on the wall. Which leads me to my favorite thing about Mark Twain Cave: graffiti.
People are of two minds on this aspect of the cave. There are hundreds of signatures covering the walls of the cave, smoked out by candles or signed with paint or berry juice, and you'll see them through the entire tour. Some people think it makes the cave look kind of junky.
Personally, I think it's pretty cool to imagine all the people who explored and partied in this cave way before movie theaters and television and air conditioning. It is now HIGHLY ILLEGAL to deface a cave (and I am all for that federal protection) so all of these signatures are from another era.
It's easy to imagine the "Toms" and "Beckys" of the day using this cave as their playground.
Photo of Normal Rockwell sketch taken by Keith at the Mark Twain Museum
I can't leave off without telling you about the FUDGE COVERED RICE KRISPIE TREATS. You may or may not find them at the gift shop. It sounded like they were a brand new concoction the day we visited.
Mark Twain Cave is located at 300 Cave Hollow Road in Hannibal, MO. Tours are $15 and seasonal operating hours can be found on the website. There is also another cave on this property called Cameron Cave, which does lantern tours. I hope to get back up to Hannibal in the fall to check that out.