Hannibal, Missouri pretty much bases their entire being around Mark Twain. Samuel Clemens, the man behind the pen name, was not even born here, although he spent most of his childhood here and it influenced a great deal of his writing.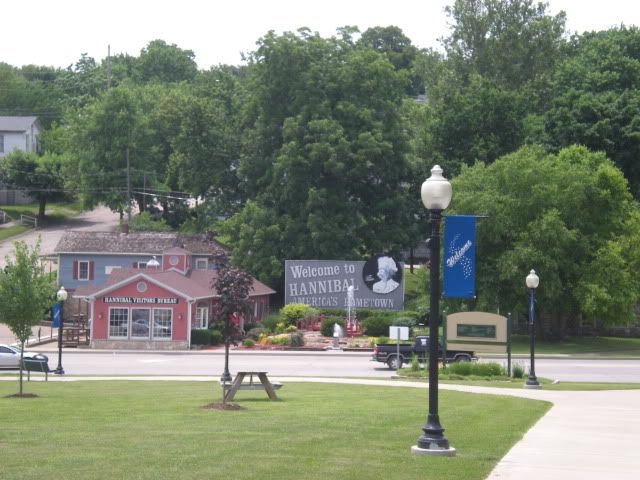 Everywhere you turn in Hannibal, at least in the historic downtown area, there is Mark Twain's mug or some reference to Tom Sawyer. Even on the vending machines. Pepsi: Official Sponsor of Hannibal MO.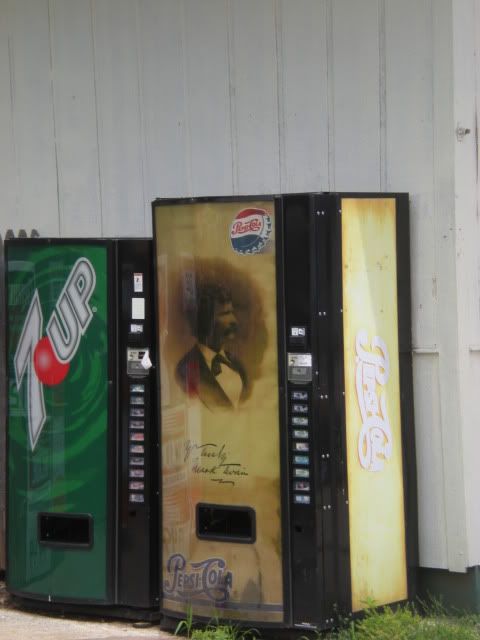 Now don't get me wrong, Hannibal is a fantastic town. I go there at least once a year and do something different every time. It's just that it seems like it would be odd to live in a town that seems, well, obsessed.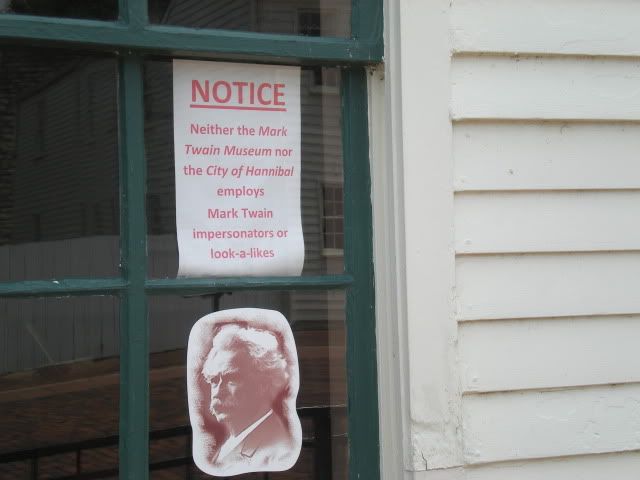 A sizable chunk of the downtown area is taken up by the
Mark Twain Boyhood Home and Museum
. This is one of the things that makes Hannibal a little weird, because the line between reality and fiction gets a little blurry.
You start at the interpretive center, which is chock full of information on Samuel Clemens and his life in Hannibal. I mean, CHOCK FULL. If you've been reading this blog for any length of time, you know I love museums and historic homes and am a bit of a nerd. Trust me when I say there is way too much going on in this interpretive center. We kind of gave up and moved on, although we agreed after reading quote after quote that we would like to read
The Autobiography of Mark Twain
, because it sounds hilarious. You pay one price to get into all this stuff, so if you are pressed for time, save it for Mark Twain Museum down the street.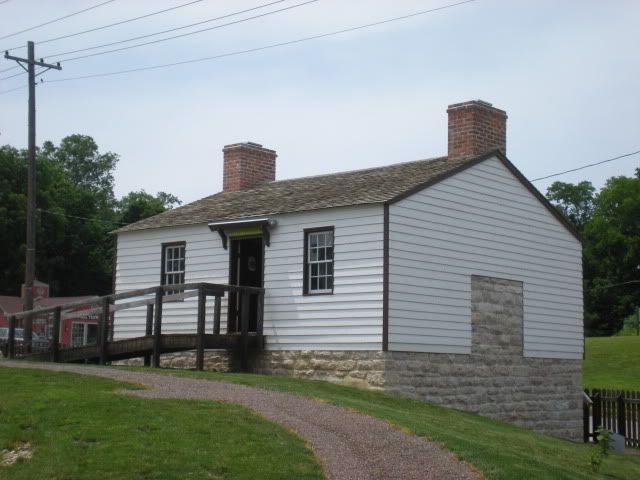 Next we have the Huckleberry Finn house. Huck Finn, of course, was not a real person, so this is not really his house. The character was based on a kid Samuel Clemens grew up with, Tom Blankenship but this is not that kid's house either. This is an interpretation of the house Huck/Tom PROBABLY lived in.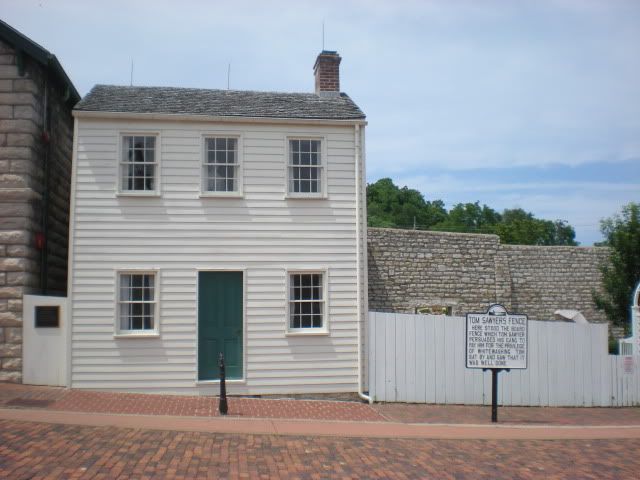 Here we have the actual "Mark Twain Boyhood Home," with the Tom Sawyer Fence next to it, since Tom Sawyer's character was based on Clemens himself.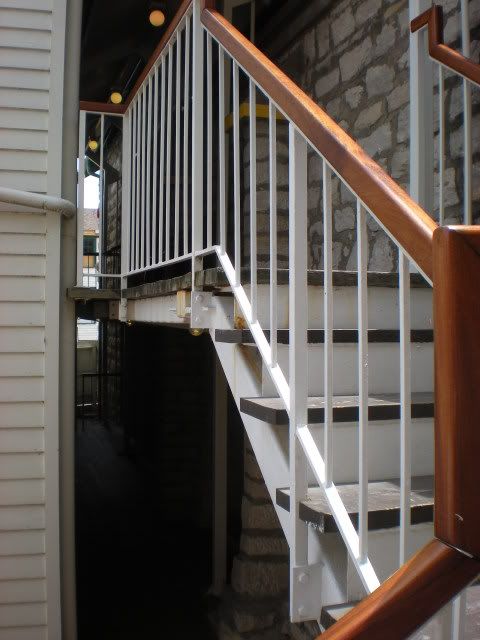 You cannot actually go inside the house. There is a catwalk built along side that lets you view each room from the outside. Truly the most unusual historic house set up I've ever seen. All the rooms are walled in with Plexiglas, so it's hard to get good pictures.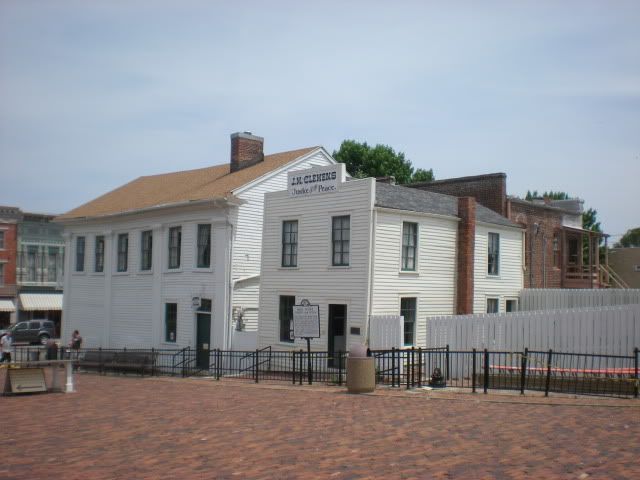 Across the street is Samuel Clemens's father's law office, and next to that Grant's Drugstore.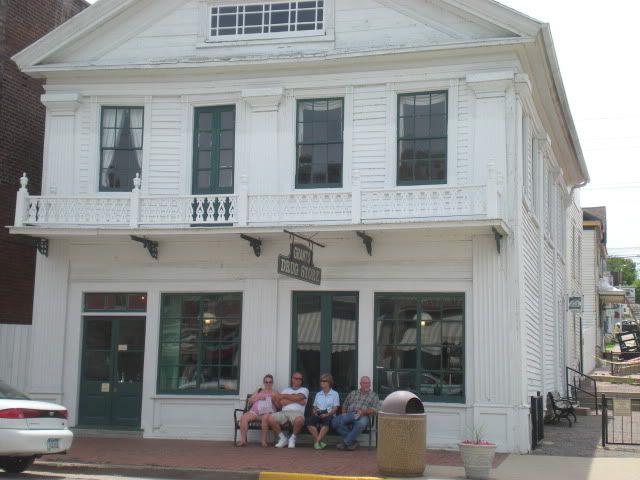 Through this whole tour I kept thinking that when I was a kid, there was a recording that played in each of these dioramas. I thought maybe I was confusing two separate tourist attractions from when I was young, but finally we noticed a busted speaker on the ceiling in the Boyhood Home, and a button on the wall that did not work in the Law Office. The drugstore seems to have the only recording that still works.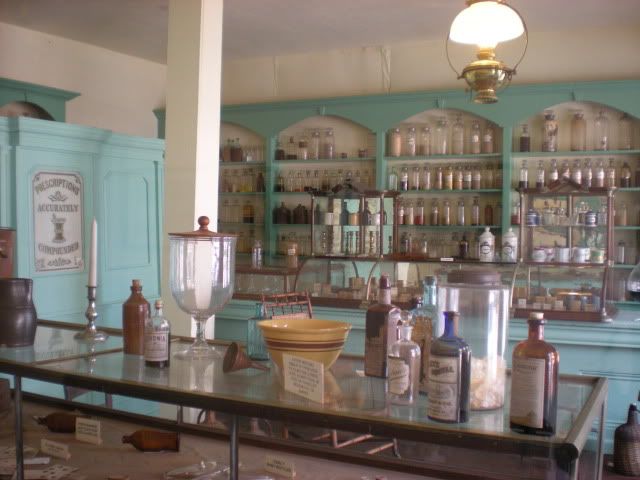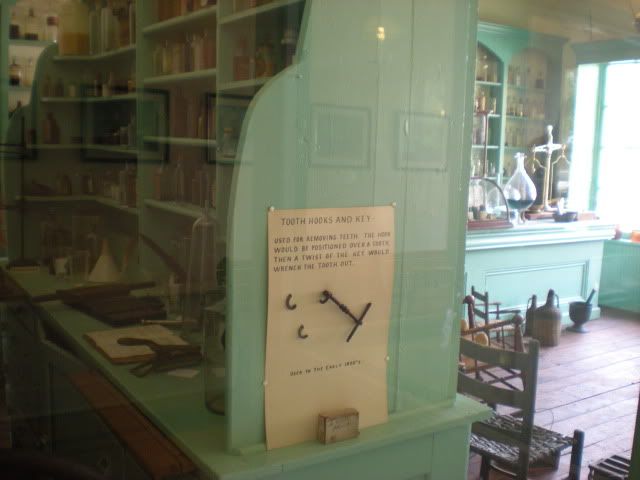 The drug store is full of all kinds of bits and bobs, quackery, and just plain scary stuff. It would be cool if you could see more of it up close, but like everything else in the Mark Twain Boyhood Home compound, it is behind glass.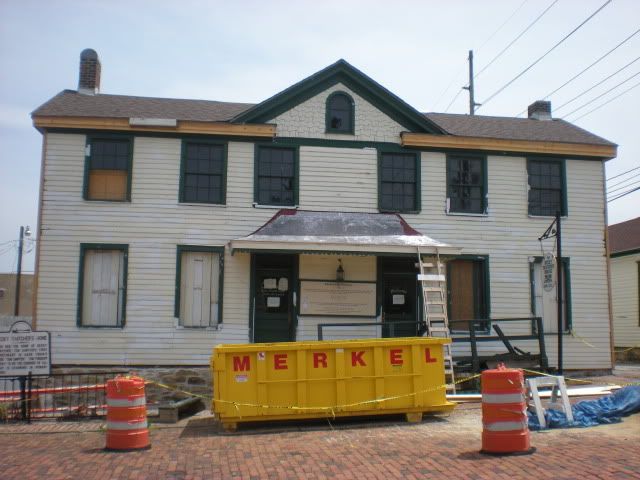 Down the street a bit, Becky Thatcher's house is under renovation. This is another one of those blurry bits, since there wasn't a Becky Thatcher either. The character was inspired by a girl named Laura Hawkins. Since we couldn't get near the house, I can't say if this was actually Laura Hawkins's house or not.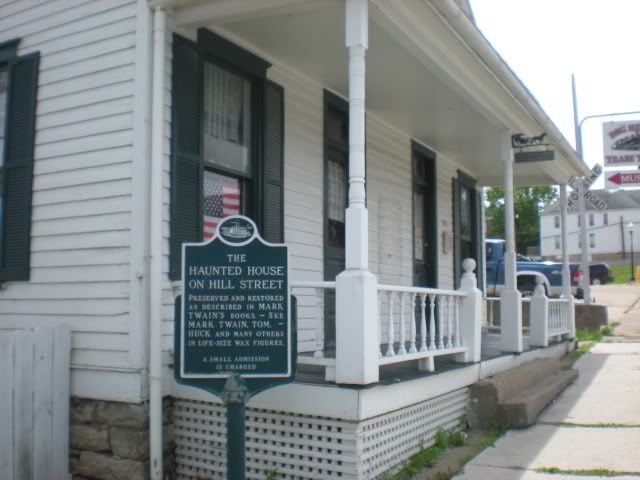 The biggest disappointment of the day: Hannibal lost their wax museum, too! It wasn't huge, in fact, it was just one giant room with about two dozen figures arranged in rows, but the lady that ran it was really nice and would give her whole speech even if there were just two people. Plus, there was a fun little "haunted house" after you saw the wax figures.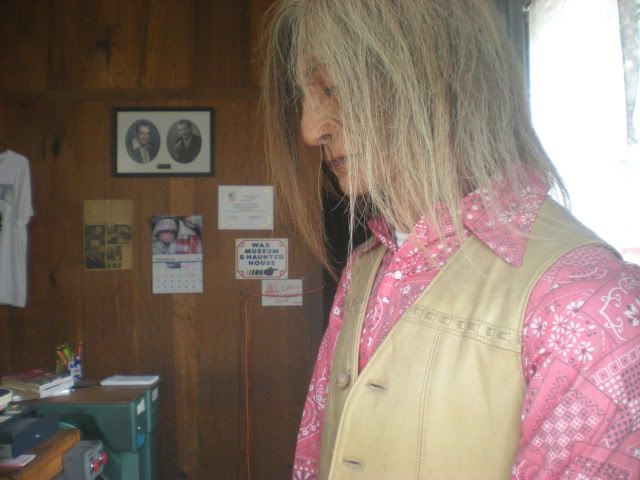 I hope it's not closed for good. You can still see Injun Joe in the front window.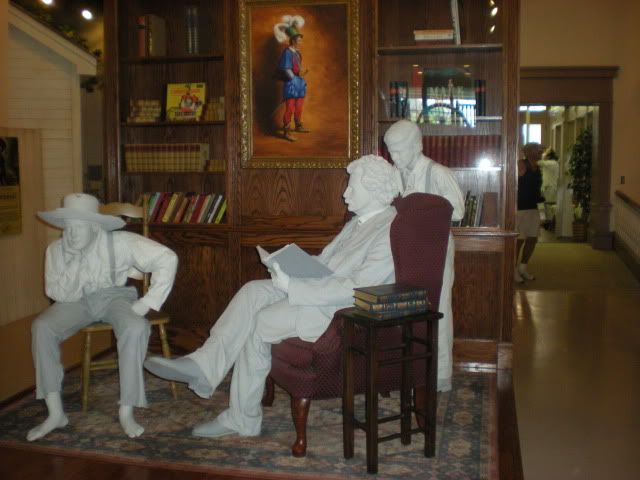 Down the street is the Mark Twain Museum and Gallery. The first floor of the museum is all exhibits and interactive displays for Mark Twain's various books. You really have to be in the middle of it to get the full experience, but I'll throw in a couple pictures.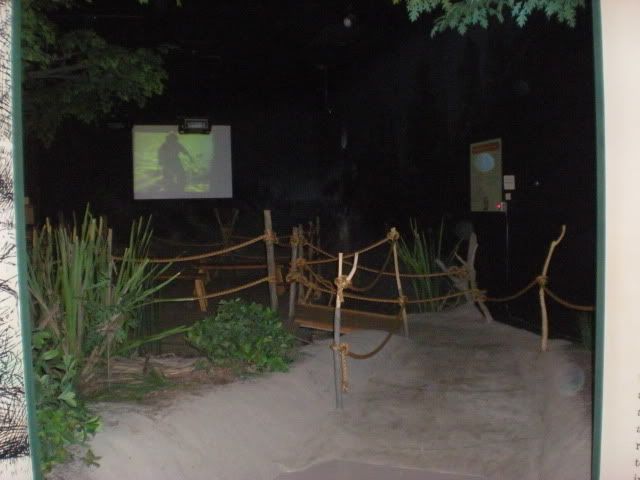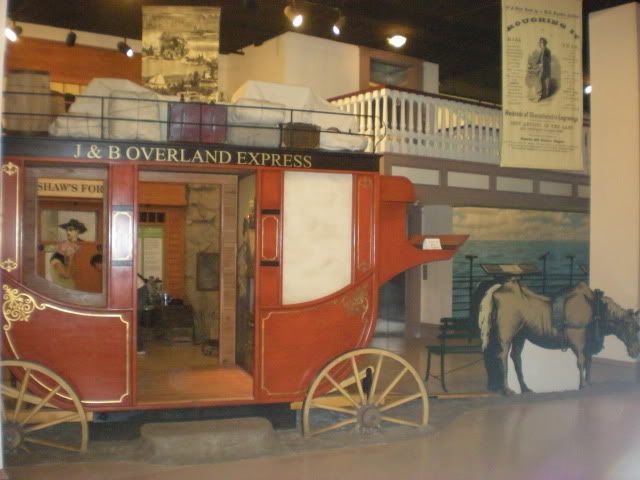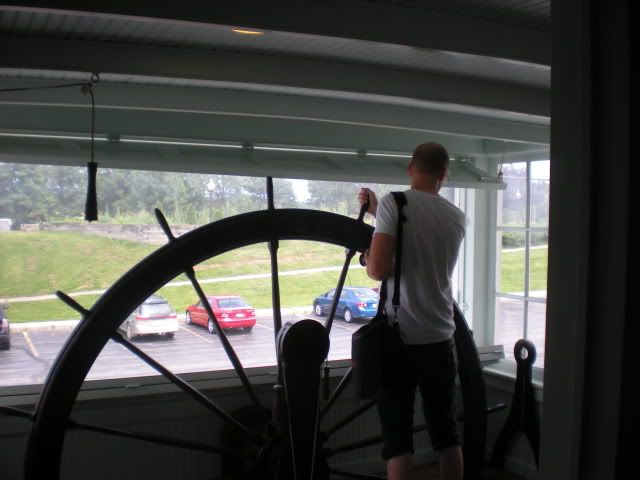 The second floor is a gallery of the artwork Norman Rockwell did for
The Adventures of Tom Sawyer
. REALLY cool. The museum is lucky to have such an impressive collection. If you're a fan of Normal Rockwell, the admission to the Mark Twain Boyhood Home is probably worth it just to see these. I only have a couple mediocre pictures because I won't use the flash in this setting.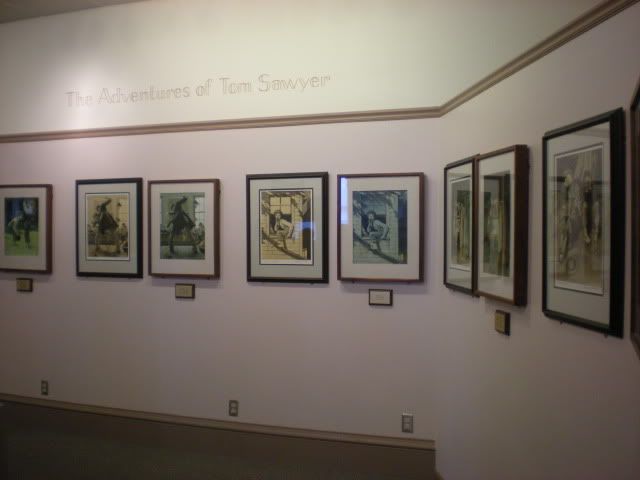 Now we're going to backtrack to the other end of town to visit the Cardiff Hill Lighthouse.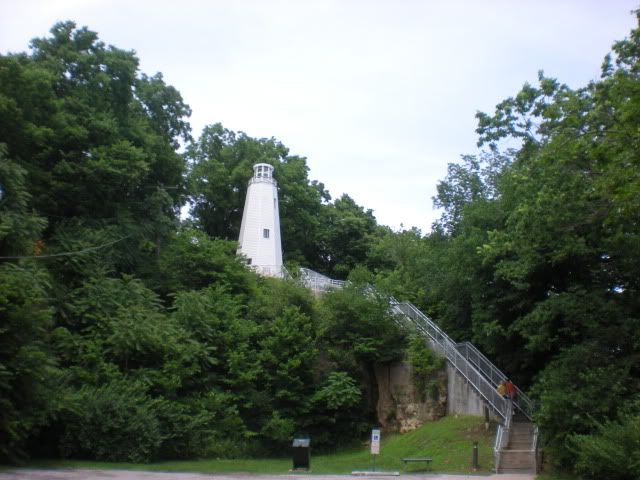 See all those steps? That's the halfway point. There are 244 steps to get up to the lighthouse.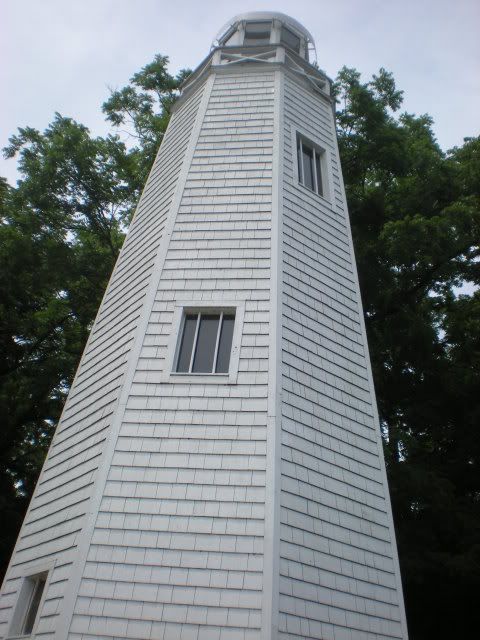 Built in 1933, the Mark Twain Memorial Lighthouse is the furthest inland lighthouse in the world, and has been lit 3 times, by Presidents Franklin Roosevelt, John F Kennedy, and Bill Clinton. Only Democrats may light the lighthouse (just kidding, I made that up.)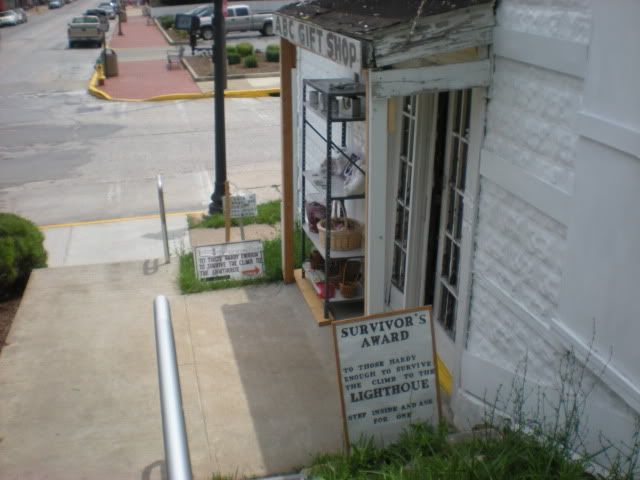 Stop in at the ABC Gift Shop when you come back down and get your Survivor's Award and buy a shot glass or a collector spoon from the nice lady.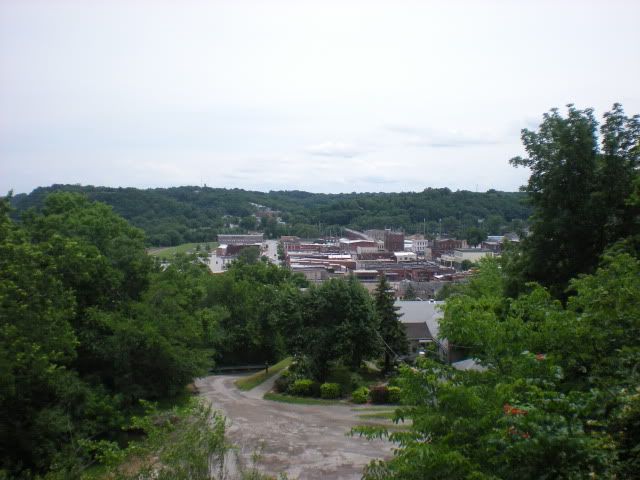 OK, I've probably overwhelmed you with enough information for one post. We'll save Mark Twain Cave (my new favorite cave) for next time. The usual information: Hannibal, MO is about 115 miles north of St Louis, an easy distance for a day trip. The downtown area is full of shopping and restaurants (I recommend Mark Twain Ice and Coal,) plus all the Mark Twain stuff you can handle. Admission to the Boyhood Home and Museum is $9 for adults, $4 for ages 6-12, and under 6 is free.