A couple weeks ago we went to Faust Park because I have never been to see the carousel, plus there was a craft fair going on that weekend. They also have a historic village, and you know how I love a historic village. Everyone please welcome my special guest photographer Keith, who just got a fancy new digital SLR that beats the pants off my weenie little Nikon Coolpix.
The carousel is from the Forest Park Highlands amusement park and was built in the 1920s. It was the only thing left standing after the Highlands burned down in 1963.
In 1987 the St Louis County Parks built a climate-controlled building for the carousel, which also has a party room. Open carousel for your wedding! How cool is that?
It's also one of the fastest carousels in the world, and it only costs $1 to ride!
A beautifully detailed
Stinson Organ
accompanies the carousel.


The carousel house also has a big cabinet of antique toys that someone donated (I really need to take a notebook for these kinds of details on these adventures.)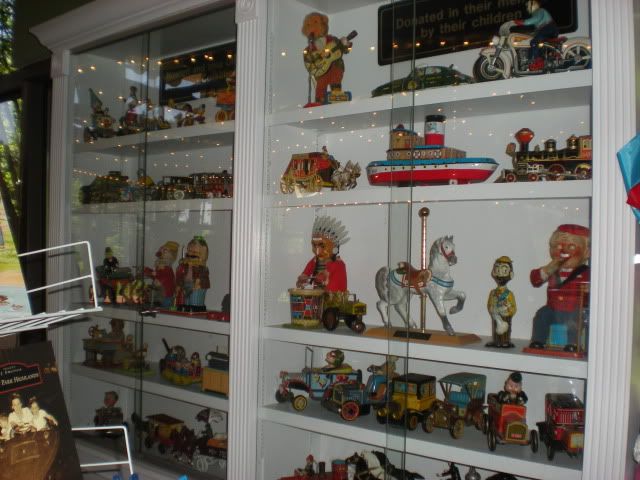 Onward to the historic village! It's not quite as big and village-y as the one at Boonesfield, and I saw some amusing anachronisms (a paper towel covering a jar, Levis jeans on the blacksmith) but the people that work there know their stuff and they have a lot of impressive pieces. Wide shots are mine, detail shots are Keith's.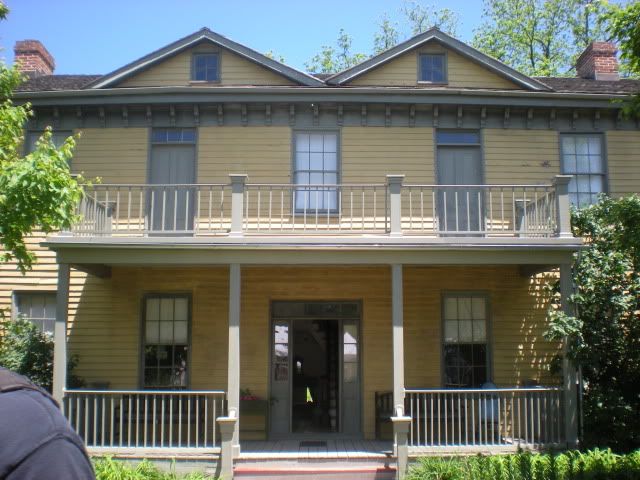 This is one of my favorite houses, not only because it had some really amazing pieces, but because I have been in the flooring business for a long time and I am a big nerd about historic floor coverings.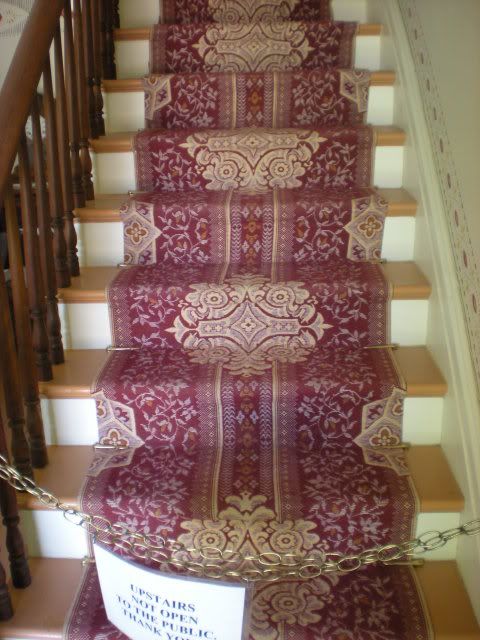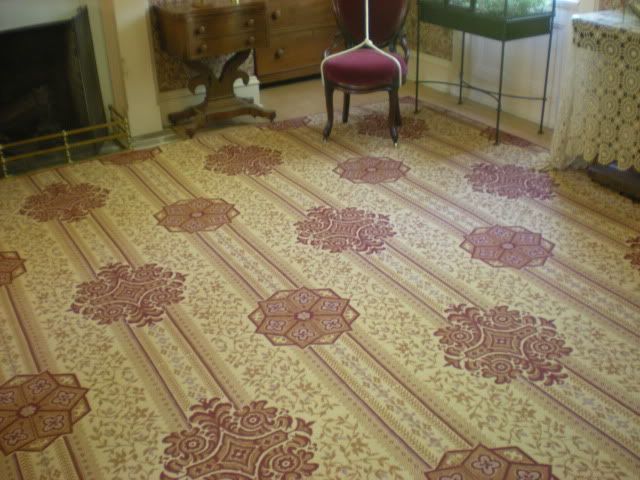 As you can see in the pictures above, these carpets are woven in the same pattern. One is the negative of the other, and they would be flipped over depending on the season. The big rug on the floor in the parlor was woven in strips the width of the stair runner and then sewn together by hand.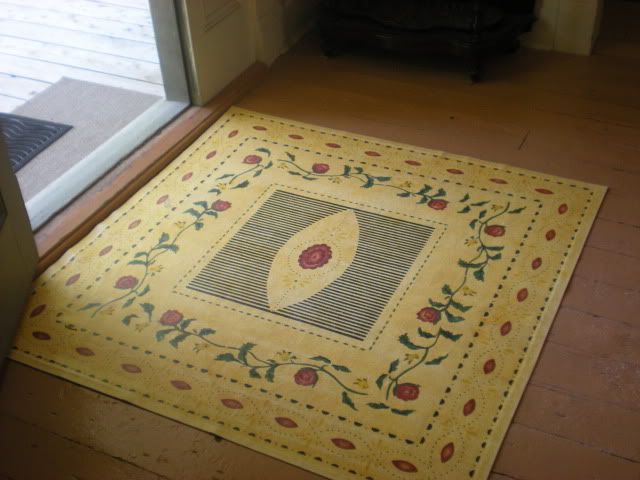 You may remember from the Eugene Field House post that they were getting ready to close for a couple months to install an oilcloth floor in the front entry. This is a lovely example of such a floor covering, which was the precursor to linoleum.


Close up of a medicine chest.


This is my favorite piece of the day. It's called a Wardian Case. It's a terrarium, and its purpose was to teach young Victorian ladies to be nurturing. Isn't that special?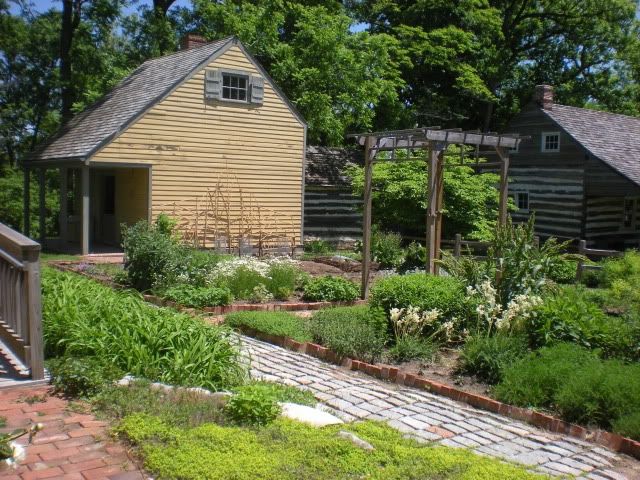 One thing that really impressed me about this historic village was that each house had a good sized kitchen garden. That's a realistic touch I don't see much.


I lied about the wide/close thing. Keith's picture of this house was better than mine.


This is a dog powered treadmill. Really. You could have your dog do the butter churning and suchlike. Right now my parents' dog is staying with me and is tearing in circles around the yard. She could really use a job like this.




Here we have a beehive oven, which was used by families who could not afford to have a whole separate summer kitchen.




Next we have the blacksmith's shop, where as you can see, everything is Hot, Sharp, and Dirty.




He was making chains, one link at a time. In his Levis. History lesson: Levi Strauss invented the denim overalls in the 1870s, but the modern "jeans" were not invented until the 1920s.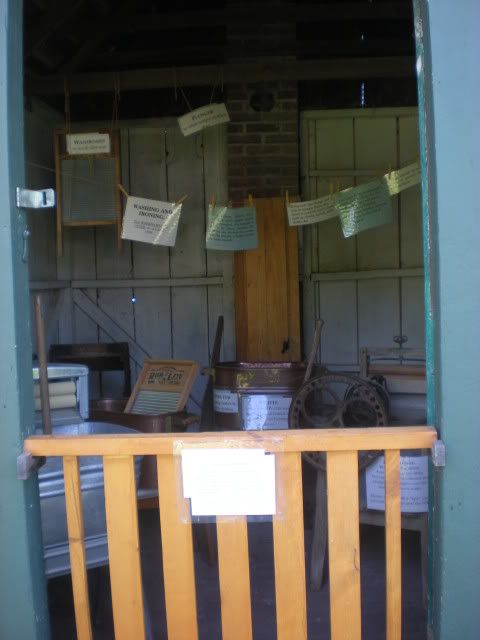 This is a laundry building. Mostly we just had to get a picture of the boggling amount of signage. This one is for my museum friend Jen.




And finally, the vendor with the motorized ice cream churn. Now how great would that be if I could put Xena on a treadmill attached to an ice cream churn?

Faust Park is located at 15186 Olive Street Road, one mile north of Highway 64 in Chesterfield, MO. The carousel is open Tuesday-Sunday, 10:00 am to 4:00 pm, and closes for 3 weeks in January. The Historic Village is open the last two weekends in May, June, and July with historic reenactors, and you can view the outside of the buildings any day of the week, year-round. Faust Park also has a butterfly house that is part of the Missouri Botanical Gardens.