When our story left off, we saw Henry VIII's wax figure at the Laclede's Landing Wax Museum. Now we journey down the street to visit with HRH himself at
The Royal Dumpe Dinner Theater
. Just wait until you see where we found Henry VIII the next week!
When you tell a St Louisan you are going to the Royal Dumpe, they will say one of two things.
"Really? I've never been there."
AND/OR
"Wow, that place is still open?"
Yes indeed, my friends, the Royal Dumpe has been kickin' it on Laclede's Landing for nearly 40 years. How they have stayed open that long when no one in St Louis has ever been there, I can't begin to guess. But now I (and 17 of my friends) can say I have been, and it's worth checking out!
target="_blank">
Take the elevator at the end of the entry hall to the third floor and you will find yourself in The Royal Pub. The pub opens at 5 pm on Saturday for 6:45 pm show. Now, if I had any kind of sense, there would be a picture of the actual bar. Alas, alcohol was involved and I only have these pictures of Henry VII memorabilia in the pub area.
target="_blank">
target="_blank">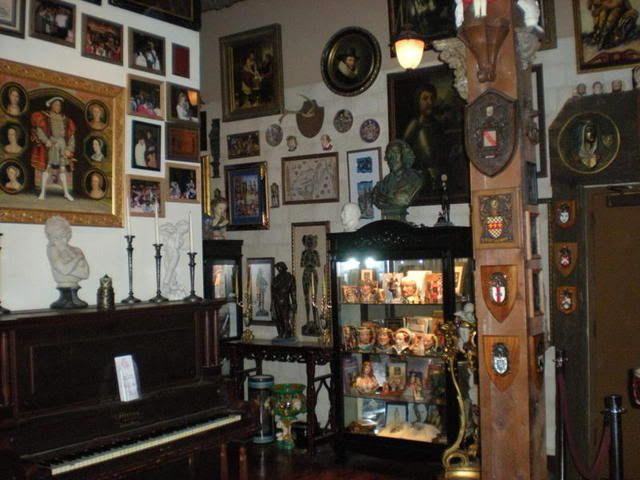 The Dumpe is not as large as I expected. If I had to guess, it probably seats about 200, and it was at about 2/3 capacity. Most of the people in attendance were there for a birthday, anniversary, or graduation.

One fun little twist at the Dumpe: You're not allowed to applaud. In your roll of silverware, you will find a banger (a piece of dowel rod) used for banging on the table.



Royal Dumpe souvenirs say "I banged all night at the Royal Dumpe!"

Dinner is served in courses: Bread, soup, chicken with steamed veggies and baked potato, and cheesecake. The food is nothing you're ever going to get a craving for, but there's enough of it. The wenches do the serving and also perform between courses.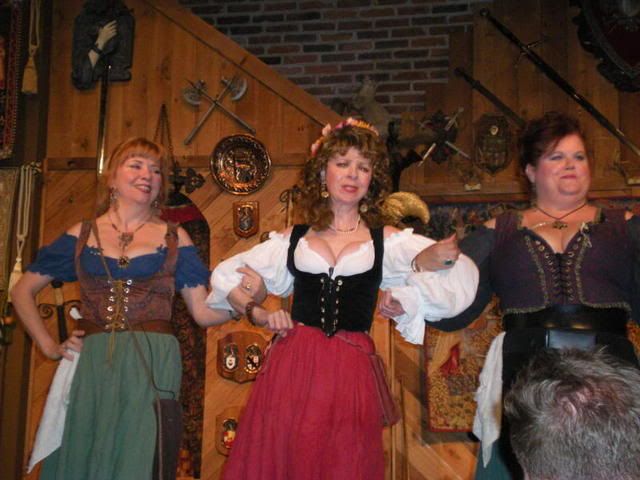 Lucy Nuff, Polly Putout, and Amanda Lay (I'm really guessing at the spelling but you get the idea.)

I'm not a fan of audience participation dinner theater, so God only knows why I chose to have my birthday party here. However, audience participation is minimal, and a small crowd is very supportive of the few who are chosen.


Bob was chosen to be the toast master for Henry VIII's favorite toast. "ALL HAIL!" "WASSAIL!"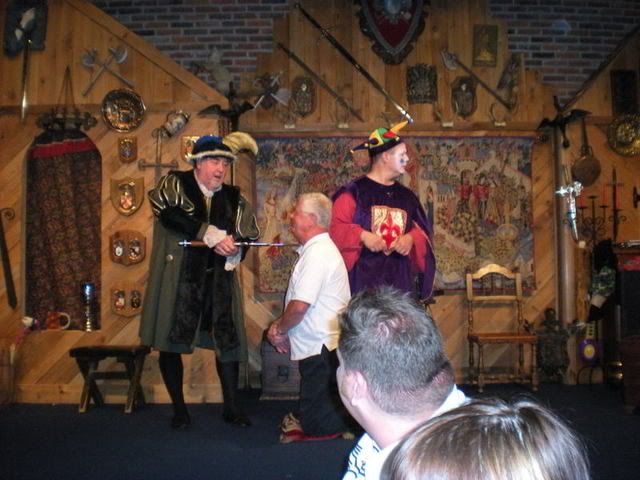 After HRH showed up, Bob was knighted for his toasting skills.
Speaking of not being a fan of audience participation, I think Shelly might be threatening me.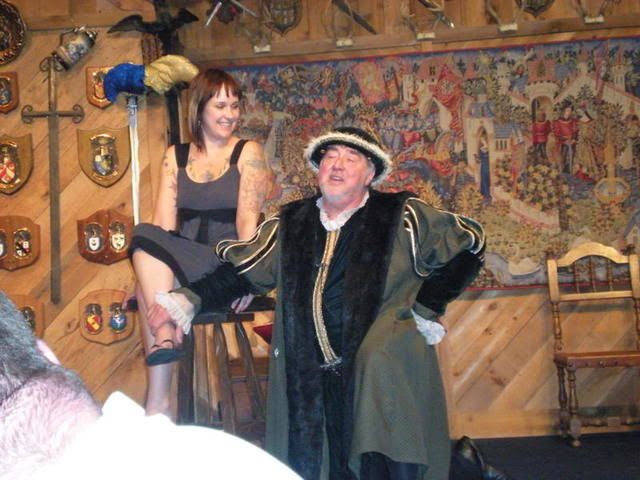 But Henry VIII is inducting her into the Order of the Garter! How can you be mad about that?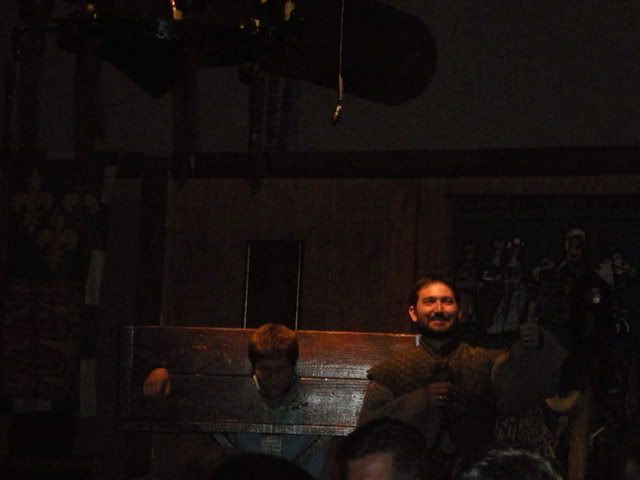 I don't remember why, but Master Bates had to put the Keeper of the Salt (also an audience member) into the stocks.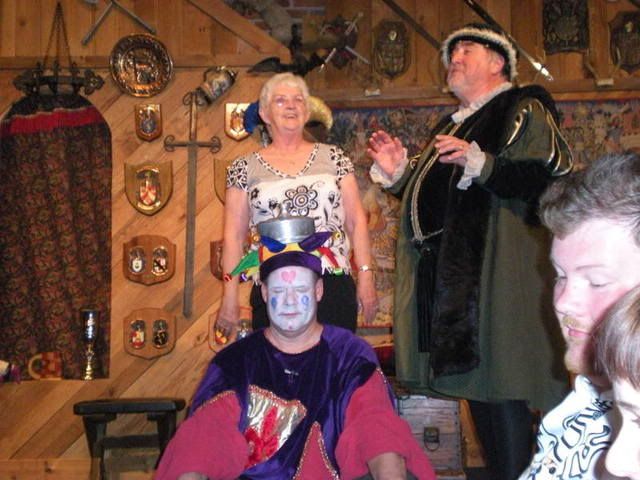 Only a virgin could perform the ritual to unlock the stocks. Or something. Things were getting pretty silly at this point.

All the people who were there for special events had to get up on stage at the end, where we were introduced individually by HRH or the jester. I wish someone had gotten a picture of what was probably an mighty blush when the jester announced that he had seen me before the show when he was putting on his makeup and "had this heart on" for me. *rimshot*

Dinner and show are $27.00 (excluding tax, tip, and beverages.) The Entertainment Book includes a discount for 25% off 4 people. The website lists kids prices, but I have no idea how or if they alter the show if children are in the audience. The show is full of bawdy grownup jokes and double entendres, so if you are interesting in bringing children I would probably ask the booking wench about that when you call for reservations.

Special thanks to Kyriena for some of these pictures!