The Laclede's Landing Wax Museum is the most under appreciated attraction in St Louis, in my opinion. As part of Birthday Madness Extravaganza 2008, I gathered up some friends and we took a tour before our Royal Dumpe reservation.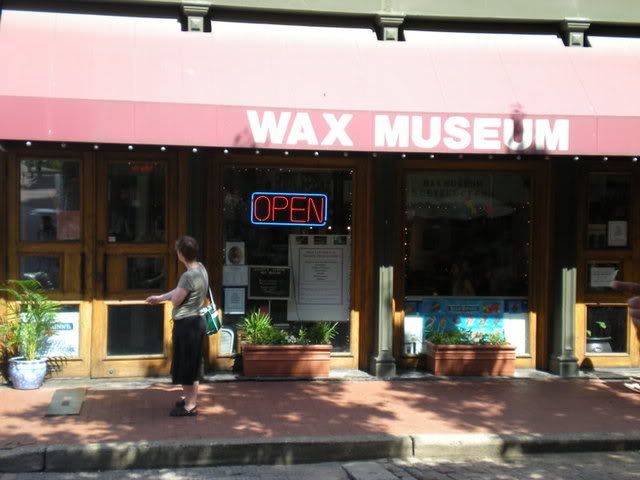 Laclede's Landing Wax Museum, 720 N Second Street, St Louis MO
I can't find any information online, but just inside the entrance are a series of framed newspaper articles about the beginnings of the Wax Museum. I do remember that it was started in the 1970s by a 13 year old named Mike Scuzzo (not sure about that last name) and his parents. It was originally on Olive St.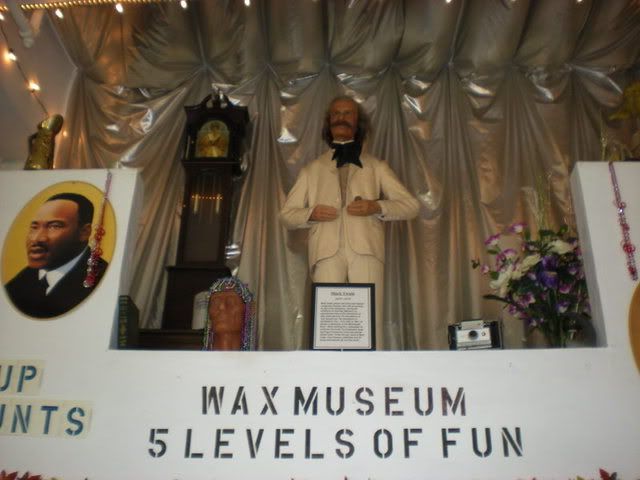 Five Levels of Fun for $4! How can you go wrong?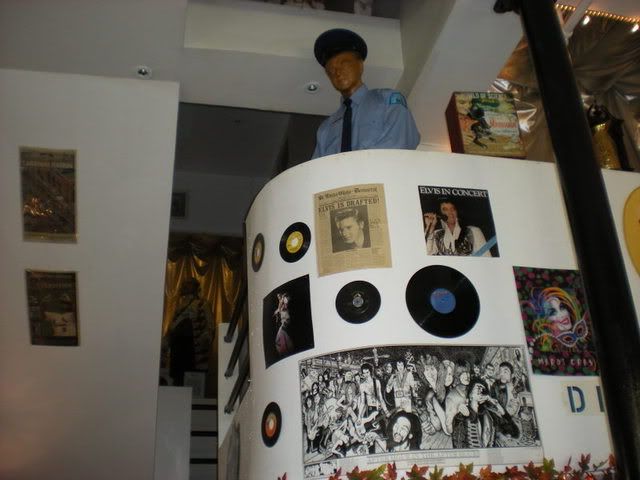 Museum Security will toss you in the river out back if you steal.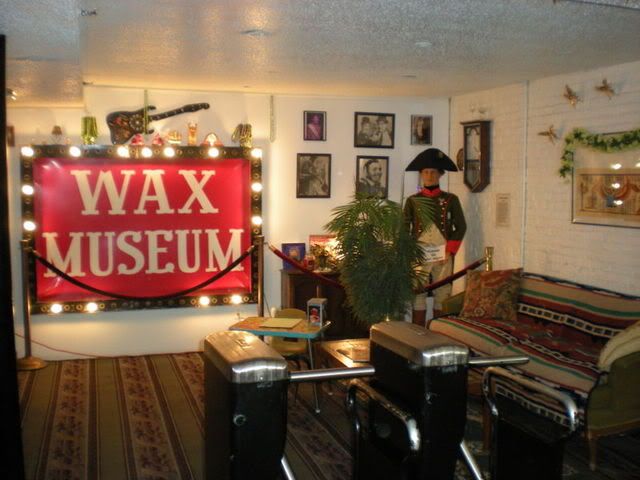 Charlie the Caretaker, who is Mike's cousin, gives the same spiel from the entrance to each group, ending with the Chamber of Horrors in the basement,
"Only one way in and one way our IF you survive HA HA HA!"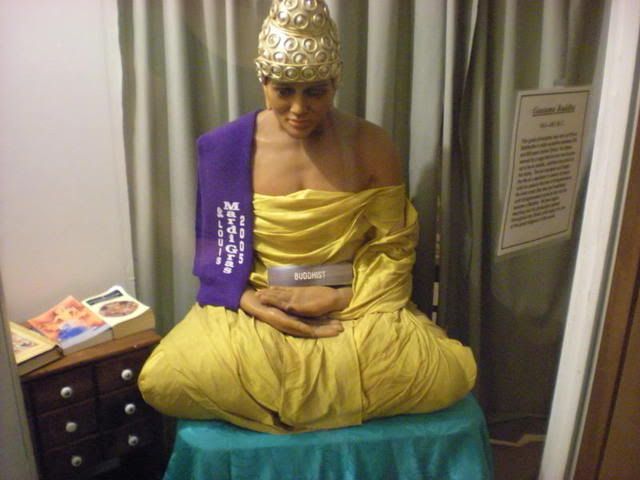 Buddist. Mardi Gras Buddist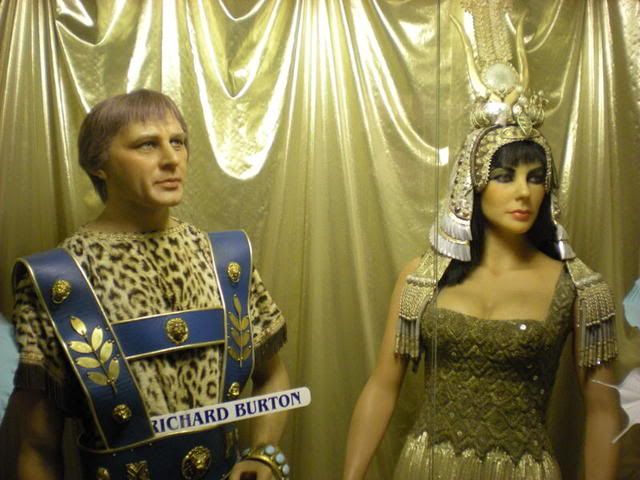 Richard Burton and Elizabeth Taylor as Antony and Cleopatra.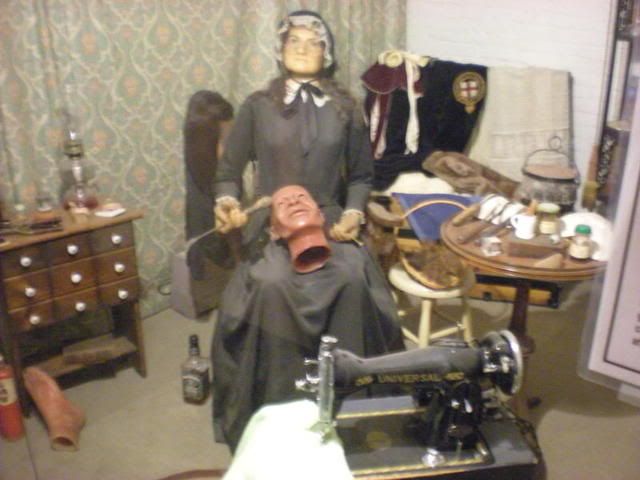 Madame Toussad. Normally I would toss this picture for being blurry, but I just have to point out (as Charlie pointed out to us) that Madame has a gun in her lap and a bottle of hooch on the floor.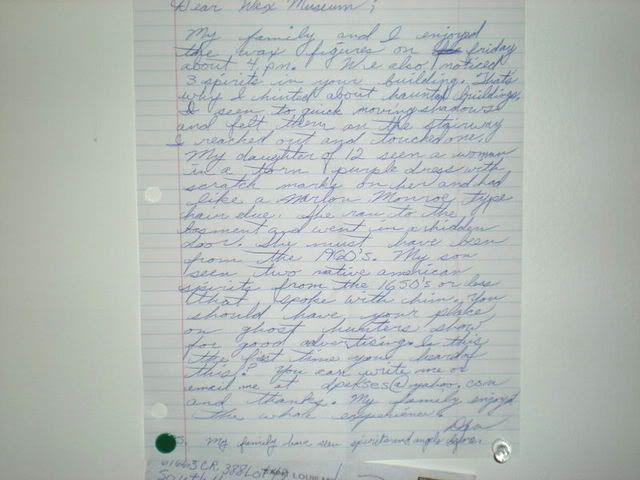 I just love with Craves, Caves and Graves themes come together like this. Here is the transcription of this letter posted on the wall:

Dear Wax Museum;
My family and I enjoyed the wax figures on Friday about 4 p.m. We also noticed 3 spirits in your building. That's why I hinted about haunted buildings. I seen to quick moving shadows and felt them on the stairway. I reached out and touched one. My daughter of 12 seen a woman in a torn purple dress with scratch marks on her and had like a Marlon Monroe type hair due. She ran to the basement and went in a hidden door. She must have been from the 1960's. My son seen two native american spirits from the 1650's or less that spoke with him.You should have your place on ghost hunters show for good advertising. Is this the first time you heard of this? You can write me or email me at [removed] and thanks. My family enjoyed the whole experience.

PS My family have seen spirits and angels before.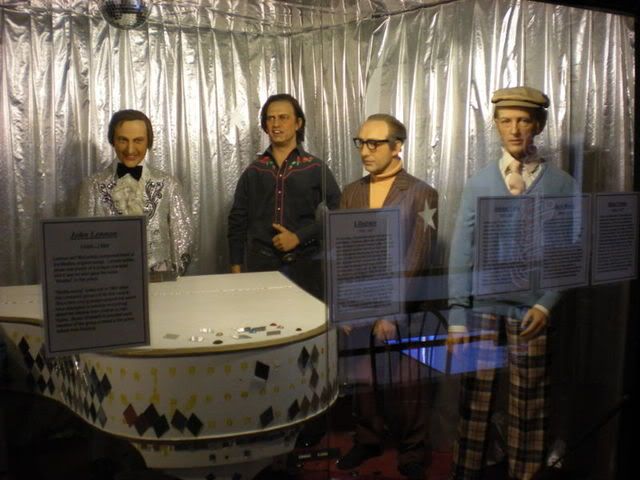 Liberace, Johnny Cash (yes really,) um... Woody Allen? Bing Crosby?

Just a note, as you go up the stairs to the entertainment hall, there is a fan at the top of the stairs. This is not to be confused with a spirit.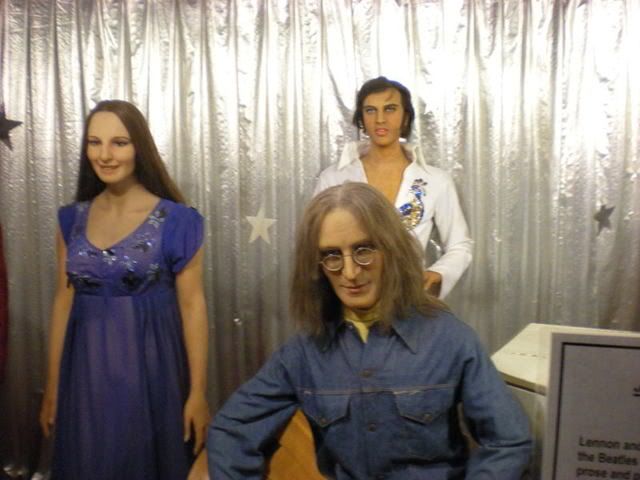 Babs, John Lennon, and Elvis (yes, really.)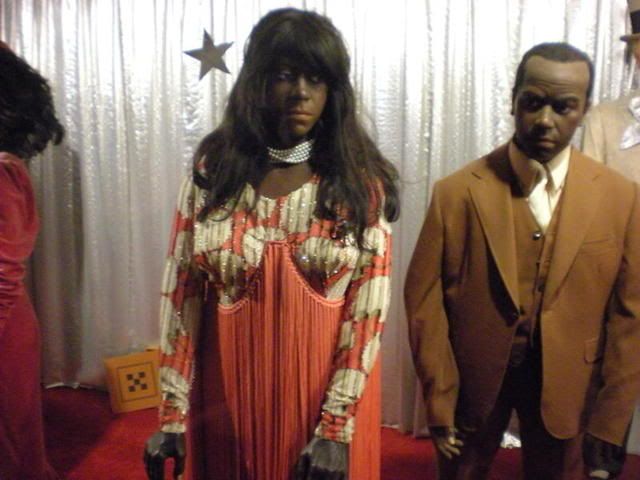 Confronted with the next pair, we were stumped. There was only a tag on Flip Wilson and no tag on the woman (only about 75% of the figures have tags.) Dana yelled over the railing, "Hey Charlie! Who is this next to Flip Wilson? Diana Ross or Tina Turner?"

"WHAT?" shrieked Charlie. "Tina Turner!? THAT IS GERALDINE. That is BEFORE YOUR TIME, obviously!"

If Geraldine is before your time, you can click here for a video.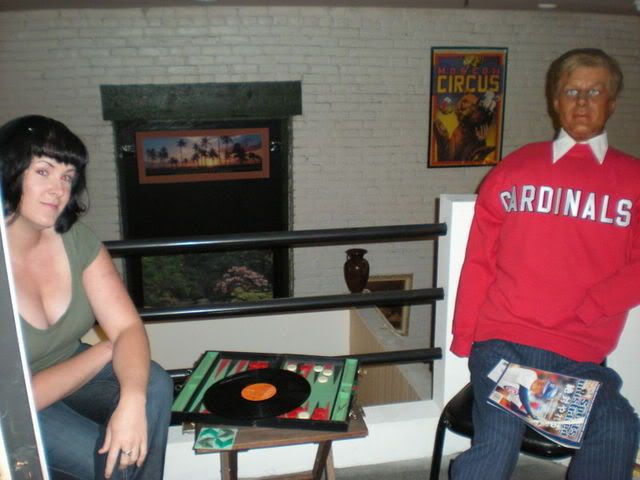 Dana and unknown armless figure. This display is a work in progress.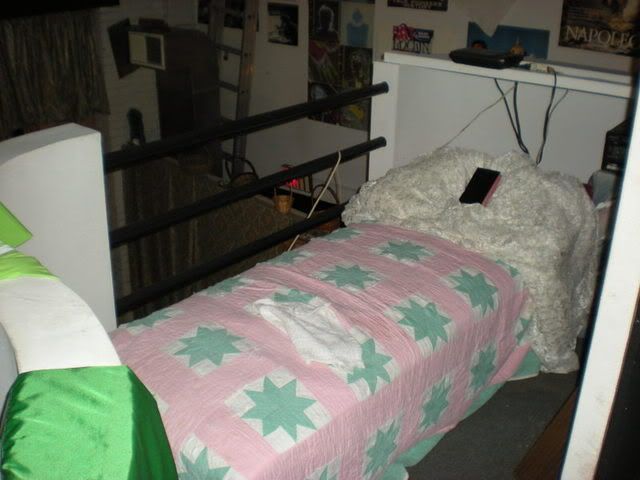 Charlie's sleeping nook. He says he likes to nap here and scare people.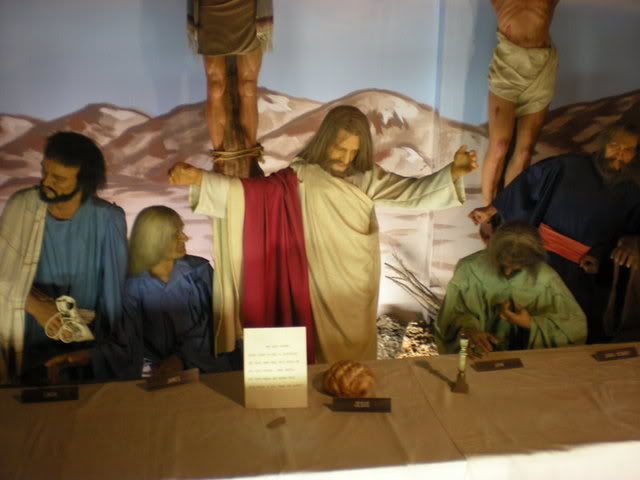 Last Supper in the Hall of Jesus. This picture was supposed to give a clearer view of John's missing fingers.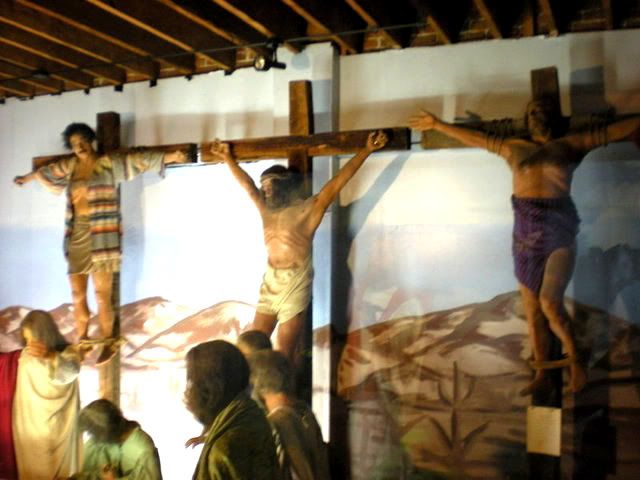 Crucifixion? Good. Out the door, line on the left, one cross each.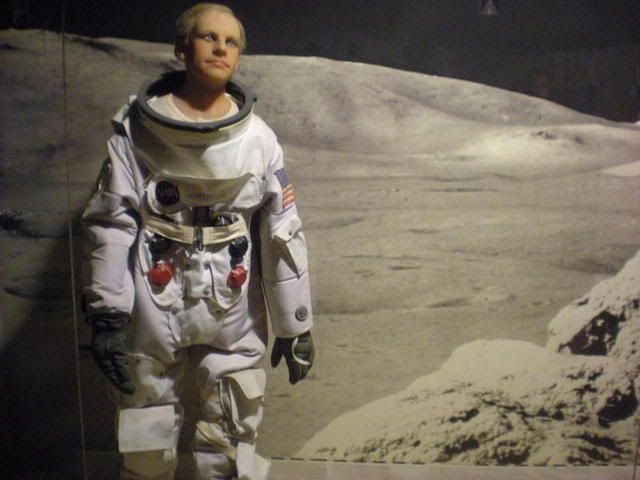 Zombie Niel Armstrong. His helmet was stolen. Other things stolen over the years: Christopher Columbus's "bling," the Pope's crucifix, and an entire Marilyn Monroe.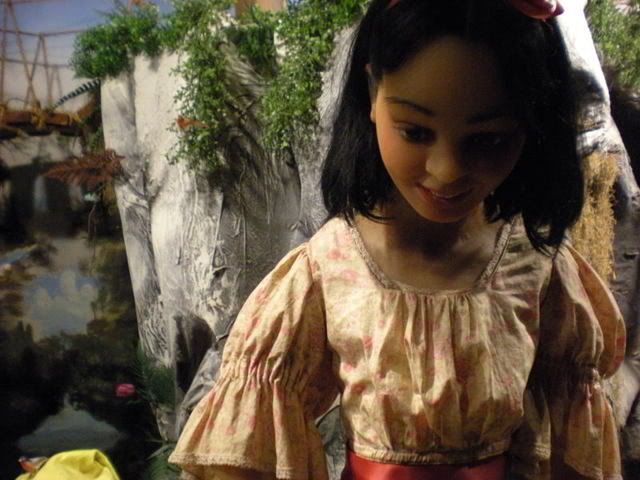 Snow White, aka the creepiest picture to ever come out of my camera.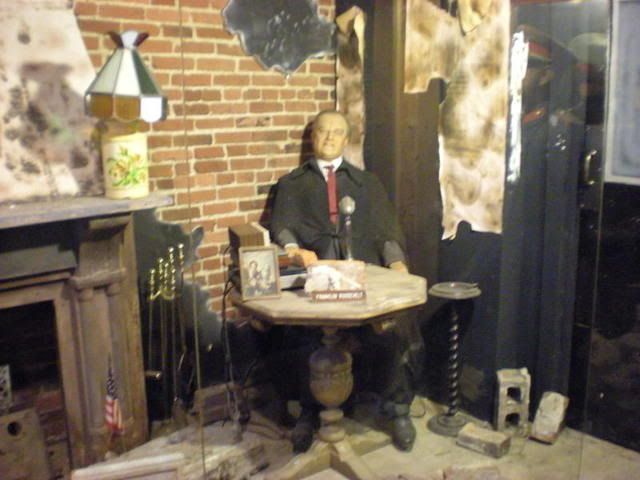 FDR in a bombed out room. I wish I'd gotten a better picture of the rubble. Also in the room were Stalin and De Gaulle.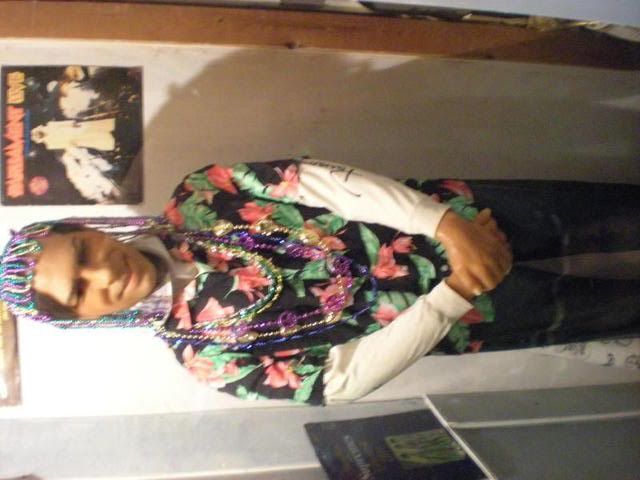 Charlie's very own wax figure. This is the end of the upper levels (Level 4 of 5 levels of fun, if you're keeping track.)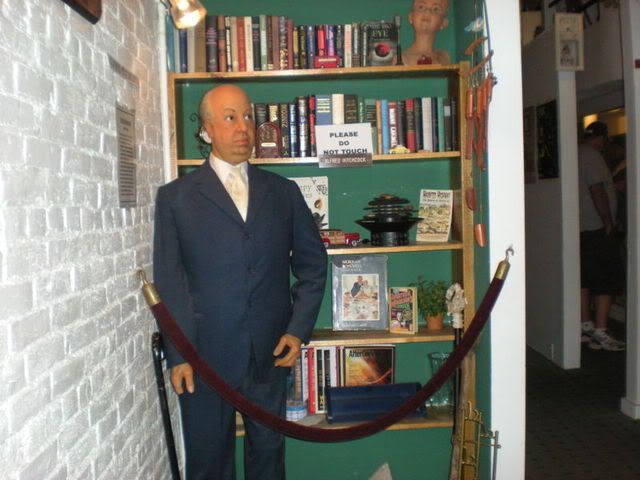 Alfred Hitchcock, outside the Chamber of Horrors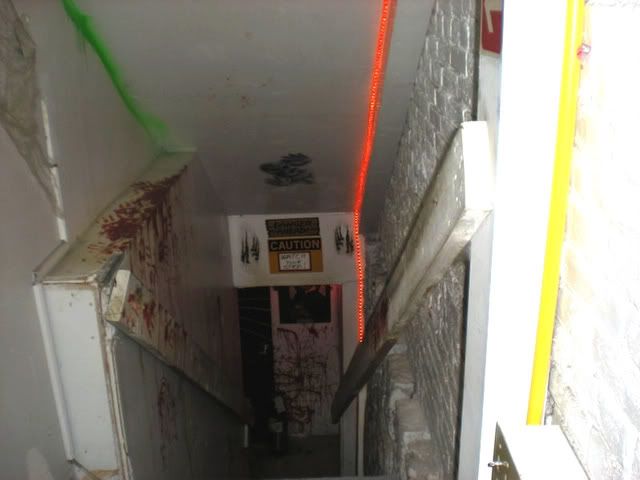 To the Chamber of Horrors! Only one way in and one way out! HA HA HA!

There's no happy medium between flash and no flash in the basement, so try to picture darkness and red light bulbs.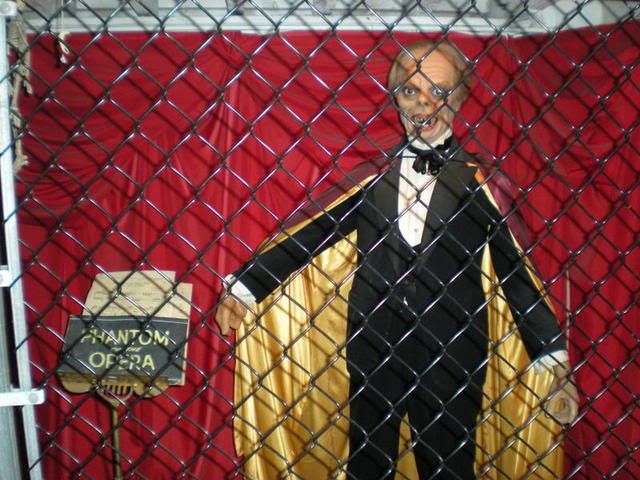 The Phantom of the Opera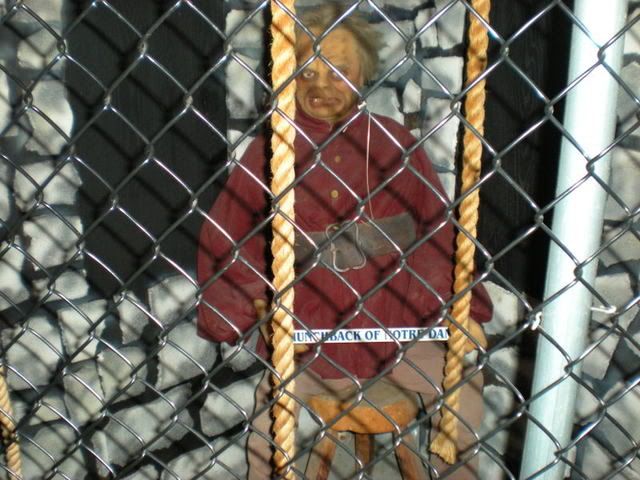 The Hunchback of Notre Dame says, "Hurry up, take the picture."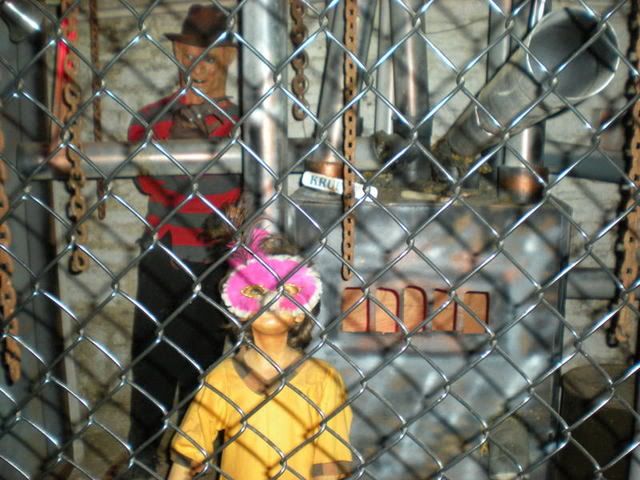 It has been a long time since I watched Nightmare on Elm Street, but I don't remember a masquerade.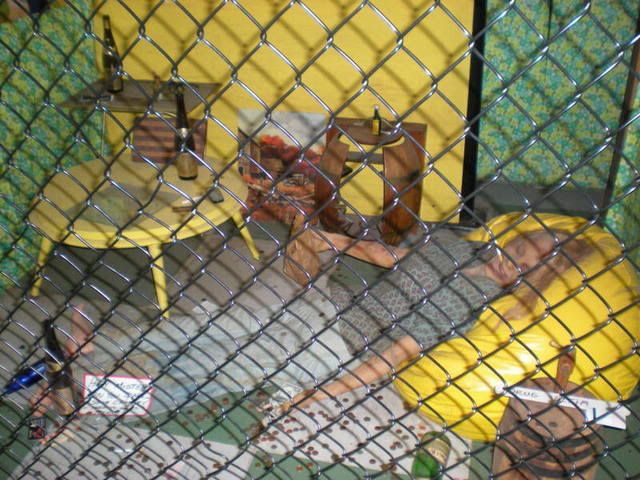 Drug Victim. Let this be a lesson!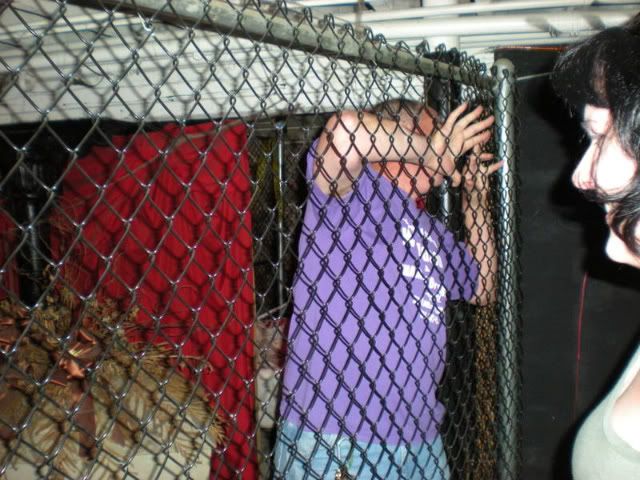 Charlie likes to lend a personal touch to the Chamber of Horrors.

And that concludes our Wax Museum tour. Come back next week to pay a call on Henry VIII at the Royal Dumpe Dinner Theater!