As you may have noticed, we went to Memphis for Christmas in 2012. Most people think BBQ when they think Memphis, but we think, "Where has Adam Richman been?" Because if the Man of Man Vs Food has been there, that is our kind of place.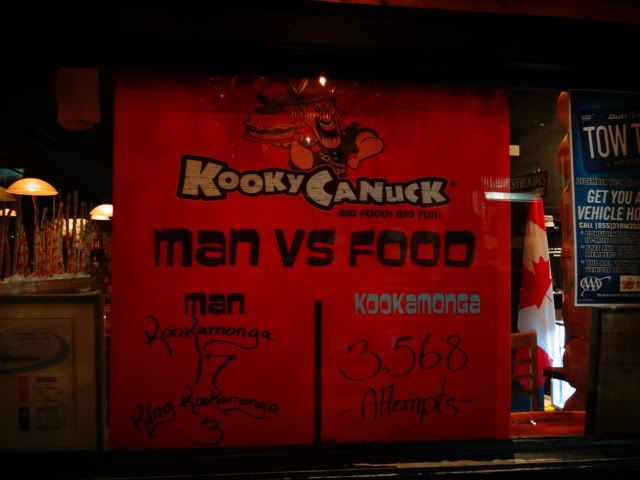 When Adam was here, the restaurant was called the Bigfoot Lodge and the challenge was the Sasquatch. Still the same restaurant, same owners, and same burger challenge with a different name. Now the
Kooky Canuck's
main challenge is the Kookamonga Burger, which is a four pound burger on a two pound bun with a pound and a half of lettuce, tomato, onion and cheese for a total of 7 1/2 lbs, 12,000 calories. Eat it in an hour and it's free! They also have the King Kookamonga and the Humonga Kookamonga, which I just like saying.
So this place is Canadian, eh? I liked that their taxidermy was wearing Christmas hats, just like ours. Francis and I debated splitting a Kookamonga burger for the sake of the blog, but ultimately decided to leave the food challenges to the professional.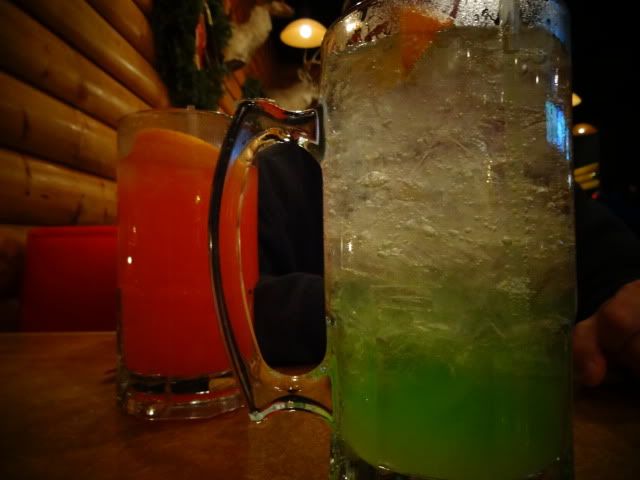 Huge cocktails? That's what we are about. They have a specialty drink menu full of delicious fruity goodness like the Flying Moose (green). Also, once we saw poutine and fried pickles on the menu, we knew any giant burger would be a waste of energy. I'm glad we were sensible, because these were the best fried pickles I've ever had. The Kooky Canuck is permanently on my Memphis list.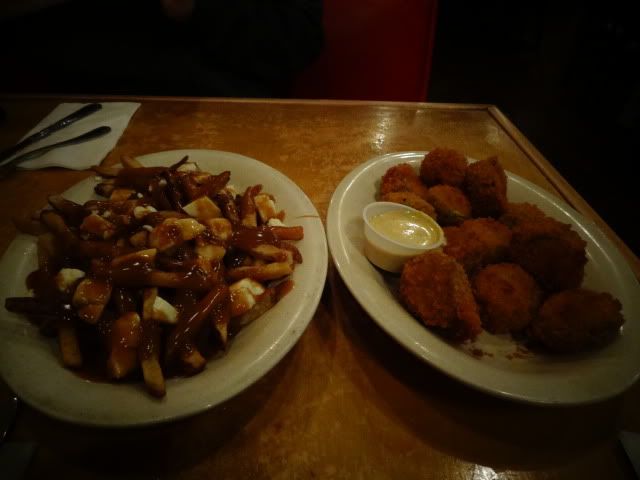 Another Canadian menu item is the donair, which is the Halifax version of a doner gyro. The meat sounds to be more like a sliced loaf, and the sauce is sweeter. Francis said he prefers a regular gyro. I had catfish, which would have been decent enough had I not had THE BEST CATFISH OF MY LIFE at the
Blues City Cafe
the night before.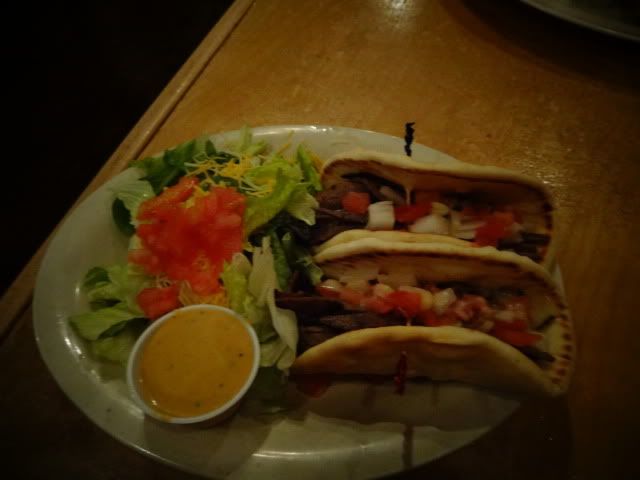 I could be totally happy for an evening with their drinks and apps menu, and next time we'll get one of their insane "Avalanche" desserts, you know, for the sake of the blog. The Kooky Canuck is located at 97 S 2nd Street, right by the famous Peabody Hotel and within walking distance of Beale Street.
~*~*~
An Ann Landers style "confidential to /r/memphis": I have to apologize for the fact that you're not going to see any of your suggestions in this round. I loved them all and can't wait to get to them, but Francis had NEVER BEEN to Memphis, and I was shamefully unable to resist dragging him to super touristy places. I hope to get back this summer for the lesser known and weird stuff!