Francis here. Due to the combination of Beth not feeling too well at the moment and me having never been to Memphis, let alone Graceland, I will be filling in for Elvis's birthday.
As an American, I am familiar with Elvis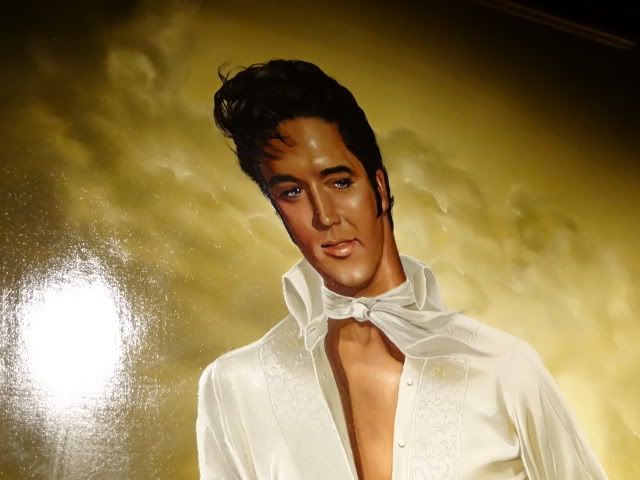 Nope, nope. That won't do at all.
As a person who does not live in a hole, on a mountain or any other place devoid of fine, local record retailers, I am familiar with dulcet tones of Elvis Presley. I am familiar with the young, 50s rocker, the 60s actor and the 70s...clothing.
Fan art is always the best. You should really stare into those painted eyes in person. It haunts your soul
What I am not familiar with, however, was Graceland.
For Christmas this year Beth and I went to Memphis, as I have never been. No idea how I managed to go all these years without heading south, but it's probably because of books like Winter's Bone where you are convinced everyone down south is hopped up on meth. This doesn't explain my love for the Ozarks, but no one said I had to be rational.
Before we get into this, allow me to give you my opinion on Elvis and his music: I like the hits. I'm not the biggest fan but I don't hate him. I've never had the desire to go to Graceland, but if you're in Memphis for the first time in your life, why wouldn't you go? It's not like anyone outright hates Elvis. Perhaps you think he is overrated or just not your style, but he is one of the few artists in the world who birthed and inspired generations of music.
Also, you can't go wrong with pillars
I'll do my best to give you my step by step walk through Graceland with virgin eyes.
Driving to Graceland, the first thing will notice is that you are not in the nicest neighborhood. In fact, if you're going to have a soundtrack of Elvis music to play for your experience, you can start
your playlist here
. No, we didn't take any photos. I'm sure you know what a bad neighborhood looks like.
The next thing you'll notice is someone parked airplanes in the ghetto.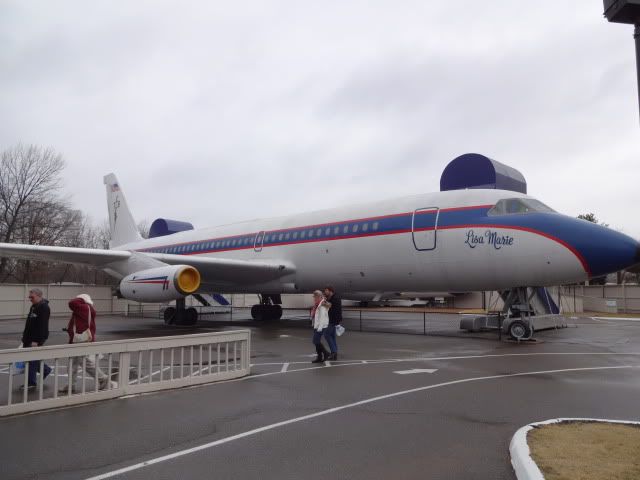 The Lisa Marie. Filled with adorable stories of burning fossil fules for a PBJ sandwich
You'll walk by them coming from the parking lot. This is the true test of the cult of Elvis. If you can walk from a parking lot past a private jet set up as a museum and think it's perfectly normal, you will not find any other part of Graceland outlandish or insane.
On the other hand, if you walk by and laugh uncontrollably as I did, you are about to embark on one of the more hilarious tours of your life. The eccentric tastes of the man, the amount of money spent by him, his fans and his estate has turned Graceland from family home to side show.
Honestly though, as you go through the house, the cars and property in general, I imagine he set up everything just the way he wanted. I'm sure Priscilla had some help with the designs and decorations, but it's obvious if he got something in his head, it was going to happen. Really, the entire place is just very dated. He as a TV and theater room set up like one would have it in those days. He was a guy with money. What else was bound to happen other than questionable decor?
The real question is how long will it last? Will Graceland be as visited in twenty years? Fifty? It was pretty slow when we were there, but it was also the week before Christmas. Is it still as busy now? It's been about ten years since Beth was there, so perhaps attendance has been waning.
I wouldn't want to tackle Graceland during the peak season. I can appreciate Elvis, but I image the summer or the date of his death are filled with crying women and gnashing teeth.
I don't know where I get these ideas...
These questions are too deep for this blog. I would love to discuss the lasting legacy of an entertainer who died in the 70s, debate if he would have simply faded away or joined the 80s culture of even flashier clothing and hairstyles, but this isn't the time. Right now, we have to look at Elvis' airplane bedroom.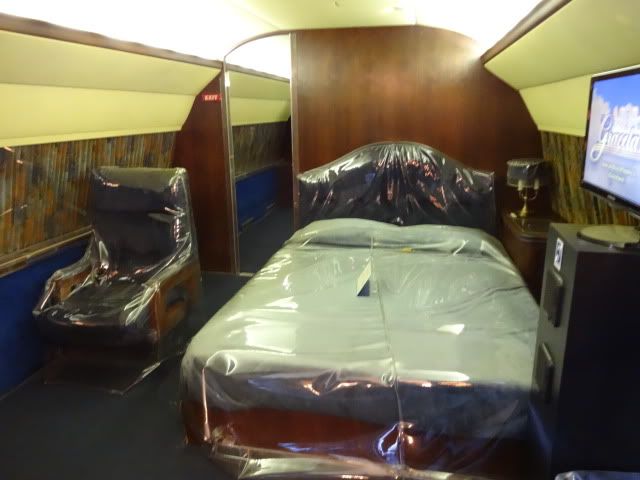 There are many things to see in Graceland, and they are always adding more sights for the public. While we were there, we saw an exhibit about Tupelo, Mississippi which was the birthplace of Elvis. It was lacking in grandeur, which is why I believe it's unfinished. There is no such thing as half-assed in Graceland
But don't worry, there are plenty of exhibits to see before you head over to the house, such as the Elvis Car Museum.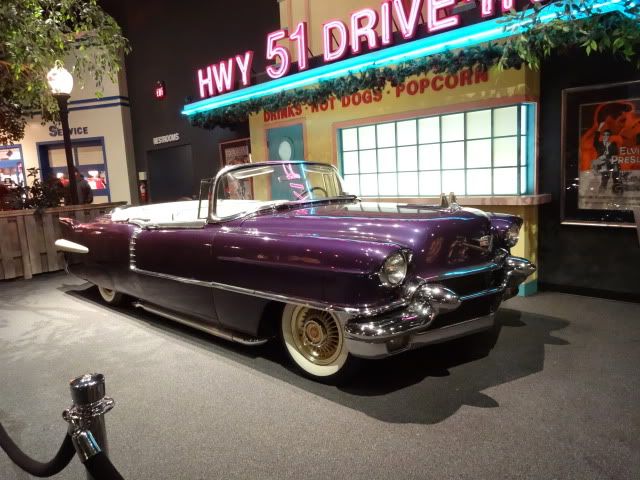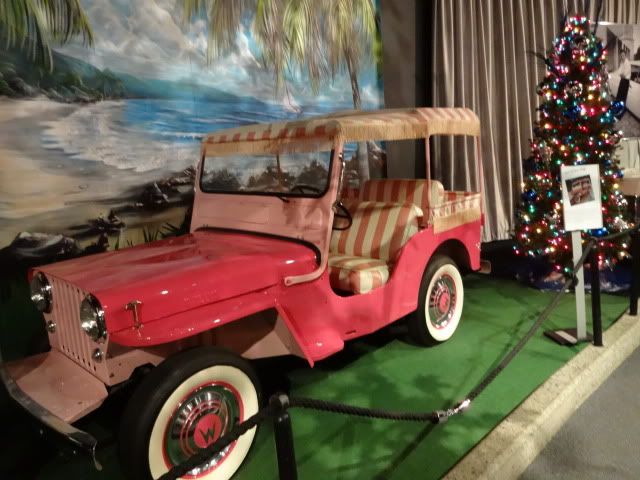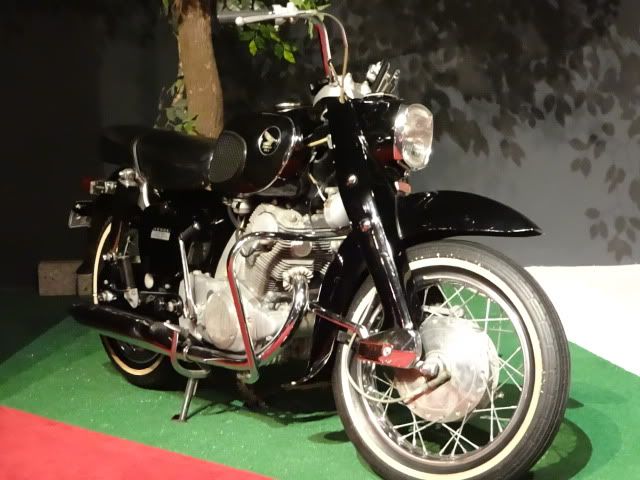 The man was a lover of vehicles and if you are as well, I would suggest paying a visit to the car museum. Not only did he collect cars and motorcycles, but all kids of odd vehicles to tool around his property.
Also featured, the John Deere tractor that used to take care of the grounds before and after his death. Seriously, if you walk around Graceland enough your shoes may end up in one of the museums.
Anyway, ON TO THE HOUSE!
The house Elvis lived in may look small on the outside, but sprawls behind and inside. You aren't allowed upstairs, but there is plenty to see.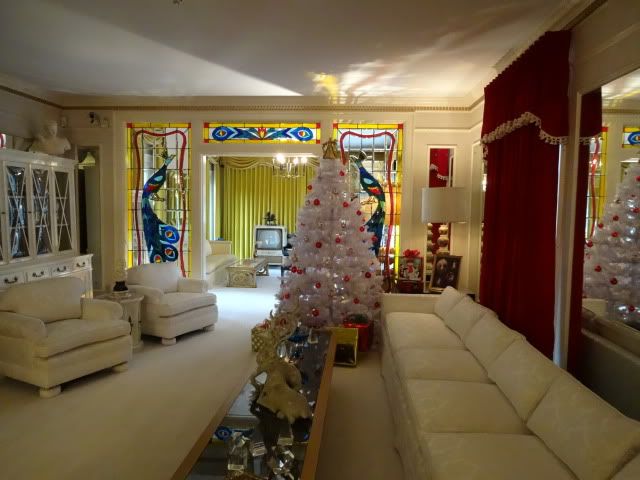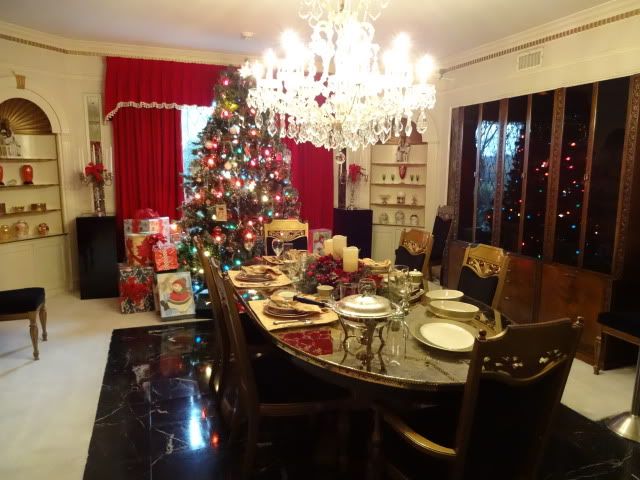 All dressed up for Christmas
Elvis seemed to always have the place ready for guests. Every part of the house looks like it's either ready for one or twenty.
The media room was resplendent with yellow. Honestly, I can't think of anything else to say about it.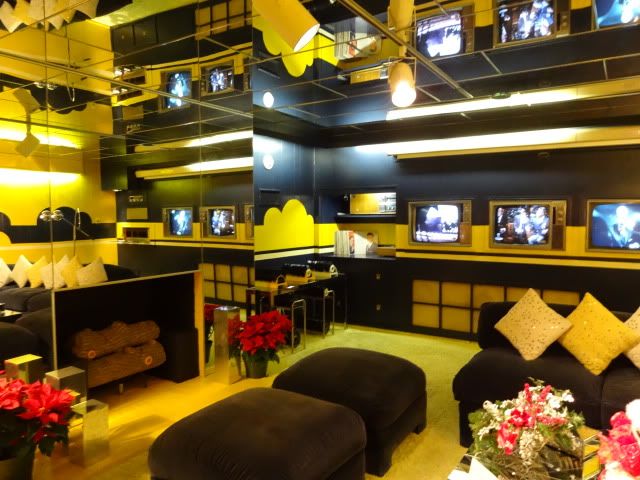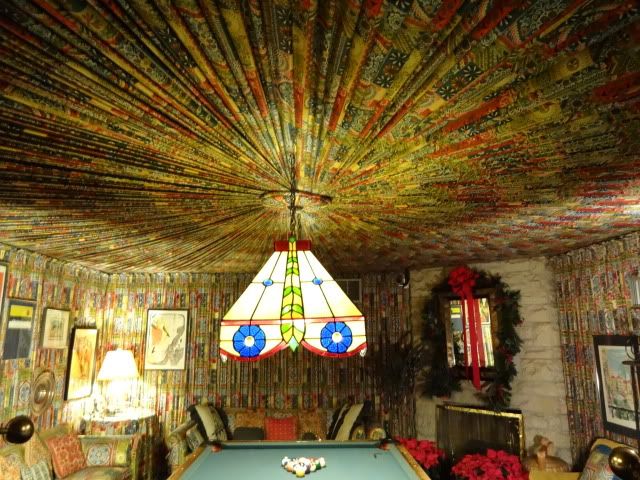 Beth loves this rom. I found it difficult to look at.
The Jungle room. For obvious reason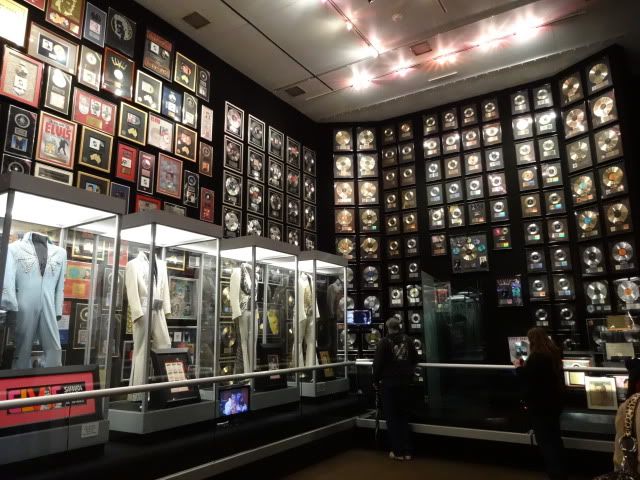 The racquetball court turned accolades room
Honestly, the entirety of Graceland was fairly epic. I was surprised how well everything is laid out to tell the story of Elvis from humble beginnings to the man he was near the end. Graceland glosses over the divorce from Priscilla, as well as his death and the fat years, but those were just small bumps in the career of a fantastic person. He may have had opulent tastes, but he also served his time in the military when they called him up and loved his family.
If you get a chance to go to Memphis, go see Graceland. You will not be disappointed in the size or the story.
And all joking aside, there is still a very powerful site to see near the end of the tour. Thirty five years later and the man is still loved by millions of people from all over the world. No matter what jokes a person may have about him or his music, no one can take that away from him.