We interrupt your regularly scheduled program for a little PSA. As a bonus, you get to see some of our pictures from
Contamination
2011, which is our local Horror/Sci-Fi convention. This year at Contamination, I talked to
Mike Aloisi
, who wrote Kane Hodder's biography,
Unmasked: The True Life Story of the World's Most Prolific, Cinematic Killer
, along with
The Killer & I
, which is a journal detailing the time they spent together working on the book. I ended up buying both books after Mike and I chatted about ghost hunting. Thanks, Author Mike, for forcing me to make time for reading! I plowed through both in less than two weeks because I couldn't put either one down.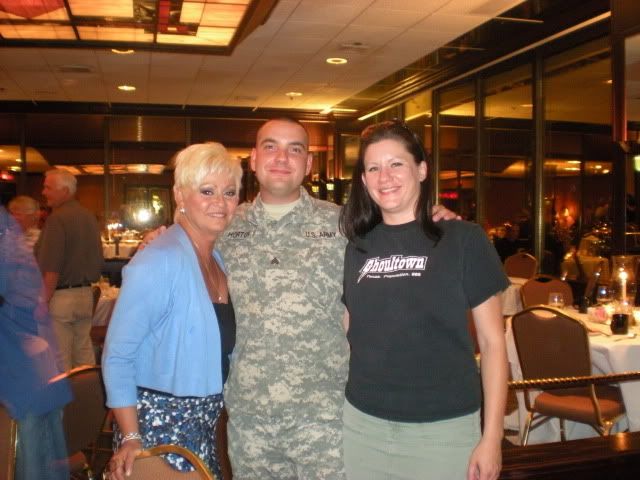 Francis and I with Seka in 2011. We'll send you a wedding invitation!
For those who do not know who Kane Hodder is, you're most likely to know him as Jason VII-X of the Friday the 13th movies. That's all I knew when I started these books. Last year at Contamination, Kane was one of the celebrity guests, and we went to the celebrity dinner. I am more of an early horror buff, like Vincent Price and William Castle and Roger Corman, and I never watched any of the movies like Friday the 13th and Halloween. I was a wussy kid, I didn't like gore. I bought us tickets for the the celebrity dinner because I don't pass up anything that makes a great story, and my friend Amy is a HUGE horror buff who was so excited about meeting all of these people. So, Seka and Bill Johnson (Leatherface #2) were at our table and ended up taking Amy around to meet everyone, while Francis and I kind of trailed behind saying polite "hi, nice to meet you"s.
Amy with Tony Todd
I don't know where Kane was; Amy has picture with nearly everyone BUT him at the dinner. He may have been there and we just didn't get a chance to talk to him. So, after dinner, we're walking from the part of the hotel with the banquet hall back towards our cars when Tony Todd and Kane Hodder stop us to ask how to get to the lobby, because they have some tickets to pick up. Amy, I think, said that we would show them the way if she could get a picture with Kane. "I think" because I was so intimidated by this huge, scary looking guy that I only knew as "Jason" that I do not remember this happening, even though I had to have taken this picture myself. It wasn't until I was going through the pictures from the event that I realized this picture is in the courtyard, while my memory says that we just led them THROUGH the courtyard while giggling nervously about Jason and Candyman following us. I learned from the books that Kane is quite the prankster, so I am pretty glad he seemed to be in a hurry.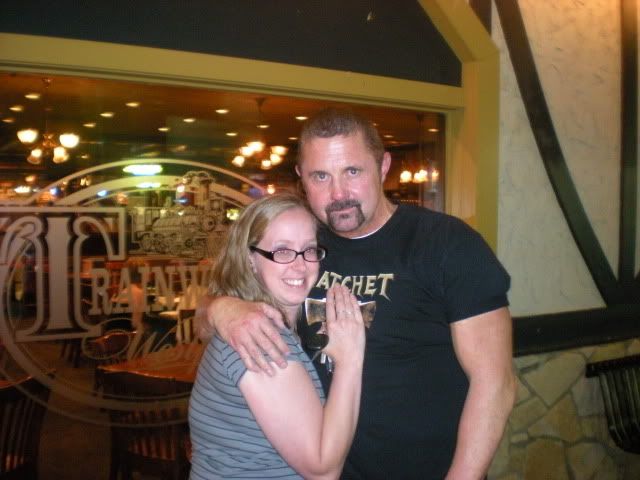 Amy with KANE HODDER.
Even though Kane seems really scary, he always takes time for his fans, and he also spends a lot of time working with charities, especially for kids who have suffered traumatic burns. In Unmasked, he tells the story of his own burn injury for the first time. Mike Aloisi did such a phenomenal job of writing about this that I can't shut up about how great this book is, despite only having a vague awareness of Kane Hodder when I picked up the books at Contamination. I've been particularly noticing stories about burn victims since reading it, and when I read about
Angel Faces
today, it reminded me to look up
Scares that Care
(that's an old link with the original book title). I'd noticed their booth near Mike's at Contamination, and I learned from the books they have partnered up with Kane.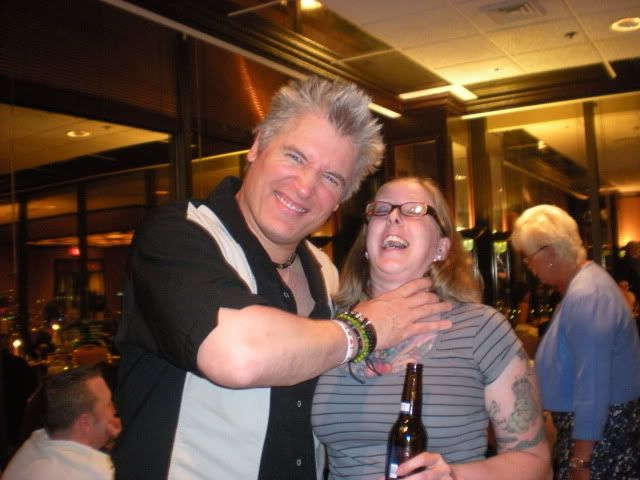 Amy with Brad Loree. I know I said two pictures, Amy, but how could I leave this out? Everyone, tell Amy how cool she is.
I learned so much from these two books that I wanted to pay it forward, and I hope you will share this with all your horror fan friends! Scares That Care is having a Friday the 13th $5 Donation Day next Friday, where every $5 donated is like a raffle ticket for a whole bunch of awesome memorabilia. Since their website is in the process of being updated, check out
their Facebook page
for updates! and I'll be sure to remind you on the
CC&G Facebook page
. As if you will need a reminder that Friday the 13th = Kane Hodder = Scares That Care = Awesome Raffle. Right?