Oh my goodness, what happened to March? It went by in a flash! We have been so busy lately, and have so much coming up in the next couple months between wedding planning and house renovations, that we scheduled ourselves a mental health weekend last weekend. We had a Living Social Escapes deal for
The Cheshire
that we had been saving for just this purpose.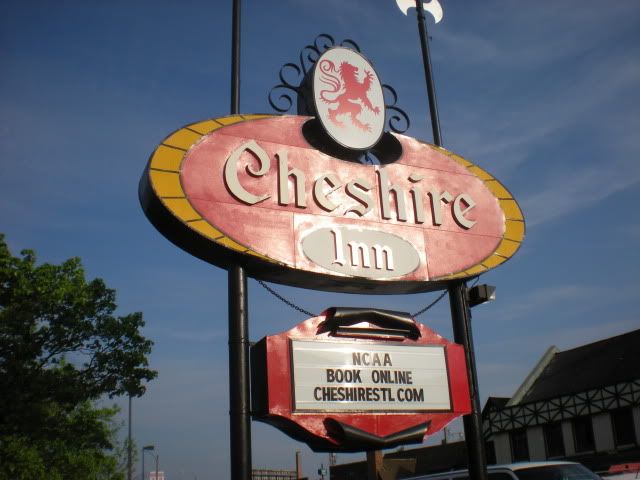 I never had a chance to stay at the old hotel, or even to go to the Fox & Hound Tavern, so I have no point of comparison for this blog entry, other than hearing that the old hotel was kind of run down and in need of an update. There was also a bit of a *winkwinknudgenudge* quality to it, as it was well known for its fantasy suites.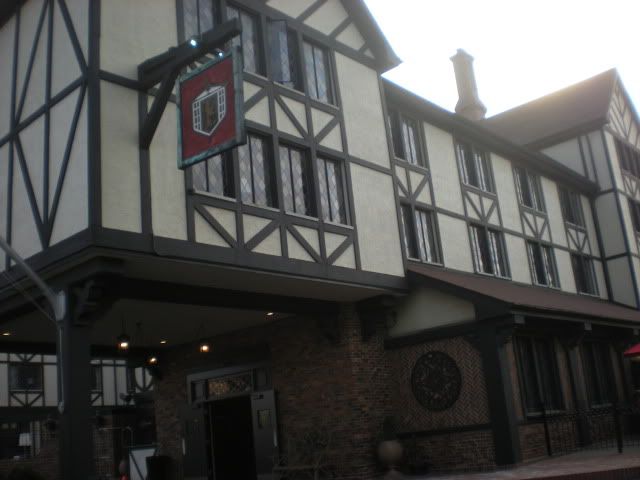 That's the first question everyone asked when we said we were going to The Cheshire this weekend. "Did they keep the fantasy suites?" The answer is no, not in the way you remember. The new fantasy suites are much more nerd-classy. We'll get to that in a moment.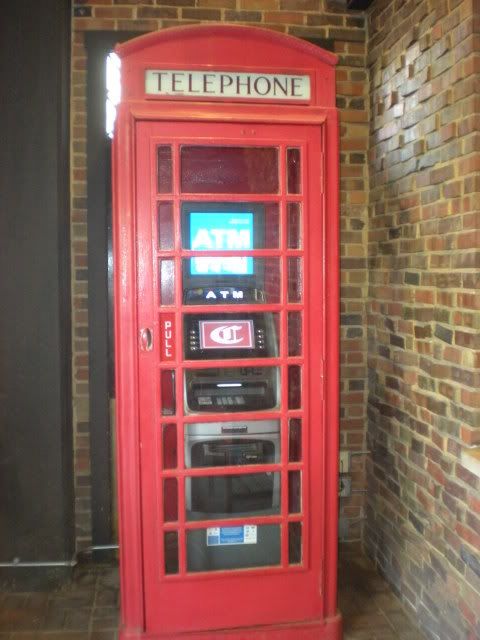 The Cheshire is design as an English inn, and as I understand it, they kept a lot of the historic details that people remember and love, while updating all the public spaces and rooms. Now it's a charming boutique hotel with all the updated amenities people expect. The ATM in the phone booth is a fantastic example. Love it!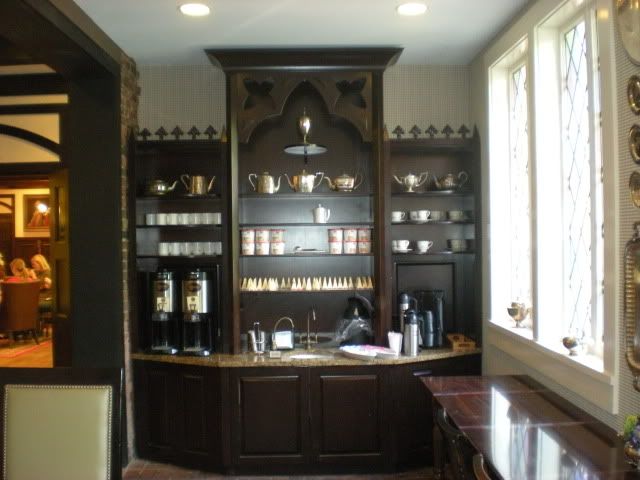 The public spaces are incredible. I could easily spend an entire vacation at this hotel, especially in the summer when the pool is open. Above is the coffee and tea area, which is available 24 hours a day, and has both china teacups and mugs, or to-go cups. Very nice touch. Across from that (not pictured) is the breakfast bar area, where they have a hot item (breakfast burritos when we were there) plus cereal and fruit and a very nice selection of beverages.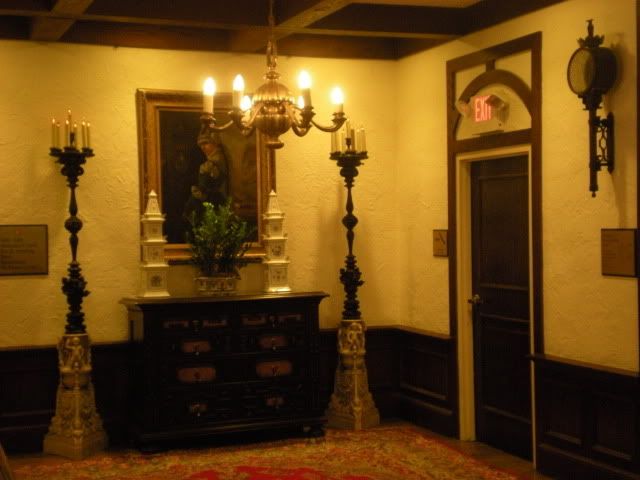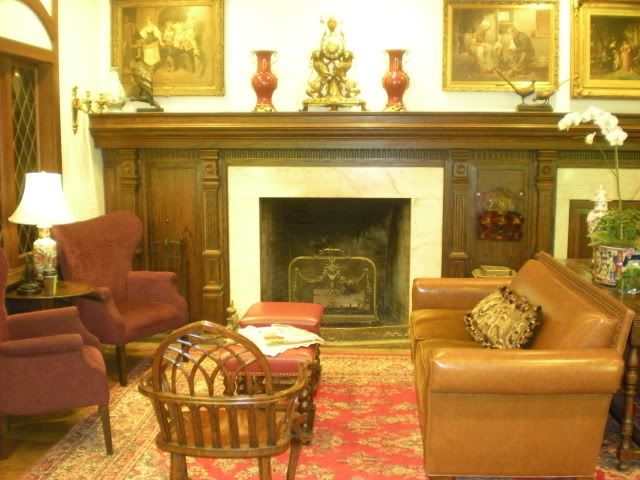 All the public spaces are GORGEOUS. Tons of antique furniture everywhere, even up and down the hallways. Plenty of areas to sit around and socialize or curl up with a book and a cup of tea.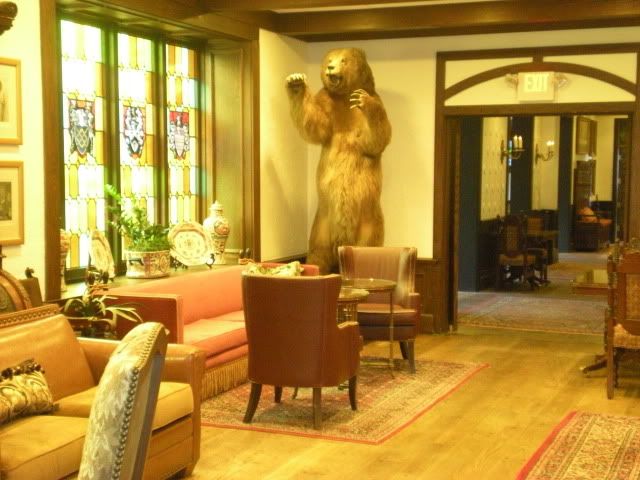 Speaking of books, this is where it gets nerd-classy. EVERY ROOM in the hotel has an authors name on the door, and you get a bookmark when you check in with the name of your room on it. We were in the Sir Walter Scott
Ivanhoe
suite, and there were two copies of
Ivanhoe
in our room. *swoon*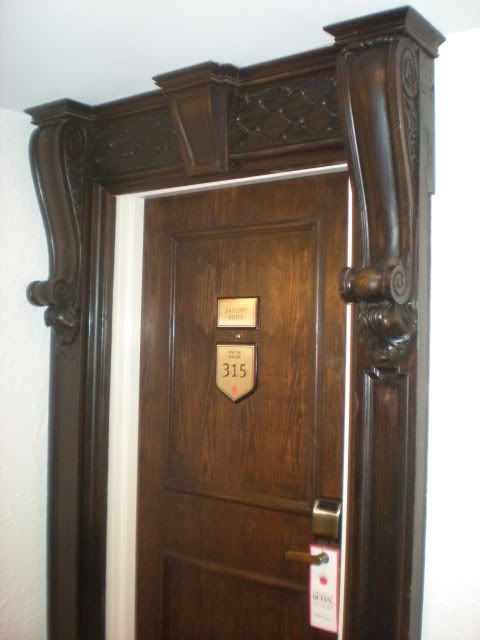 That's not our room, but an awesome example of the entrance to some of the suites. We were in a mini-suite, which had a sitting area with a couch, desk, and flat screen tv, and a separate bedroom with another large television.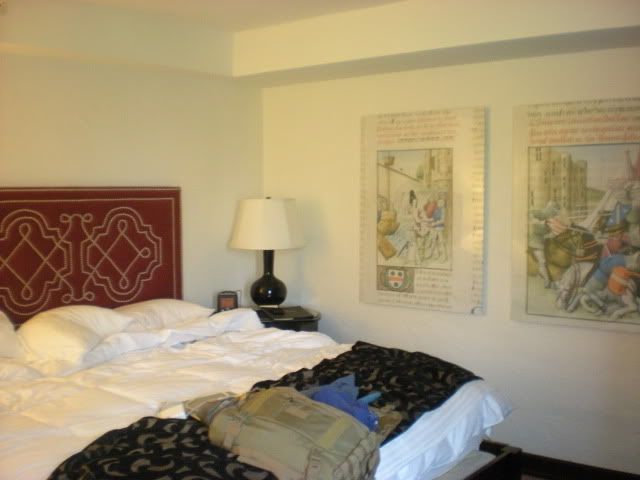 The bed was a little too soft for my taste, but my favorite hotel bed ever was the platform beds in Thailand that were like sleeping on a padded board. Most people won't turn down a pillowtop for a night. They were great for being lazy, and the pillows were EXCELLENT.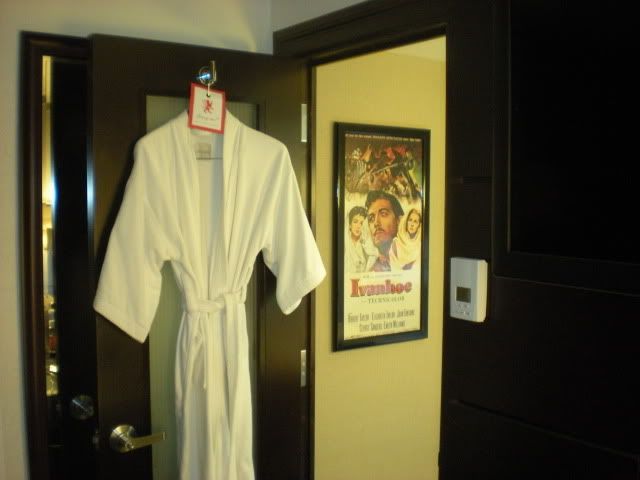 We did think it was odd that there was only one robe, but appreciated the theme throughout. The bathroom was great because it had plenty of natural light. We were on the Clayton side of the building and one whole wall was windows, with the option for shutters in the bathroom and blackout curtains in the other rooms. There is also a mini fridge, and they also have free bottled water in the rooms. Again, though, one bottle. Why not assume two people are staying in a suite?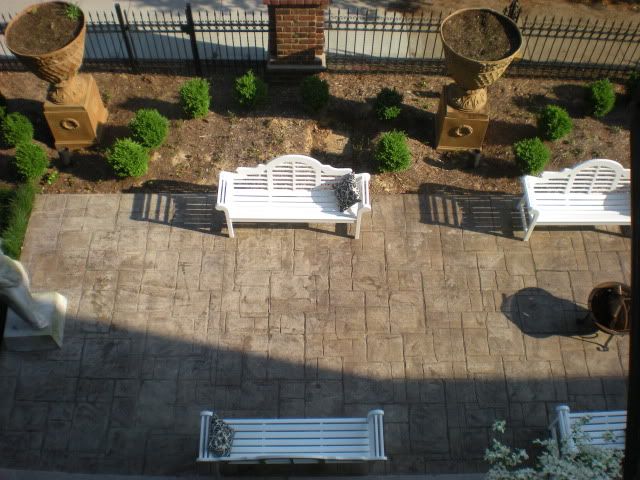 That's the view from our room looking down on the patio. In the evening, we had dinner at Fox & Hound Tavern. The grass fed beef bacon cheeseburgers are so amazing that we inhaled them before we even thought of taking a picture. Definite thumbs up on the food. After dinner we retired to the patio.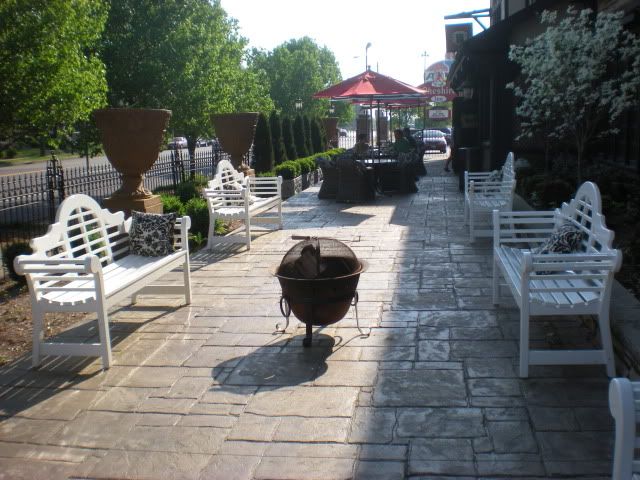 The patio fire was not lit that night, but our lovely waitress tipped us off to the gas firepit next to the pool. Holy moly. One, that patio furniture is amazingly comfortable. Two, I want an outdoor gas fireplace now. We stayed there for several hours and made lots of new friends with people visiting St Louis.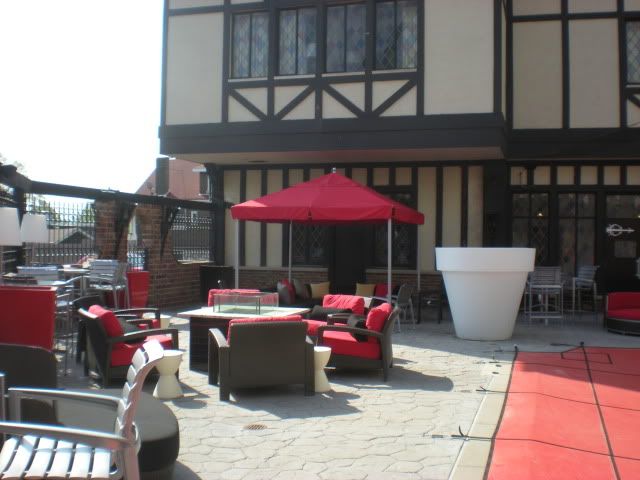 The best part of staying at a hotel in your own town? You don't have to spend the next day traveling. We checked out at the very last minute and then ran some errands and went home. Brilliant! So if you live in St Louis or are visiting, definitely check out the Cheshire. I'll be saving up my pennies for a night in the poolside king suite this summer.
PS - Please continue to share
last week's post
about White Nose Syndrome in Missouri bats! It's really important! Thank you!