OK, so things didn't quite go according to plan with the live jury duty blogging since they made me check my camera (and then I left my SD card in my work laptop over the weekend). I was able to check my camera out for the lunch break, though, so here are some pictures from around the court buildings. You can't throw a rock without hitting a statue or monument in the area of City Hall.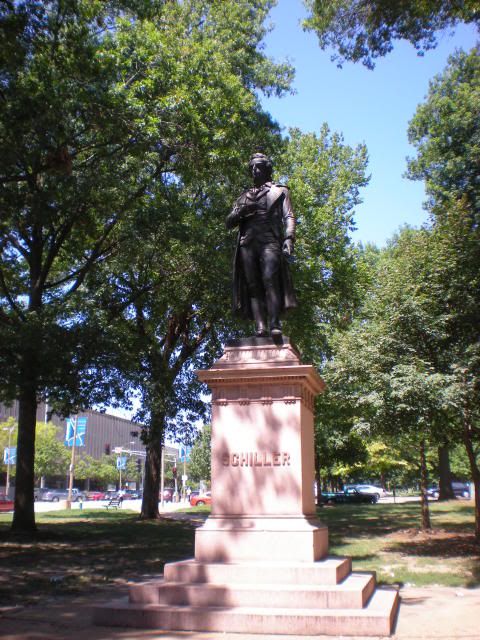 My primary mission was to find this statue, a special request by my neighbor Mary. We live on Schiller Place and she mentioned that there was a statue near Market and Chestnut of a guy named Schiller and she wanted to know who he was and why we have a statue. This is
Friedrich Schiller
, a noted German poet and playwright. He never lived in St Louis, but according to various websites, his son Johann Wilhelm Engau, who also never lived in St Louis, "started the line of descendants who now live in St Louis, MO." The statue was donated by Colonel Charles Stifel, a local brewer (everyone was a brewer), and apparently there was a huge parade and party the day the statue was dedicated in 1898. And yes, Schiller Place in the Bevo neighborhood is named for Friedrich Schiller.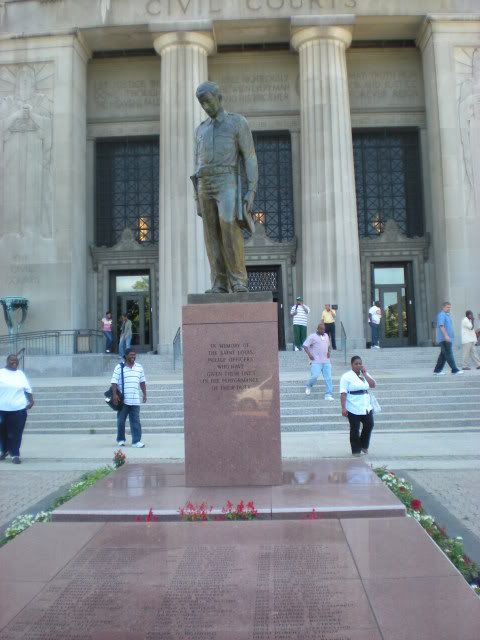 Also in this area, in front of the Civil Courts building, is the Fallen Officer Memorial, which says "In Memory of the St Louis Police Officers Who Have Given Their Lives in the Performance of Their Duty". A list of names engraved on the memorial can be found
here
.
Between Tucker and 13th Street is Poelker Park, and here you will find the Firefighters Memorial. There's an interesting article about the 15th anniversary of this statue
here
.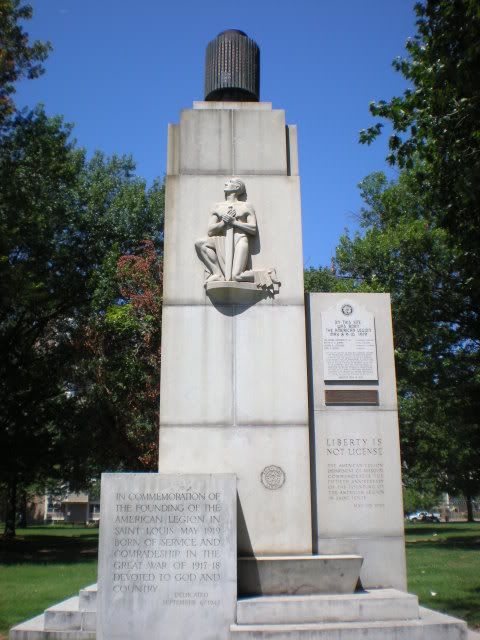 Between Olive, Pine, 13th, and 14th is Eternal Flame Park, where you will find the American Legion Founding Commemorative Monument. According to the Downtown Parks website, it was built by the Monument Builders of America after their convention here in 1942. Oddly, the real eternal flame did not replace the stone representation of an eternal flame until 1969.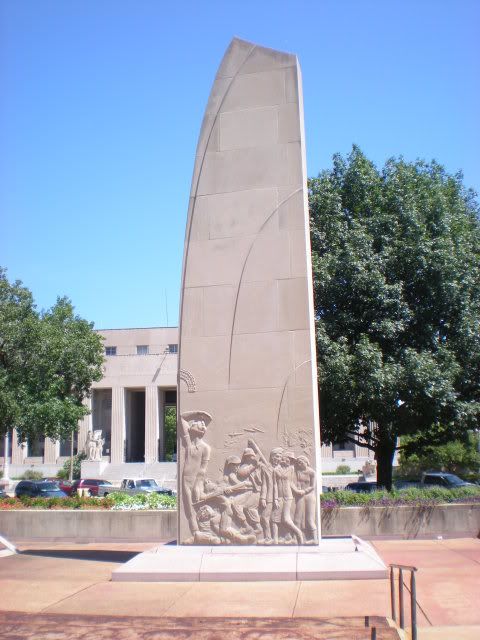 Over at Memorial Plaza Park we have memorial walls for WWII, Korea, and Vietnam. The large building behind it, which houses the Soldiers Memorial Military Museum, was built in honor of WWI veterans.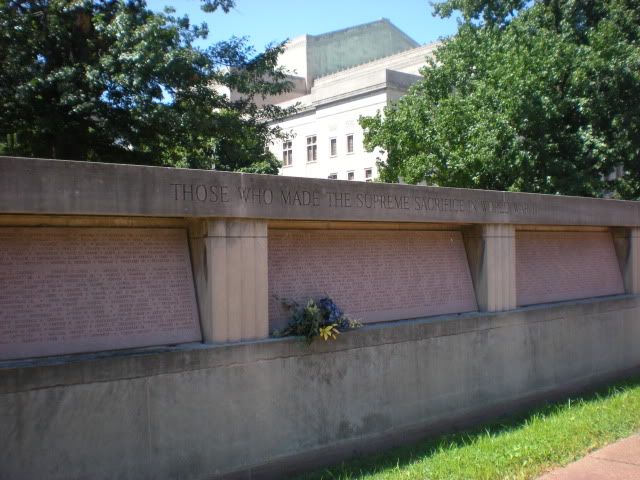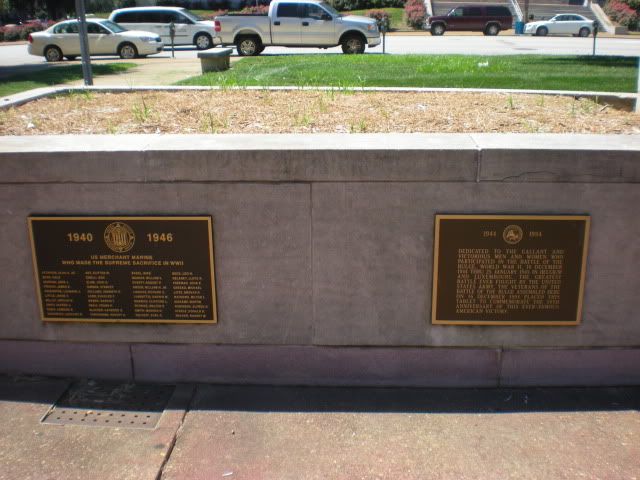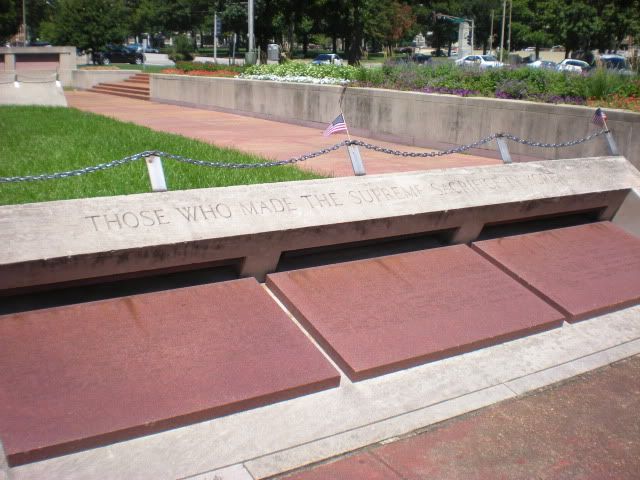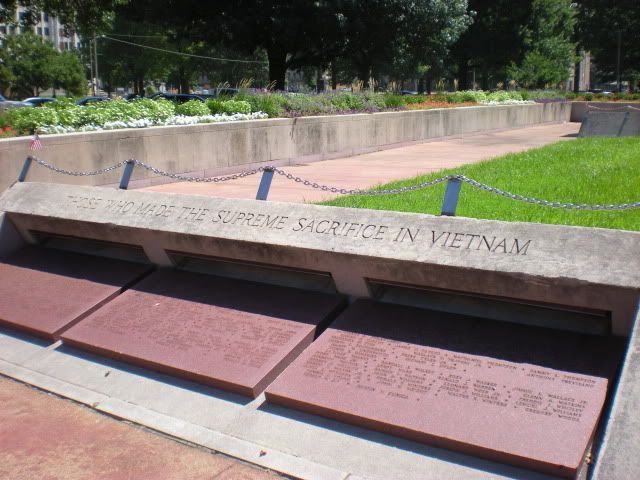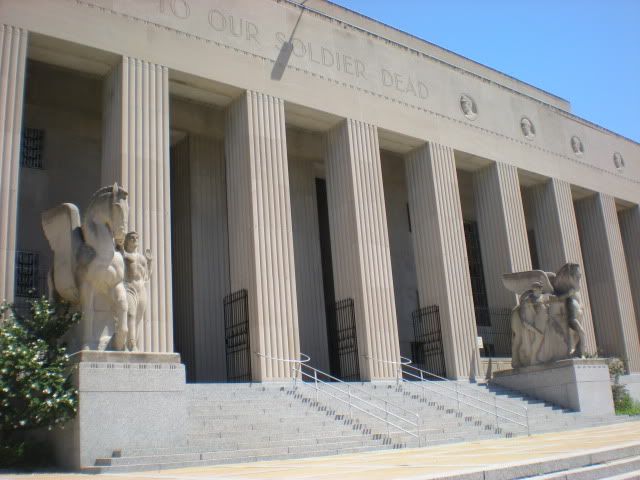 I also toured the Military Museum, where I did not take pictures because it's all glass and they would have sucked, but I highly recommend checking it out next time you're downtown. The building is absolutely gorgeous. The museum is not air conditioned, but it is reasonably well ventilated. It was 101 degrees outside when I was there, and while I lingered near the fans, I was not terribly uncomfortable. The museum is open Monday-Friday from 9-4:30, and Saturday-Sunday from 10-3.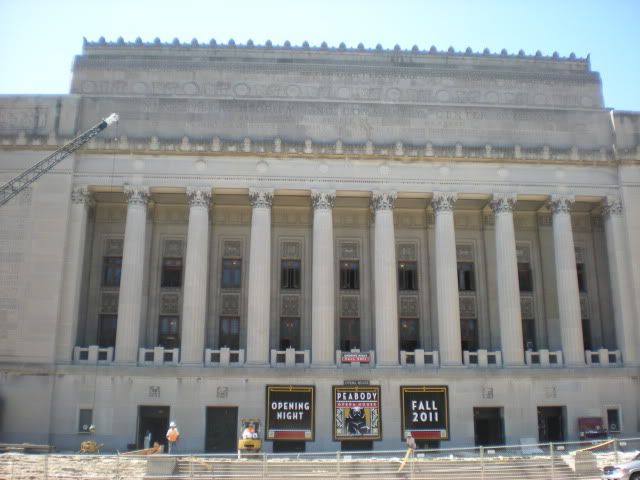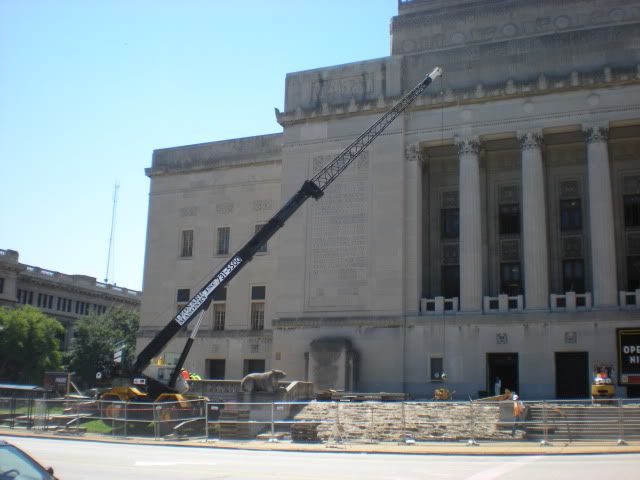 Finally, I leave you with a couple pictures from a project I'm very excited about, the renovation of the Kiel Opera House, which will become the Peabody Opera House. Construction is in full swing!