For the second year in a row, a Missouri restroom is nominated in the
Cintas America's Best Restroom
contest. Last year's winner was the Shoji Tabuchi Theater in Branson, MO, which you may remember is famous for its billiards table in the mens lounge and daily fresh orchids in the ladies sinks.
This year's Missouri nominee is
The Fountain on Locust
in St Louis. I've been here before but had no idea their restrooms were so fancy! The food here is awesome and they are open until midnight on the weekends. I recommend stopping in for an ice cream martini after a show at the Fox Theater.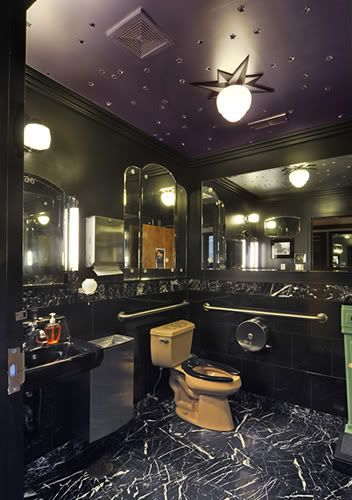 Speaking of The Fox, August will be a GREAT month to take the tour. There is very little on the calendar to prevent
backstage access
. Tours are Tuesday, Thursday, and Saturday at 10:30am, with no tour Saturday August 28.
I know this is not the kind of post you expect on Sundays. I'll make it up to you with a mini-post later this week, live from city jury duty! Don't worry, it won't actually be ABOUT jury duty.