Saturday afternoon, Robbie and Brent and I met up to learn about making maple syrup at the Maple Syrup Festival at Rockwoods Reservation in Wildwood, MO. Prior to this weekend, my knowledge of maple sap harvesting came entirely from
Little House in the Big Woods
, a book I read nearly every year, so I was very interested in seeing the process in closer detail.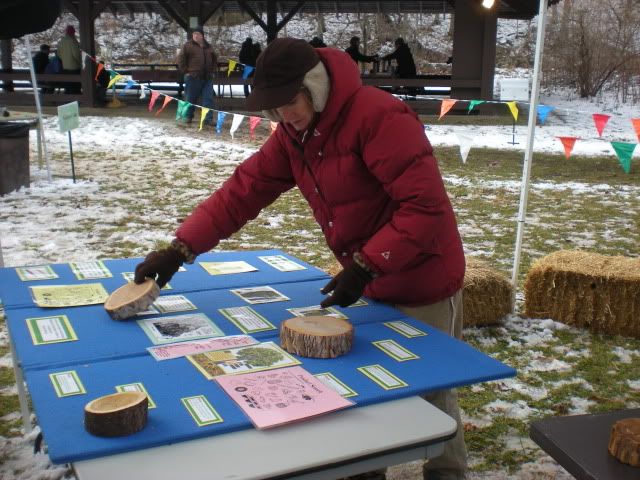 Step 1: identify tree. Any maple tree will have sap you can make syrup from, but Sugar Maples have the highest sugar content and are therefore your best option. The easiest way to tell the difference is in the fall. Sugar Maple leaves turn yellow, while Red Maple leaves turn... red. Also remember W for Waffle: a maple leaf and the bud end of a branch make a W shape.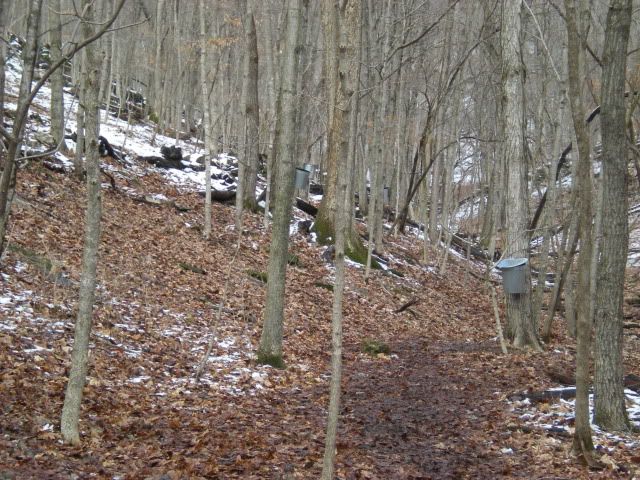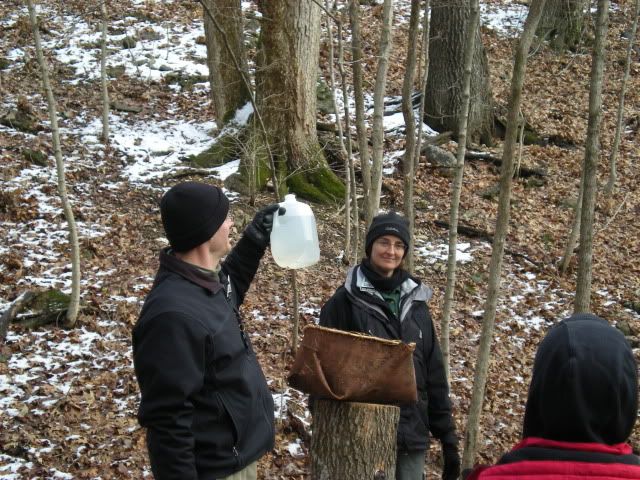 Also, you're going to need more than one tree for all your sugar and syrup needs. One gallon of syrup is made from FORTY GALLONS of sap, and the average tree produces five to fifteen gallons of sap per season. A group of maple trees is known as a Sugar Bush.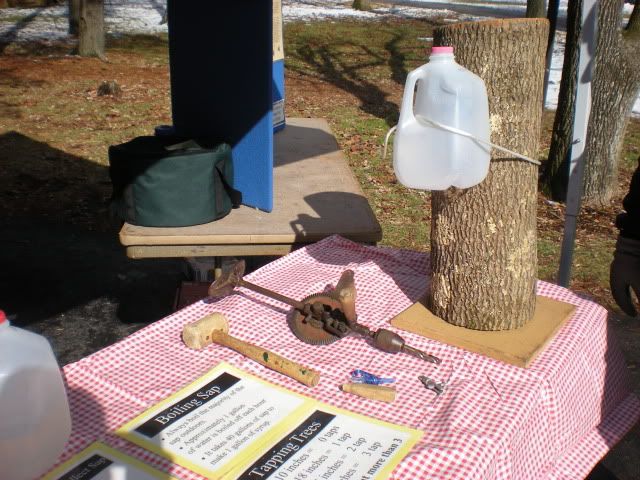 Step two: Tap your trees! Here at Rockwoods Reservation, they use plastic spiles, which I cannot find online, but they said that they create a smaller hole than the metal type. You can only use the hole you drill for one season, so a smaller hole means faster healing and a healthier tree! On the table above, below the hammer, you can see an old-fashioned wooden spile, like the kind Laura's Grandpa would have whittled. Only tap trees that are more than 10" in diameter.
Robbie pointed out that y'all might want an action shot of sap collecting. I'm sorry, but we laughed about this all day long. CC&G ACTION CAM! Don't blink or you'll miss it!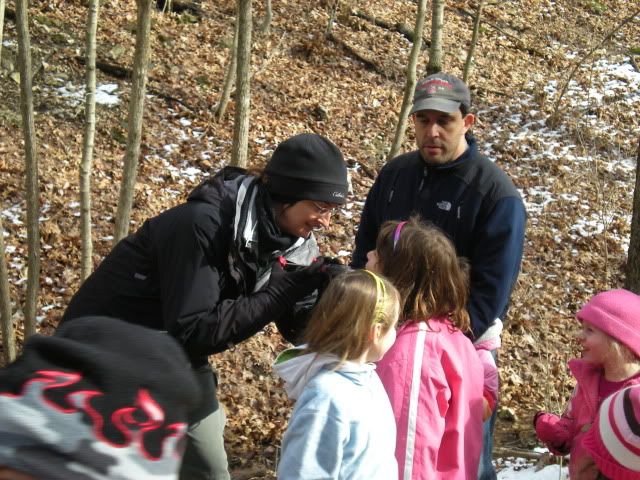 Above you see some kids trying straight maple sap. Now, why are we out here in February? Because the sap starts running after a thaw, when the tree is getting ready to bud. In Little House in the Big Woods, there was a "sugar snow," which is when there is a freeze after a thaw. This makes the tree hold back on producing leaves, so the sap runs longer. You want to tap your trees when the daytime temperatures are above freezing, and the nighttime temperature are below.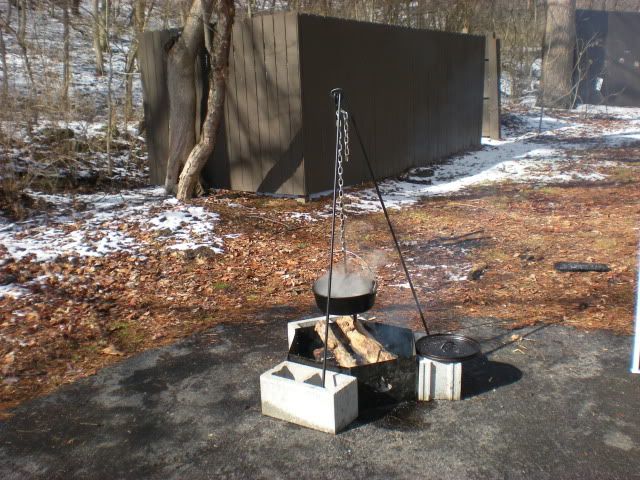 Step three: boil your sap. Sap is 97% water, so you have to evaporate that off to get the syrup. We were warned all day long that you MUST perform this action OUTDOORS. Boiling off all this water will make your wallpaper peel right off the walls (and mold, since there's sugar in that steam.)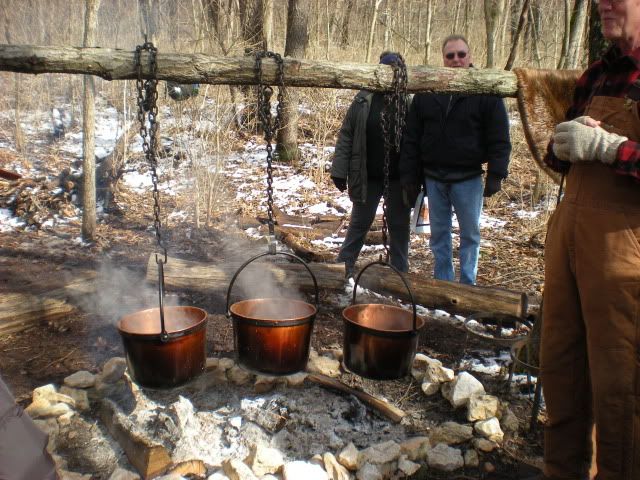 Here's something like Grandpa's big pot out in the woods. As sap was collected, it was poured into the first pot, and then moved on down the row as the water boiled off. The third pot would be the boiled down syrup that became maple sugar.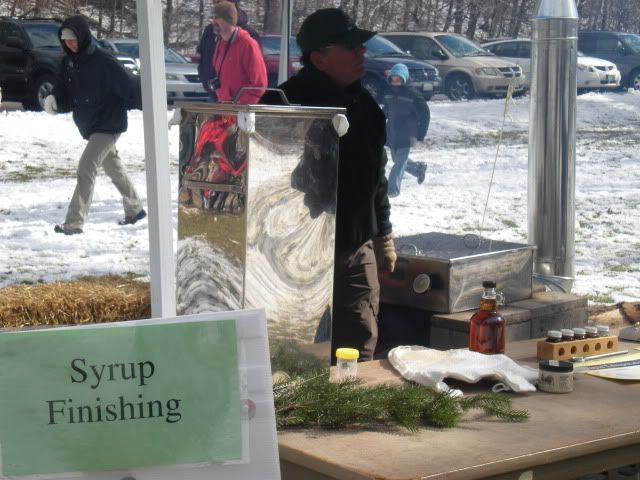 Step four: finishing your syrup! The temperature determines the end product. For maple syrup, 219.2°F. For granulated maple sugar, you'll have to go up to 261.6°F.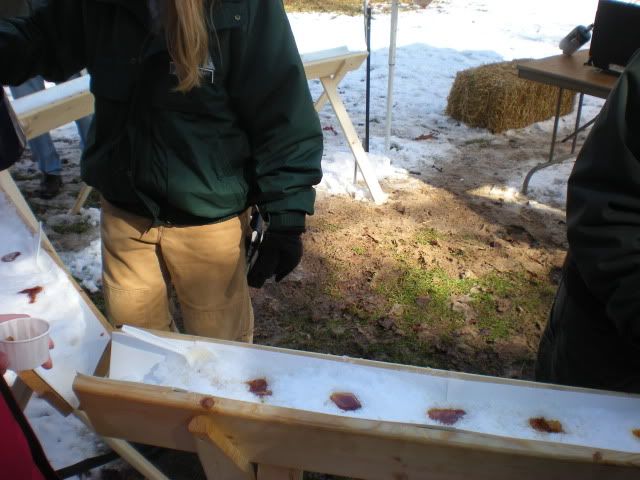 And what's the one thing you remember from Little House in the Big Woods? Maple Sugar on Snow! For that you'll need snow and syrup heated to 235.4°F.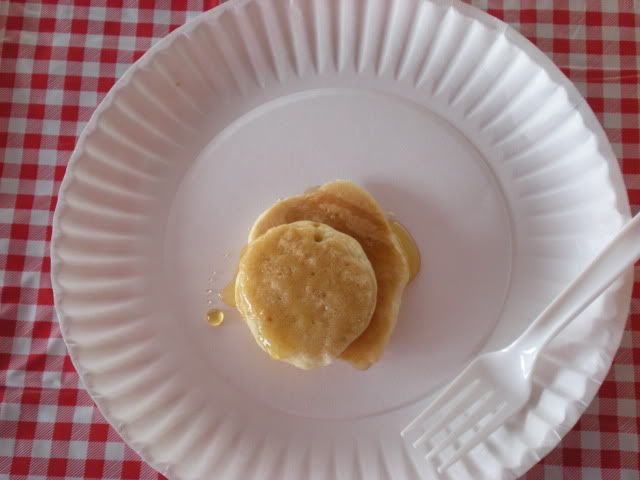 Pancakes with fresh maple syrup! Yay! As the lady dishing out the hot chocolate said, "Your tax dollars at work!" I approve of using my tax dollars in this fashion. I'd like to find more ways to enjoy my tax dollars. If you would, too, you can check out the
Missouri Department of Conservation
website for special events around the state. You can also get a FREE subscription to the Conservationist magazine, which I highly recommend.
Please keep in mind that I only hit the highlights in this post and this is not meant to be a step by step guide. If you are interested in making your own maple syrup, I recommend checking out a site such as
the Massachusetts Maple Producers Association
. Just remember the Missouri season is a month or so earlier than New England's!