We had some time to kill before ghost hunting so we stopped by the Alton Cemetery. I wish I'd known some of the stuff I learned later in the evening before we stopped here, but no matter. Today I'll just show you how pretty it is, and next time I'm in Alton I'll talk more about the residents.
One thing I can tell you about is this most recognizable feature of Alton Cemetery, the Elijah Lovejoy Monument. Elijah Lovejoy was an abolitionist who published the St Louis Observer, and later moved to Alton and started the Alton Observer. On November 7, 1837 he and his supporters were guarding a printing press in a warehouse near the river until it could be installed at the Observer. A pro-slavery mob set the warehouse on fire, and as Lovejoy tried to put it out, he was shot and killed.
He was buried in an unmarked grave in Alton Cemetery, and his murder sorely wounded Alton's economy and reputation. Much commerce was lost as river traffic diverted south to St Louis. This monument was built in the 1890s as an effort to mend fences and was dedicated on the 60th anniversary of Lovejoy's death. You can read about the particulars of the monument on
this website
.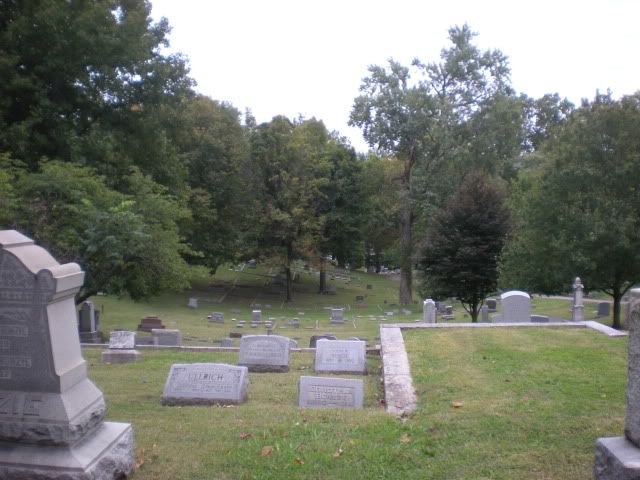 This cemetery is laid out differently than most I've seen on the St Louis side of the river. There are a lot of little stone walls breaking up various areas. Maybe this helps keep the land from eroding since it is so hilly.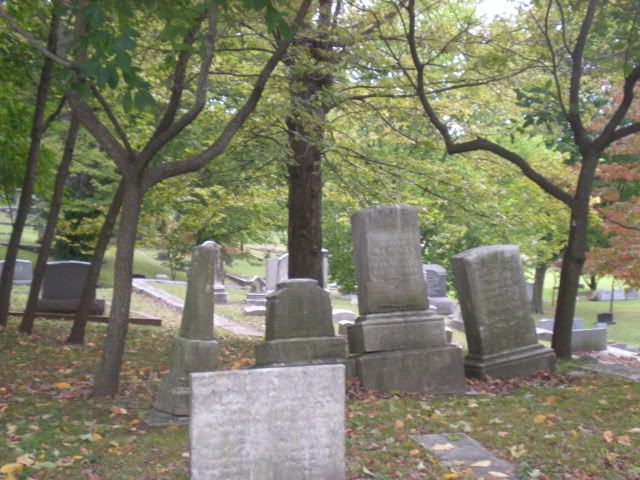 I live near a few of the oldest cemeteries in St Louis, but Alton Cemetery is even older, dating back to 1870. One of these days I will learn how to do a proper grave rubbing so that I can read some of this old markers.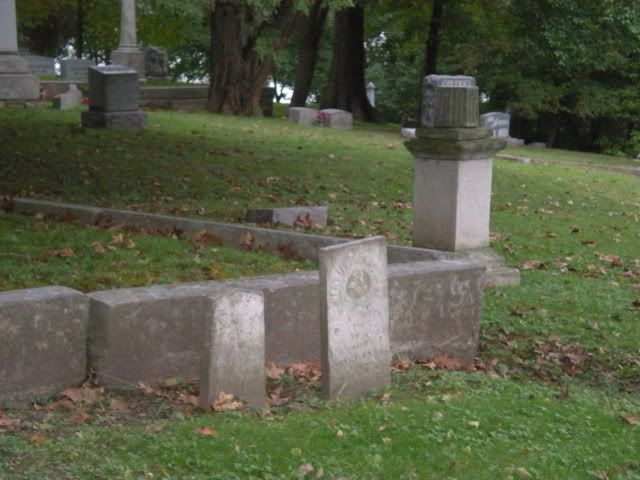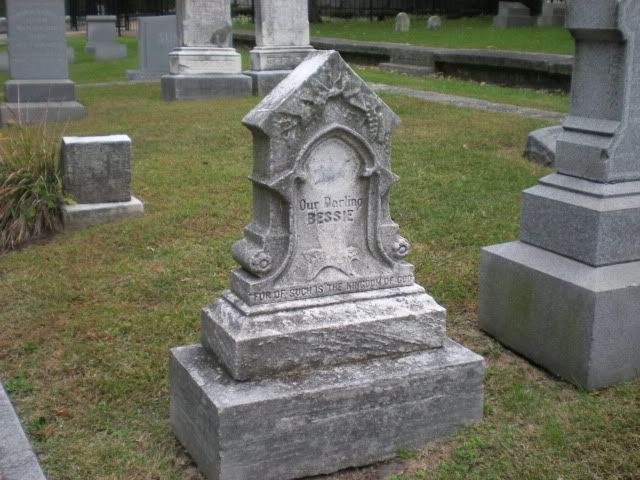 Here's an unusual one. It says "In Memory of Frank B Tesson and Wife Alice who were lost when the Lusitania was submarined in the Irish Sea. May 7, 1915." According to the Wikipedia page for the RMS Lusitania, the ocean liner was "torpedoed by a German U-boat on 7 May 1915. The ship sank in 18 minutes, eight miles (15 km) off the Old Head of Kinsale, Ireland, killing 1,198 of the 1,959 people aboard. The sinking turned public opinion in many countries against Germany, and was instrumental in bringing the United States into World War I."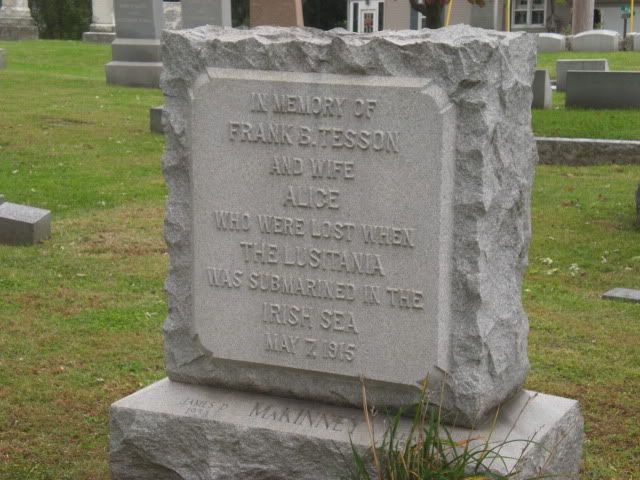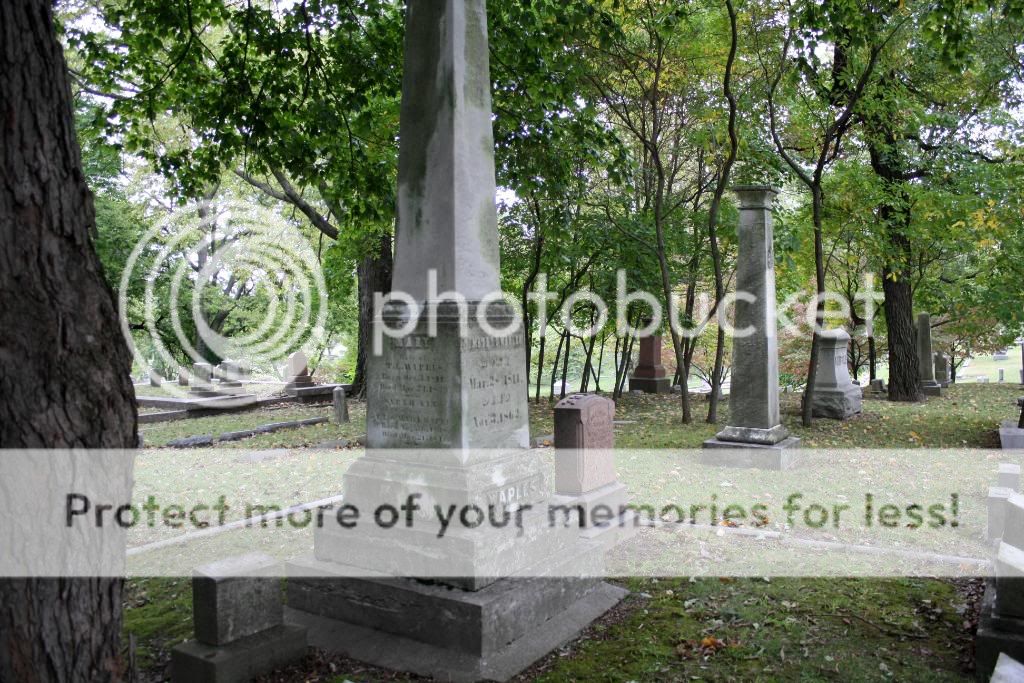 Here we have the McPike family plot. McPike Mansion, built for Henry Guest McPike in 1869, is one of the most well-known haunted houses in Alton. It was vacant from the 1950s until George and Sharyn Luedke purchased it a few years ago, and they occasionally open the house for tours to raise money towards its renovation. You can read about McPike Mansion on
their website
.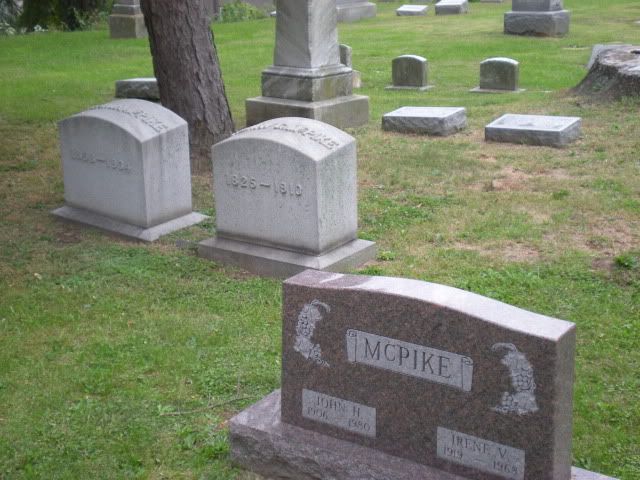 This concludes our tour for today. Alton Cemetery is located on Monument Street, off Broadway Ave. You will see signs directing to the Elijah Lovejoy Monument/Alton Cemetery from Broadway (that's how we ended up stopping here.)