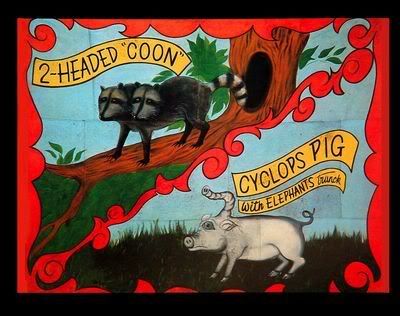 So maybe I'm cheating, but I didn't get out much in February. Take a virtual vacation with these weird internet museums and I'll get back on the road in the next couple weeks.
showhistory.com
- Everything you've ever wanted to know about freaks and geeks. I love sideshow history and this is the most comprehensive site I've ever seen. Well done!
Ronald Dupont's Squished Penny Collection
- I would like to see his whole collection as thumbnails on one page with links to bigger pictures, because I think the internet museums are really more user friendly that way, but y'all know how I love the squished pennies. I have my own collection so I had to include this one.
International Arcade Museum
- What this site lacks in user-friendly browsing, it makes up for in sheer volume. Boy how I wish the Coin-Op Museum in St Louis was still open. Maybe some day I'll open my own.
Skytopia Fruit Museum
- This one is definitely weird. This person does detailed reviews of fruits, complete with rankings and awards. Oddly enough, it's far more engrossing than it sounds.
Sancho's Museum of Culinary Disasters
- I could spend hours and hours and hours on this site just laughing at the ridiculous cook book pictures. PLUS there are links to other great sites like The Gallery Of Regrettable Food (an old favorite of mine,) Haunted Road Trips, and Beauty Tips of the Past. The design of the site is not so great, but the content is A+.
Official Bad Art Museum of Art (OBAMA)
- This is not an internet-only museum - there is an actual cafe in Seattle that houses the museum. However, they have an excellent online gallery of the bad art, so you can virtually visit.
Frank's Vinyl Museum
- Whew, I was starting to think there was no such thing as a weird internet museum with a decent website. Take a hint from this guy, all you other weird internet museums! It's 2009, you don't have to use Geocities anymore! Look for "Everything You Always Wanted to Hear on the Moog," "Polka Disco," and "The Ballad of Jim and Tammy." Wow.
UglyDress.com
- They call it an archive of bad bridesmaid dresses, I call it a museum. Ladies, I have already spent an hour on this site, laughing out loud like a lunatic. You must check out the "Ugly Weddings" tab. Warning: some of their banner ads are of an adult nature.