I feel like I need to start out with a fanfare, since
last year's entry
consistently gets more hits that anything else I've posted. Unfortunately I thought of that at the last minute and don't actually know how to do it. So without further ado:
THE CAVE RESTAURANT AND RESORT
!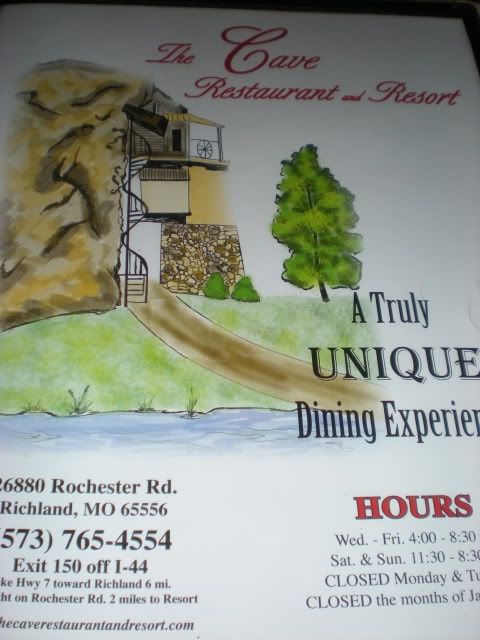 That's right, Caveman BBQ was finally purchased, by Gary Dyer of Gary's Place in Lebanon, MO. The restaurant was doing booming business this weekend and we had to wait for the shuttles, so we had an opportunity to get more pictures of the property than the last time.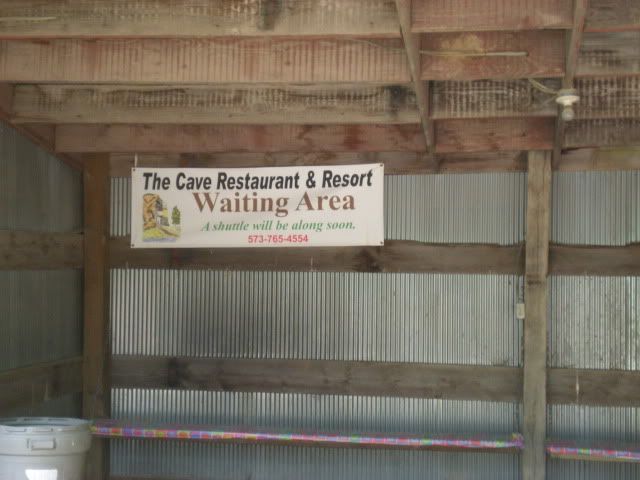 The old horseshoe pits and tennis court: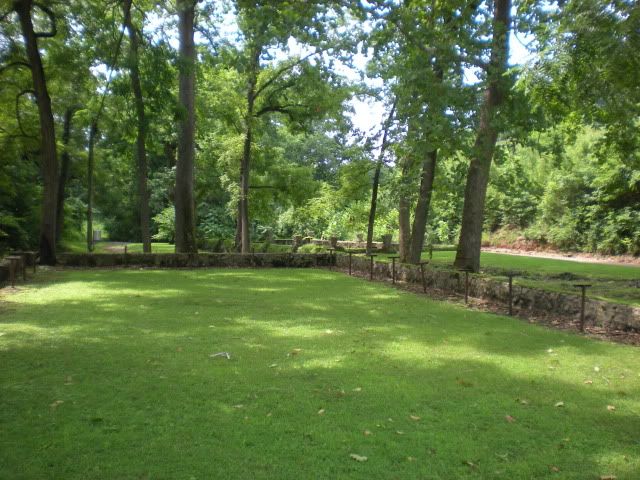 The property was originally known as Ozark Springs Resort: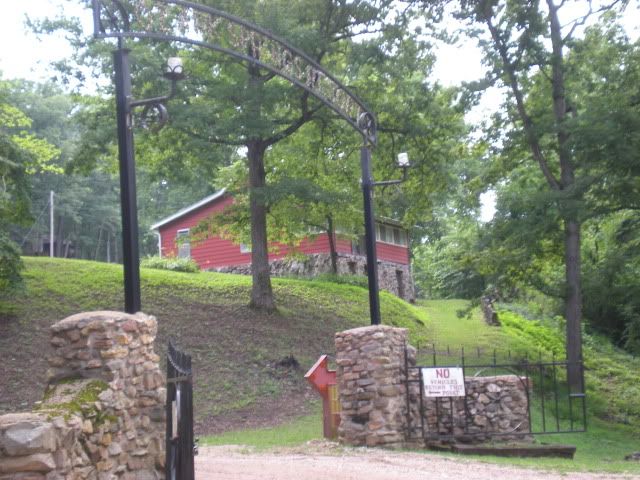 Since you have seen the full restaurant tour in my post from last year and little of the "architecture" has changed, I thought it would be fun to go down our list of suggestions from the last trip. First, the country road to get to the restaurant is, in fact, much better now. It seems like more of the road had been paved, and the gravel section had been graded and was much smoother. to avoid confusion, that is NOT the Rochester Road sign, that is the sign at the parking lot.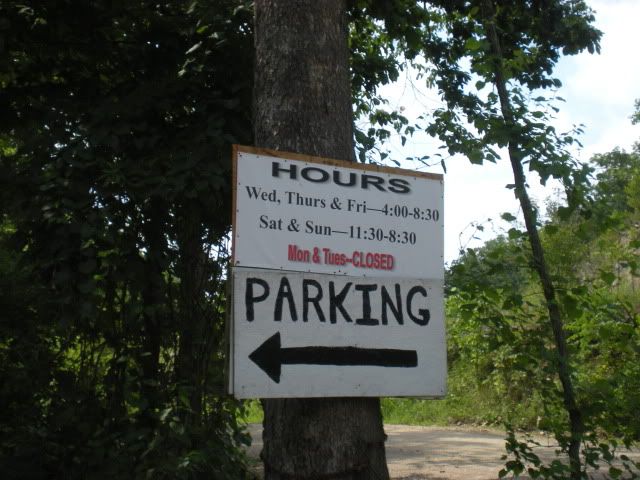 Second: advertising. I have heard reports from all over the area that people have seen Cave Restaurant billboards. I didn't see any myself when we were driving down there, but I can report that the sign at Rochester Rd is much more visible than I remembered.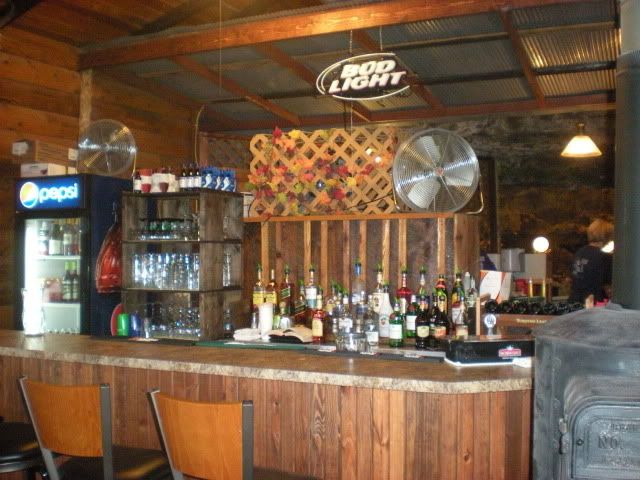 Third: LIQUOR LICENSE. As you can see, Gary agrees that a good restaurant needs a bar. I think one person in our party of 12 actually got an adult beverage, but we like the option. When the cabins are done and we are spending the weekend instead of spending an entire day on the highway, we will partake.
Fourth: better hours. While they still close at 8:30, they are now open on Wednesdays, and only close for January and February, rather than November through March.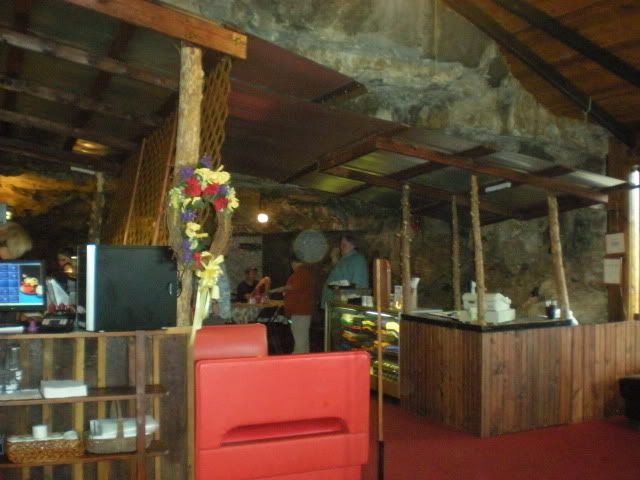 Fifth: Souvenirs! Yay! I bought a t-shirt and Keith bought a mug. Right now those are your only two choices, but it's better than a blurry postcard.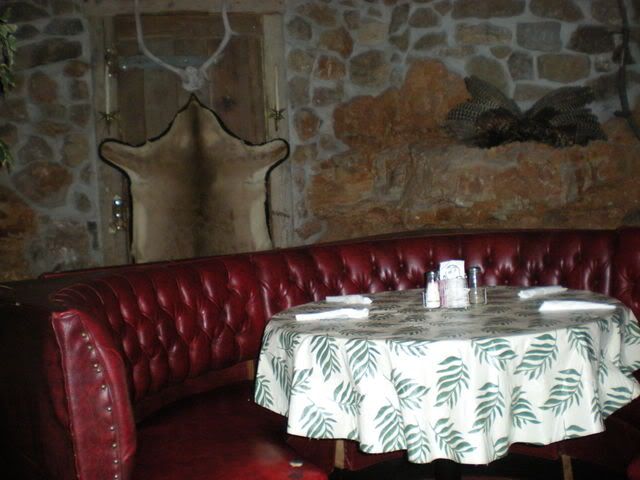 As for the food, wow! The people who went on the trip last year expected a choice between steak and BBQ, and instead we had this whole brand new, extensive menu. It was a tough choice, but I settled on the chicken fried steak with mashed potatoes and fried okra, and it was quite possibly the best chicken fried steak I've ever had.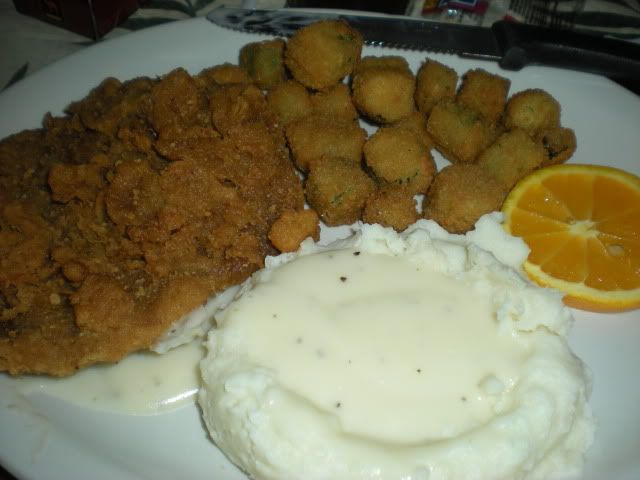 A couple people at my end of the table got the 1/2 oven roasted chicken and said it was delicious, and I heard several exclamations over the spicy lemon Aiello sauce on the chicken sandwich. Only one person ended up getting a steak, and said it was good despite being on the really rare side of medium rare.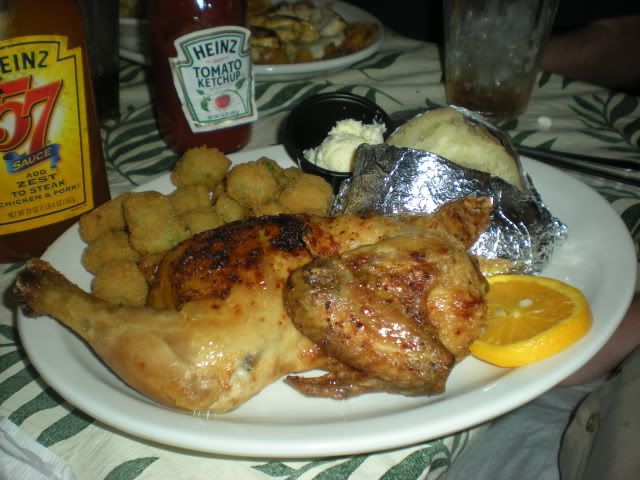 The service was pretty slow this year. We had a party of 12 and were there for nearly 2.5 hours. However, it was really busy, and it sounded to me like they had a newish computer order entry system that took some getting used to. I seriously doubt 2 hours for a large party is normal, but you should still budget some extra time for this stop. Bonus: they now take credit cards as well.