On Sunday Jill, Eamon, and I set off for the
City Museum
to kill an afternoon in air conditioned comfort. I would have rather been at a real cave, but the City Museum's Enchanted Caves are a good substitute when gas is $3.66 a gallon. I feel like I
should
do a Craves, Caves, and Graves blog about the whole City Museum, but I spend so much time there and it's so well known to St Louisans that I have a hard time saying, "Hey, did you know about this thing that everyone knows about?" But if you're not from St Louis, trust me, you should go. There are no words or pictures to describe it, just go.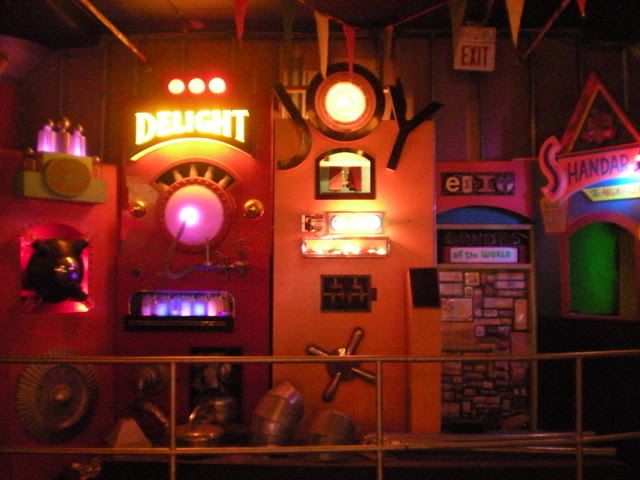 There is one part of The City Museum that I will make an exception for: Beatnik Bob's Museum of Mirth, Mystery, and Mayhem. This section is like is all my hopes and dreams in one crazy corner of St Louis. If you asked me what I would do with a million dollars, my answer would be, "This. This right here."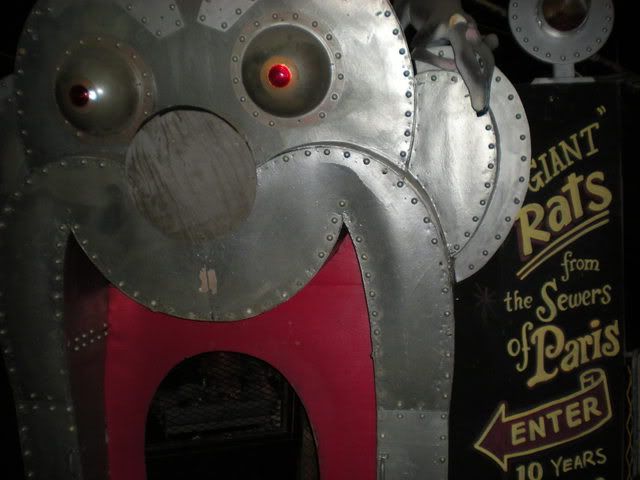 The Museum of Mirth, Mystery, and Mayhem has a little of everything, from vintage arcade games to sideshows, from The World's Largest Underpants to the Corndogs Through the Ages exhibit. They also have snacks, soda, and beer.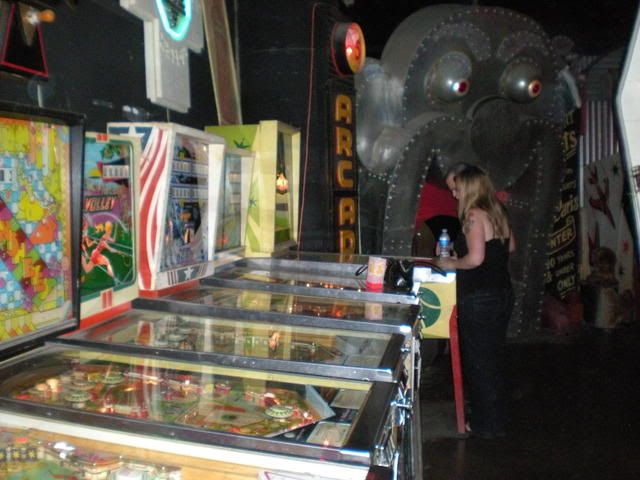 Jill and Eamon playing a vintage baseball game
The entrance to a funhouse of sorts. Googling on "Neosho Nougat" has been somewhat fruitless, so if anyone can tell me the origins of that sign I would be most pleased.
They also have an Elvis Channeler/Psychic, although I have never seen him or her in residence. Jill made sure I included my motto in this photo: Inner Peace Thru Impulse Purchasing!
According to this sign, this trailer once belonged to Elvis and Priscilla.
Inside the trailer
Pickled Punks and other sideshow attractions
Nosferatu
This is the kind of thing you find on the walls.
Hooray for St Louis Beers! The tags on the Budweiser says "BEHOLD, I AM YOUR KING! My unholy army of advertisers will destroy all who oppose me!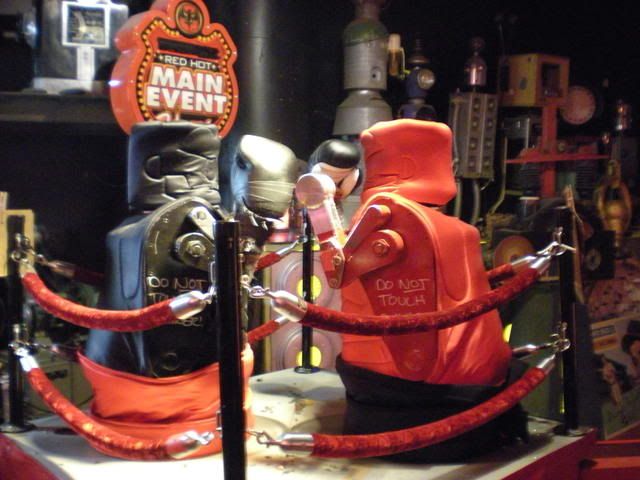 This is a new addition you can find behind the Shrine to Shameless Hucksterism (snack bar.) Giant boxing robots!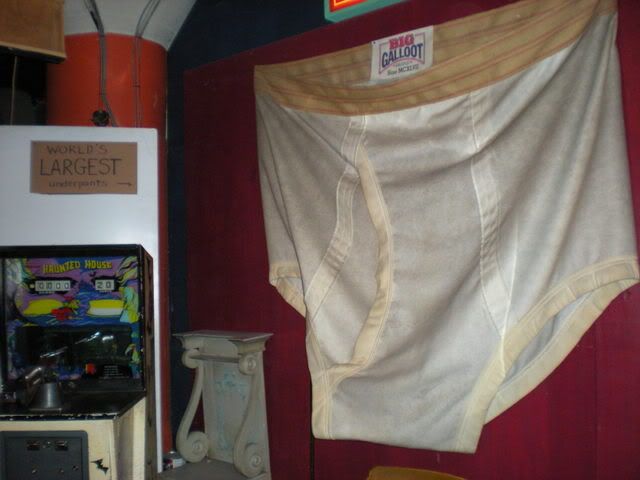 The World's Largest Underpants. Archie Mcphee ain't got nothin' on Beatnik Bob.
The #1 item on my lottery wish list: a fortune teller machine for my living room.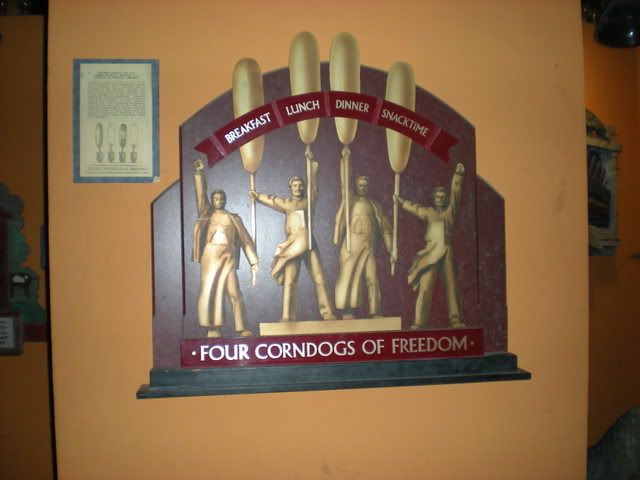 Corndogs Through the Ages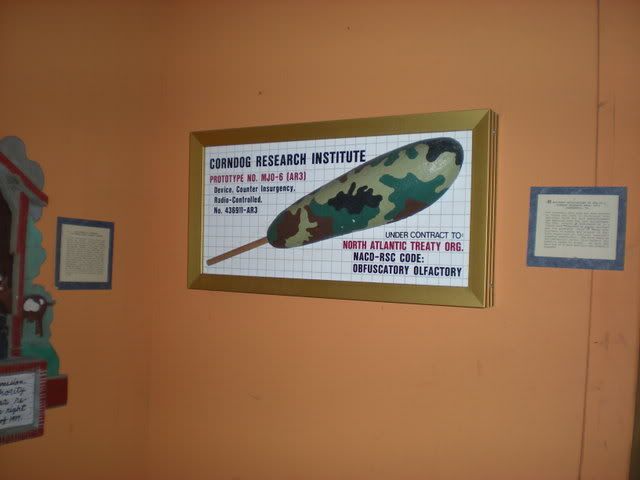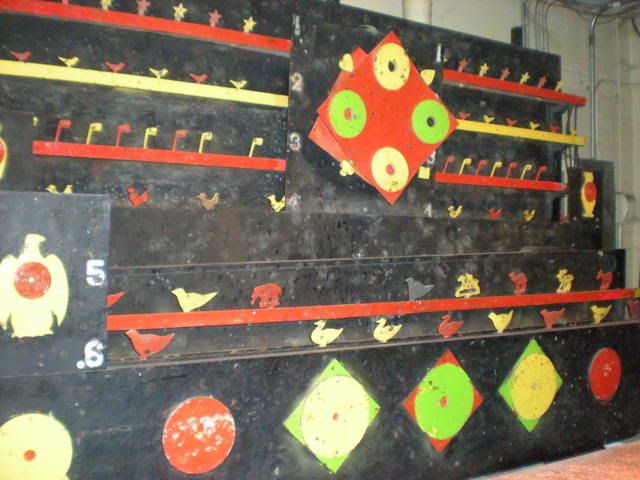 This is just outside Beatnik Bob's, but it's my #2 lottery wish list item: an original (cast iron?) shooting gallery. Look up "shooting gallery targets" on Ebay and you'll see why you would need to win the lottery to pay for this whole thing. Just one target goes for upwards of $100.

Beatnik Bob's Museum of Mirth, Mystery, and Mayhem can be found on the 3rd floor of the City Museum. Admission to the City Museum is $12 for adults, $10 after 5 pm on Friday and Saturday (the museum is open until 1am on the weekends.)