Francis, Keith, and I went to the St Louis Renaissance Faire for the first time yesterday! It was the first Ren Faire ever for Keith and I. Here's what I learned: there are a lot of nerds out there who never outgrew Thespian Society and want to wear ALL THE THINGS and speak in horrendous accents or "pirate", regardless of accuracy. But that's cool, they are having fun I guess.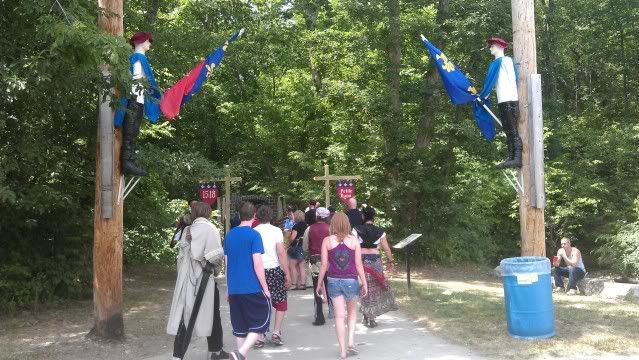 OK OK, I admit bias. My idea of "fun" when I was 12 was pouring over the
Amazon Drygoods
pattern catalog, so if I don't have the proper costume down to the undergarments, I'll just wear jeans and a tshirt. I can't be that person in an elaborate brocade corset over a denim dress. However, there are a number of people involved who are quite serious about the history and costuming, are talented actors, and demonstrate skills of the era. The real mission of the St Louis Renaissance Faire is to teach people about the Renaissance in a living history format, and they are particularly focused on young people. There's even a Student Day at the beginning of the season.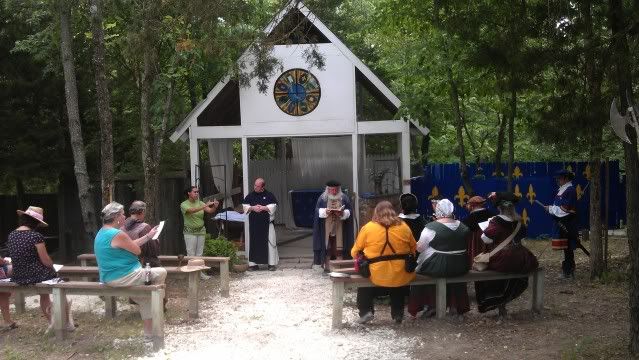 In fact, the more I read today, the more I realized I was confusing the real cast members with the people playing dress up with remnants of Halloween costumes. So, I tip my cap to you, real Ren Faire cast members. If you are reading this, I'd love to hear more about what you do. I have a little bit of technical theater background and a lifelong interest in costuming, so I want all the dirty details of putting on this show!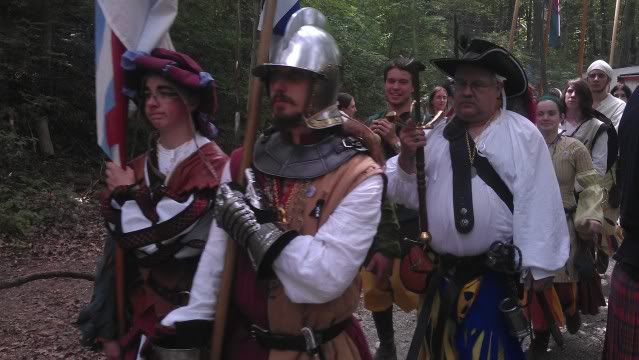 The St Louis Renaissance Faire setting is a 16th century French village named Petit Lyon, in the reign of Francois I. There's a fun little explanation on their website as to
why they chose Lyon, France
and how it differs from the average "England" Ren Faire. We are all big fans of the intersections of European and American history (Francis is known to lecture on the French Revolution and it's effect on the American Revolutionary War after a few drinks), so thumbs up to the unconventional choice.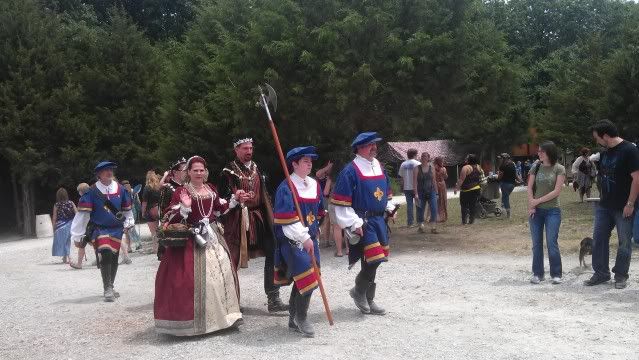 The Faire is held at Rotary Park in Wentzville for only four weekends a year, but the village is a permanent fixture in the park. I learned today is that they encourage the market vendors to build their own shops, which the vendors then "own" and can sublet (the land still belongs to the City of Wentzville).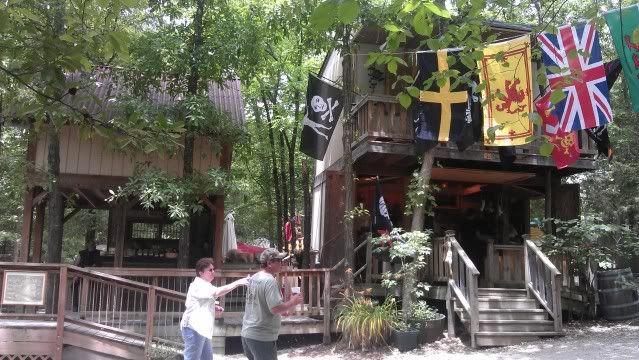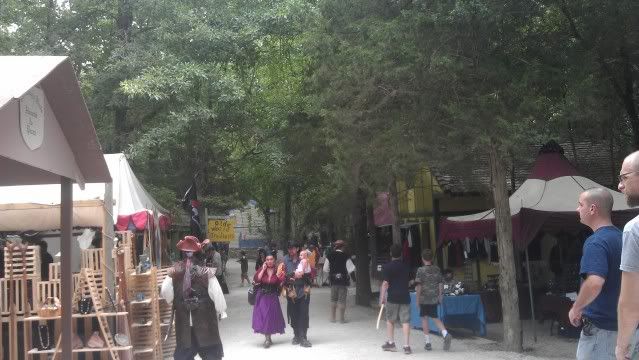 The village also has several permanent stages that are pretty awesome. The park and village are also used for Pirate Fest, which usually takes place in September but is on hiatus for 2012 and 2013. Next year is the Ren Faire's Crystal Anniversary, so they are throwing all their efforts into adding two extra weekends to the 2013 season.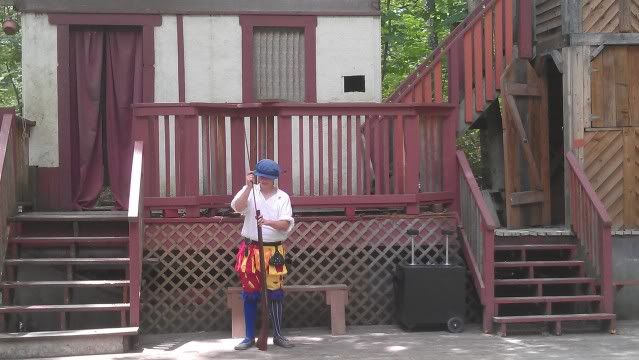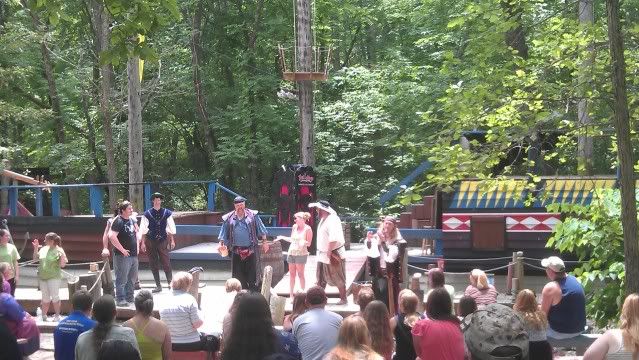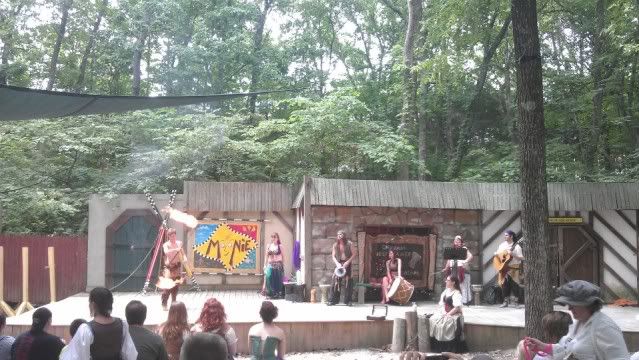 And yes, there is jousting! By the time the midday joust started, though, we were hot and tired and paying more attention to our funnel cake than the jousting.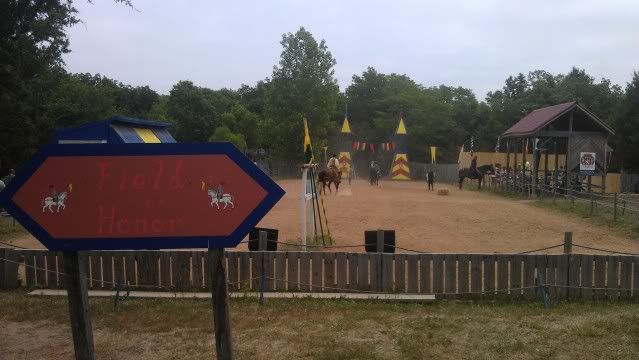 So I mentioned earlier that there is a particular focus on children at the Renaissance Faire. Seriously, I cannot WAIT to go back with kids. There are games and demonstrations, camel rides and a petting zoo, audience participation and a King's Quest that involves collecting stamps from the cast.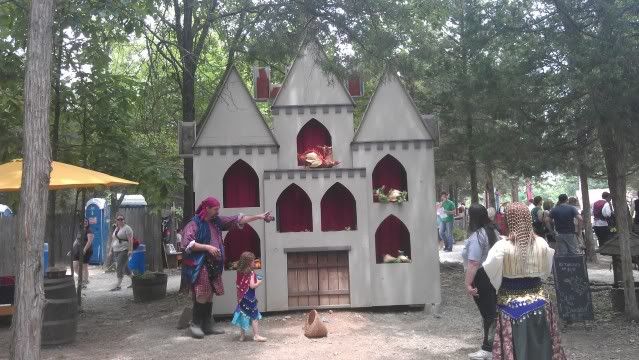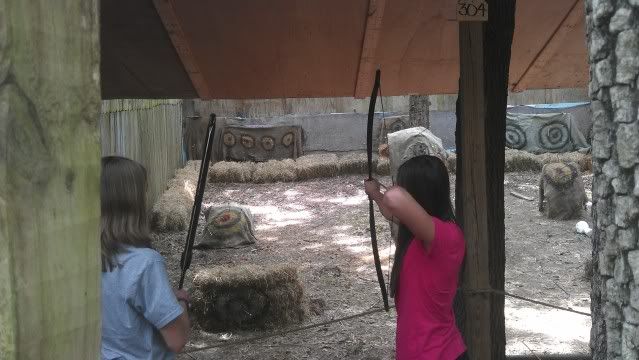 Since we didn't have kids with us, Francis elected to try out the caber toss for the action cam! We learned that a proper caber toss should go end over end and land in the 12 o'clock position with little bounce.
You have ONE MORE WEEKEND to check out the St Louis Renaissance Faire at Rotary Park this year. They're open from 10-6 Saturday and Sunday, and admission is $14.95 for adults and $7.95 for kids 6-13. Children 5 and under are FREE! I recommend
checking out their website
for more details.