This weekend I visited the Missouri state capitol, Jefferson City, for the first time ever. I'm sure there are dozens of educational reasons to visit the capitol, but Francis and I were there for the Ghost Tour of the old State Penitentiary. More on this next week!
We left the house mid-afternoon so we could hit some antique malls, Nostalgiaville USA, and Ozarkland. By the way, I have a new blog,
Phoenix Wearing Hats
, where you can see what we picked up at Ozarkland. We were in Jefferson City early enough to grab dinner, so once we found the Penitentiary, we used our trusty smartphones to find restaurants in the area. The closest restaurant is
Prison Brews
, and how can you pass that up when you're in town for a tour of the prison?
This is one of those times when a smartphone is too much information. The online reviews for Prison Brews are not that great, and we probably would have picked the local steakhouse had we been dressed for a steakhouse instead of for a tour of an abandoned prison. I am so glad we took the chance, because I will have no problem driving two hours just to eat lunch here! Of course, I don't have to tell you that is par for my course.
So, as you might have gathered from the name, this is a brewpub. We started with the sampler, which you can read about on their website (linked above). I enjoy a good beer, however one would define that, and I like microbrews. That being said, I don't know the lingo and I'm not going to get into hops and nuttiness and undertones of whatever. That Landwehr Milk Stout is delicious, and I also enjoyed the American Red Ale a great deal.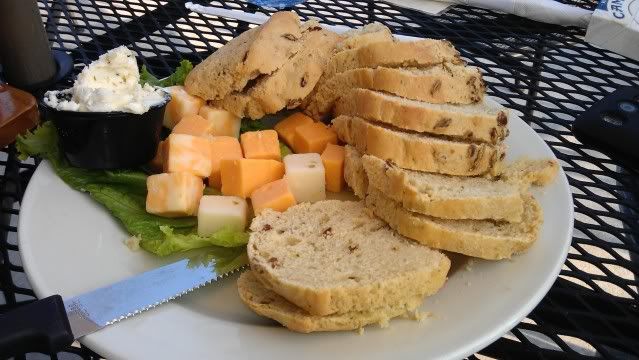 This right here is the reason to travel, and I can tell you that because I just ate a stale piece of this leftover bread, and I want more. This is their beer bread made with their own ale and spent grains, and it is the best damn beer bread I've ever had in my life. I want to try home brewing just to have spent grains for beer bread. I could have stopped right here and been perfectly happy.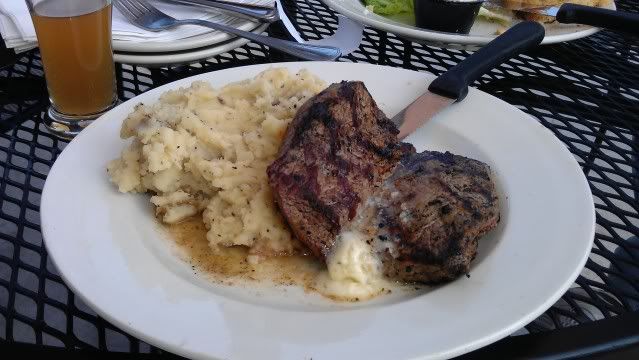 Of course, we didn't realize just how happy we would be with beer and beer bread, so we also ordered entrees. I had the steak and potatoes. The steak was perfect medium rare and the potatoes were a little dry but easily amended with steak juice. I was full of beer bread, cheese, and a very generous side salad, so I barely touched the potatoes anyway. Francis had the bacon cheeseburger and fries, which he said was excellent.
As you can see, we dined on the patio, which is next to the bocce court. Prison Brews is home to the Jefferson City Bocce League! The inside bar and restaurant continue the prison theme, as you can see from the first photo. my favorite parts were that the booths all have cell numbers above them, and the archway to the restrooms has a Gas Chamber sign. One final note on the online reviews: our service was EXCELLENT. Shout out to Jasmine! We will definitely be back before the summer is out!