This is one of my favorite houses from my old neighborhood. Admittedly, I forgot about it until Carrie asked me about it recently, even though my new house is barely a mile away. I got out of the habit of walking the dog on that side of Grand after I moved.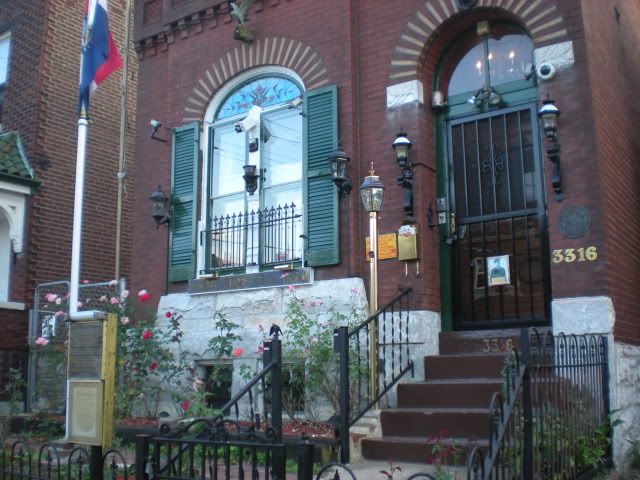 This is Kabel House. It's not open for tours, and the number of cameras on the outside of the house leads one to believe that the owner barely tolerates you stopping on the sidewalk to read his plaques.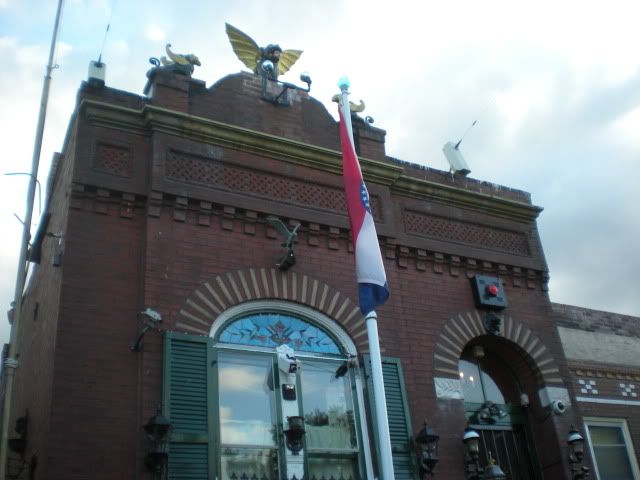 I did talk to him a few years ago when he was working in his yard and he's a no-BS kind of guy but not entirely unfriendly. I still remember that I was wearing a red Homestar Runner tshirt that day because when he explained the security system to me, he described it in his example of the conversation he would have with the office. I'm sure he has to deal with a lot of irritation, trying to maintain a historic property in that neighborhood.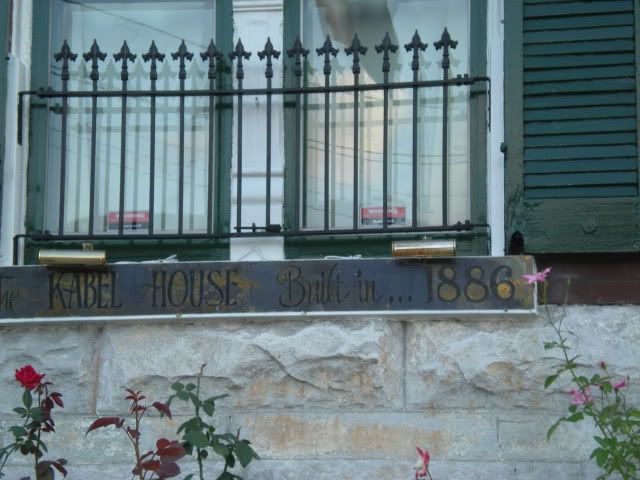 There is a sign in front that is difficult to read in the picture, I will just transcribe it here:
NOTICE OF INTENT TO PROSECUTE
Whereas, on October 27, 1886 the United States Secretary of Indian Affairs met with the Tribal Leaders of the Cherokee Nation at this site to sign the final treaty of Civil Liberties, this historic meeting places the property under the protection of the Dept of the Interior. Any person who vandalizes, defaces, or damages any part of this property will be prosecuted by Federal Officers of the Dept of the Interior.

Some of the homes in this section of South St Louis are built upon the graves of men, women, and children of the Cherokee Nation, the true owners of this land.

Come forth, O Great Spirit of the Cherokee People and return the clean sky, the clean air, pure water, and wild creatures, so your tribes can once again roam this area, their God given habitat, free from Anglo/Caucasoid invaders.

PROPERTY MONITORED BY EXTERIOR CAMERAS THAT SEND VIDEO DATA TO SECURITY OFFICE WHO WATCH THE PROPERTY 24 HOURS.

Col David L Mohrman
Caretaker, The Kabel House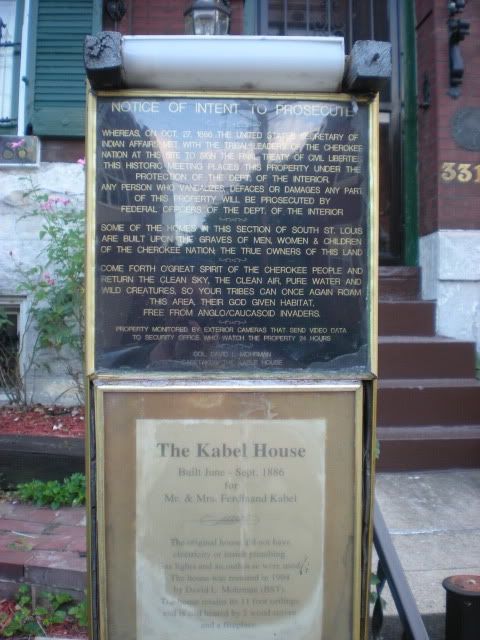 The sign under that says that the Kabel House was built in 1886 for Mr & Mrs Ferdinand Kabel and did not have electricity or indoor plumbing. It was restored in 1996 by Col Mohrman and is still heated by two wood stoves and a fireplace.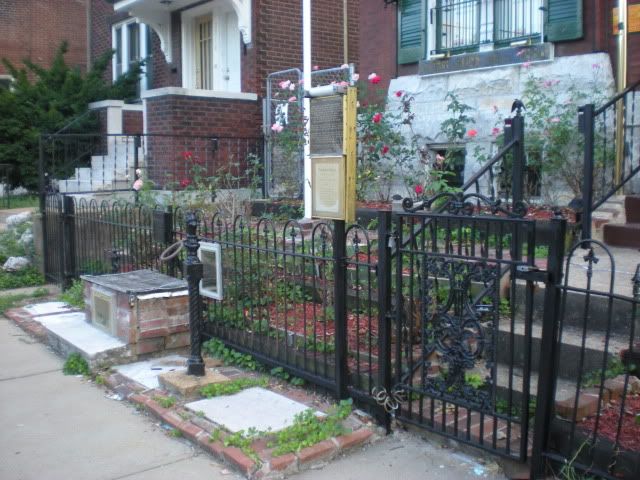 At the sidewalk there is a carriage step and hitching post, along with plaques describing their use (and more warnings against defacing the property.) Kabel House is located at 3316 Itaska in South St Louis, MO. I'm sure I don't need to tell you that you should be respectful of the property should you choose to visit.